There are a variety of diamond mounting earring styles. Each style is distinguished by how the diamond stud is mounted in the earring. The main three diamond mounting earring styles are bezels, haloes, and prongs. With the right setting, you can enhance a diamond stud's beauty. Keep reading as we discuss the benefits and drawbacks of all diamond mounting earring styles.
The Most Popular Diamond Earring Mounting Styles
Bezel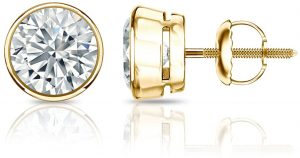 Bezel settings have a band of metal that wraps around the diamond. Its sleek appearance makes it a popular choice for chic jewelry lovers. Bezel mountings are incredibly secure. Your diamond will be snug and unlikely to fall out.
However, only the top of the diamond is visible in bezel mountings. Most of the diamond will be obscured. As less light can enter the stone, the diamond will have diminished sparkle.
Halo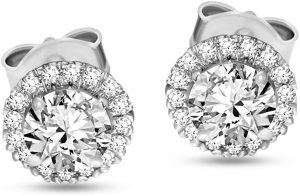 Halo mountings consist of a center diamond encased by a ring of smaller diamonds. This mounting type is another beloved style. In the center, prongs hold the main diamond in place. A lower platform of metal discreetly holds the ring of diamonds that comprise the halo.
Haloes make the earring's center diamond look larger and more vibrant. This style looks perfect on any diamond shape and enhances the wearer's glamour.
Prong


Typically, three or four prongs hold the diamond in place. Some daring designs may feature as many as eight prongs. This classic mounting style offers plenty of diamond visibility. Prongs let you best enjoy the diamond's beauty.
Since most of the diamond is visible, light can enter the stone and exceptionally sparkle. Prong mountings look great on diamonds of any shape, making them a popular style.
A diamond with three prongs is less secure than a diamond with four prongs. Before putting on your earrings, always make sure that every prong feels secure. Just one loose prong can make your diamond fall out. If a prong is loose, do not wear it. Instead, bring your earring to a jeweler to be repaired.
The 3 Types of Prong Diamond Earring Mounting Styles
Prongs are a versatile earring mounting style. There are three variations of prong earrings:
1. Basket:

Four thin prongs hold the earring in place. From the side, the prongs and the mounting's flat base look like a basket. The diamond is secured at the top of the basket. With the diamond at the basket's center, the earring will not pull or stretch your skin's ear piercing.
2. Crown: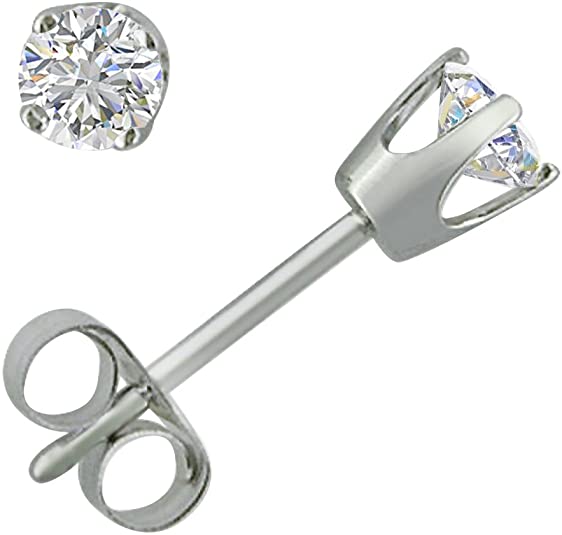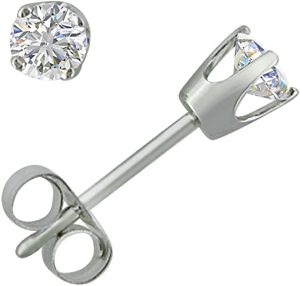 Crowns have thick prongs and a solid construction. When viewed from the side, the prongs make the shape of a crown.
Since their prongs are thick, more of the diamond is covered. The diamond is held father from the ear and can droop down. The drooping is unavoidable with larger diamonds.
3. Martini: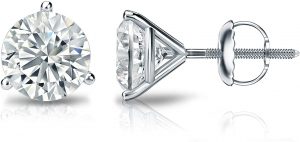 Three slim prongs secure the diamond and meet in a V shape. The V shape resembles a martini glass, giving this style its name.
Of all styles, the martini provides the most diamond visibility. The diamond is set close the ear. Some people dislike martini mounts because it can stretch their skin's ear piercing.
What Are the Best Settings for Diamond Stud Earrings?
The best diamond mounting earring style depends on what characteristic you most value.
For Beauty: Prong settings help maximize any diamond's beauty. Compared to other mounting styles, prongs cover the least amount of the diamond. This way, you can show off your beautiful diamond and bring attention to your face. Baskets are a great option because they will not uncomfortably tug on your ear piercing.
For Security: Never worry about losing your diamond with a bezel mounting. Besides keeping your diamond secure, bezels will protect the diamond from scratches. Bezels unite security and modernity into one convenient style.
For Glamour: Thanks to their generous sparkle, halo settings will have you feeling glamourous. Even small diamonds will look large and radiant in halo mountings. From the moment you put them on, halo earrings have you looking like an A-lister.
Final Thoughts
Earring lovers have plenty of options when shopping for their favorite accessory. Depending on your tastes, there are diamond stud mounting types to suit every style. Bezel, halo, and prong earrings will not fall out of fashion any time soon. With these earring mounting styles, you will always have stylish earrings that complete your style.
Learn More about Buying Earrings:
Was this article helpful?
Let us know if you liked the post. That's the only way we can improve.