If you haven't bought or worn an eternity ring, you might not know what it is. We can help you understand what an eternity band is and what it's used for. If you want to know all about eternity rings, we have the answers.
An eternity ring is a band of precious metal such as gold or platinum with a continual row of identically sized precious stones. The circle of stones symbolizes the 'circle of life' and diamonds are the most popular choice as well as emeralds, sapphires, and deep red rubies. Softer colored stones such as peridot and blue topaz are also chosen. An eternity ring can also be called an infinity ring.
There's more you should know about the history, buying diamond eternity rings, their purpose, and how to wear them.
How did Eternity Bands become a thing?
Eternity rings were first exchanged 4,000 years ago during Egyptian times to mark commitment and have been a popular choice ever since. They were first mentioned in hieroglyphics written in 2,000 BC where the circle was described as the symbol of eternity and a sign of the unbreakable bond between a man and a woman.
Archaeologists have discovered many examples of these ancient eternity rings; some crafted simply in bone and others more elaborately made with metal and gemstones. The eternity ring continued to be used in many cultures throughout history as a symbol of love. By the 1960s, eternity rings were being given to older married women to celebrate 10, 20, 30, or more years of a happy marriage.
A clever advertising campaign by De Beers, the diamond merchants, changed all that! De Beers wanted to clear its stockpile of small diamonds, which of course, were perfect for use in eternity rings. Their advertising campaign suggested that an eternity ring was the perfect gift from husband to wife to confirm that they had made a lifetime commitment to each other.
Today, eternity rings are often given on the first wedding anniversary, as a reminder of wedding vows taken just one year earlier. Alternatively, eternity rings are also given as a 'promise' ring between an unmarried couple as a sign of commitment to one another.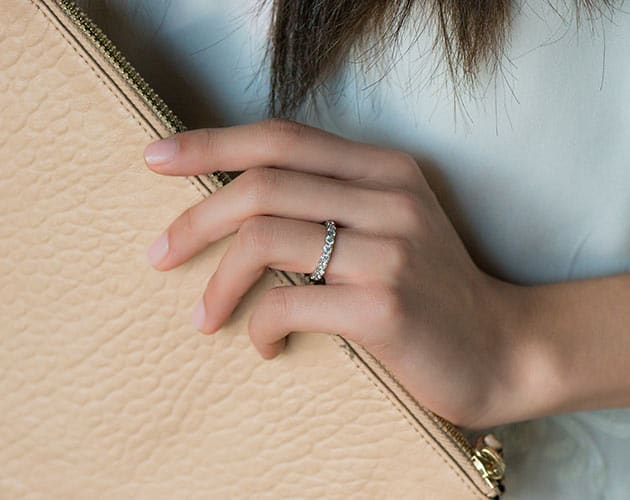 What Do Diamond Eternity Rings Look Like?
Historically, eternity rings have been made of precious metal, so they can be any color. The band had a full loop of diamonds or gemstones on the outside.
Modern eternity rings are usually designed one of two ways, the first being the 'full' eternity ring which has a complete circle of precious stones, the second design being the "half" eternity that has a continuous row of diamonds or other gems on the top half or face of the ring.
The reasons why half eternity rings have gained popularity are that they are less likely to get damaged or to have a stone to become lost, they are more comfortable on the finger and, of course, they are cheaper because there are fewer stones.
What Is the Purpose of An Eternity Ring?
The purpose of an eternity ring is to symbolize eternal love. This is why eternity rings are sometimes given as gifts. They can be used for important anniversaries.
What Does an Eternity Ring Symbolize?
The continuous loop of diamonds symbolizes never-ending love. Diamonds symbolize love and remain the most popular gemstone for eternity rings. Other gemstones have their own meanings and can be chosen for various reasons special to individual couples.
What Does Half Eternity Ring Mean?
Half eternity rings share the same meaning as full eternity rings. Half eternity rings have a continuous line of diamonds, only on the top or "face" of the ring. Half eternity rings are popular due to the reduced cost, comfortability, and durability.
What Finger Do You Wear an Eternity Ring On?
You can wear an eternity ring on any finger. In modern times, an eternity ring is often worn on the left ring finger, along with the engagement ring and wedding band. The eternity ring should be worn closest to the body because as many people will tell you, a vein from this finger leads straight to the heart. Like a wedding band, eternity rings should not be taken off the finger.
When Would You Buy an Eternity Ring?
Eternity rings are often used as gifts for special occasions. They can be used for relationship milestones, such as a wedding anniversary. Eternity rings make great gifts for the first anniversary and alternatively, eternity rings can be given as a "promise" ring for unwed couples. Although, these are not the only instances in which an eternity ring can be an appropriate gift.
They are also given as gifts for other important milestones, such as after the birth of a baby.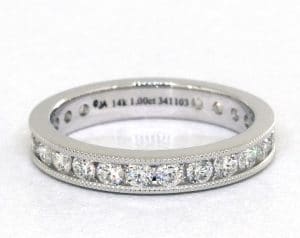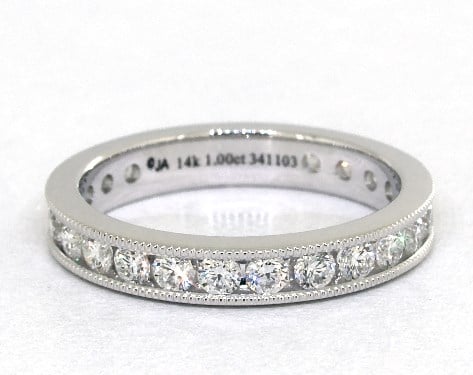 What Is the Difference Between A Wedding Band and An Eternity Band?
Wedding rings and eternity rings each have their own individual uses. Wedding rings are given during the wedding ceremony. Eternity rings are given as gifts on special occasions for couples.
A wedding is a special event in which an Eternity rings and wedding rings can both be used at weddings.
Can I Wear an Eternity Ring as A Wedding Ring?
You can wear an eternity ring as a wedding ring. The meaning of an eternity ring fits with the wedding commitment. Some wedding bands look like eternity rings. For this reason, an eternity ring works.
Which Order Do You Wear Engagement, Wedding, and Eternity Rings?
You might wear an engagement, wedding, and eternity ring on the same finger. These three rings are worn on the left ring finger. You may wear an eternity ring on another finger. There is an order all three rings should be worn on the same finger, however.
The wedding ring should be first. The engagement ring should be in the middle. The eternity ring should be worn last, closest to your heart.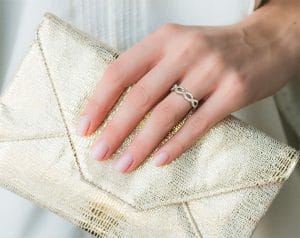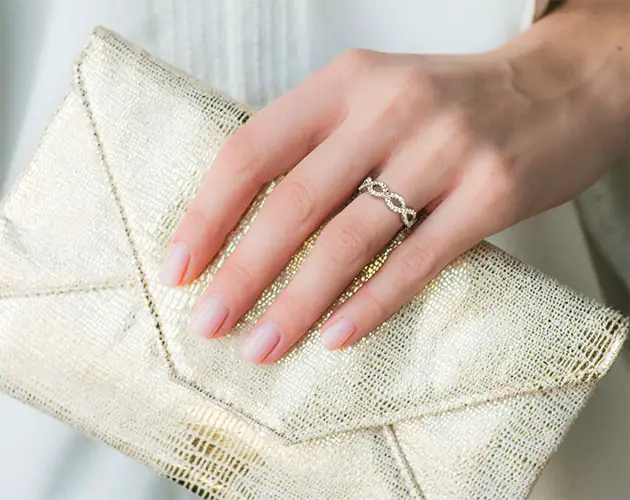 How Many Diamonds in an Eternity Ring?
There is no set number of diamonds in an eternity ring. This changes by the size of the ring. The size of the diamonds plays a role as well.
Large rings with small diamonds can have many diamonds. This is because the diamonds must fill the band. With larger diamonds, fewer diamonds will fit on the band.
Half eternity rings will have an even smaller number of diamonds. This is because the diamonds only create a line. Full eternity rings cover the entirety of the band.
Are Eternity Rings Uncomfortable?
Full eternity rings may not feel comfortable, as the diamonds can dig into the skin and cause some irritation. They may also scratch things that are rubbed up against the ring.
You may be worried about the comfort of an eternity ring. If so, there are more options that can better suit your needs.  A half eternity ring is a good choice for those that are concerned about the comfort of a full band of diamonds.
A half eternity ring has the same meaning and it can be more comfortable to wear. This is because it has fewer diamonds and will be less likely to scratch and irritate the delicate skin of the finger.
Can Eternity Rings Be Resized?
While eternity rings can be resized, it may be hard to do so. This is because the entire band is covered with diamonds. When resizing an eternity band, some of the diamonds may need to be removed.
If you are resizing an eternity ring, talk to a trusted jeweler. A jeweler can tell you about your options. If the ring is too large, sizing beads can be used to mitigate this issue. Sizing beads make the ring smaller without affecting the ring and avoid having to remove any diamonds.
It is important to know the size of ring you need before purchasing, if possible. This helps to avoid the need to resize it after the fact and avoid any fees or removal of diamonds or other precious stones.
Caring for an eternity ring
Wearing such a beautiful ring each day will mean that it will get dirty and might require regular cleaning. This is a simple procedure that can be undertaken at home. Pop your ring in a small bowl of warm soapy water and leave to soak for about 30 minutes to loosen the dirt. Very gently brush the surface with a soft toothbrush (a baby's toothbrush is perfect) and then rinse the ring in cool water and pat dry with a soft lint-free cloth.
How Much Do Diamond Eternity Rings Cost?
The cost of an eternity ring varies. This is due to many factors, including:
Size of the diamonds or gemstones
This eternity ring comes in at $3,345. The 1.5ctw round, brilliant cut diamonds that cover the entire ring make the price and the quality a little bit higher.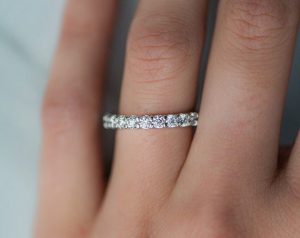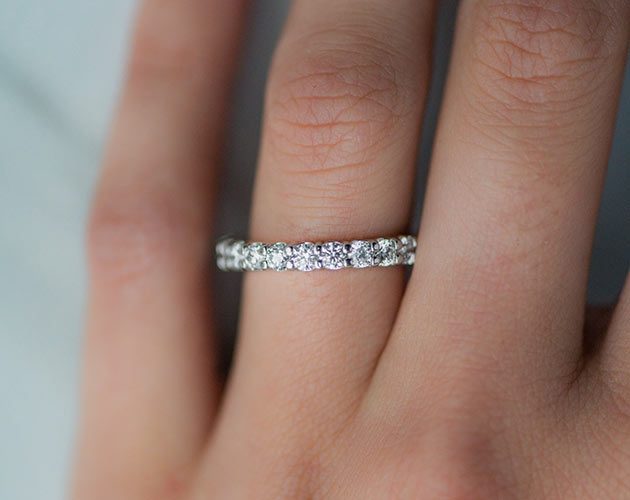 Type of diamonds or gemstones
Some eternity rings have diamonds that are set into the metal rather than set upon the metal, such as this one. This 14k white gold ring costs $1,867 and has .75ctw diamonds. Diamonds are usually the more expensive option when it comes to choosing the type of gemstone you want for your ring. Other gemstones may reduce the price if you are on a tighter budget.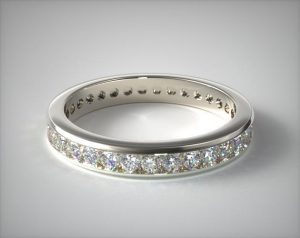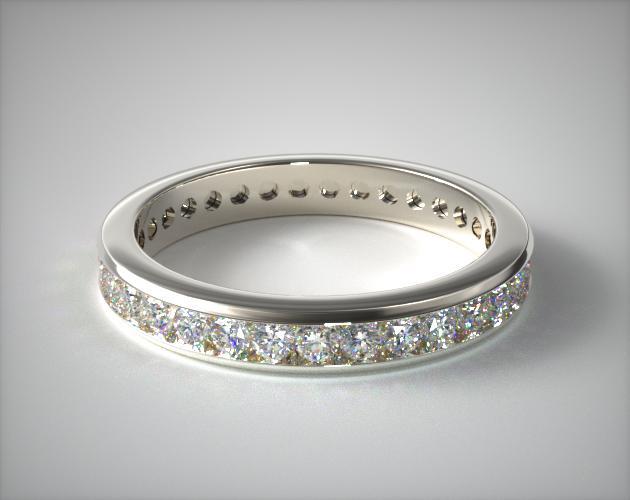 Type of metal
Eternity rings can come in a few different metals all of which have different price points. This eternity ring comes in a 14k yellow gold and is encircled with diamonds. The cost of this ring is $877.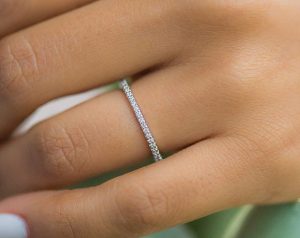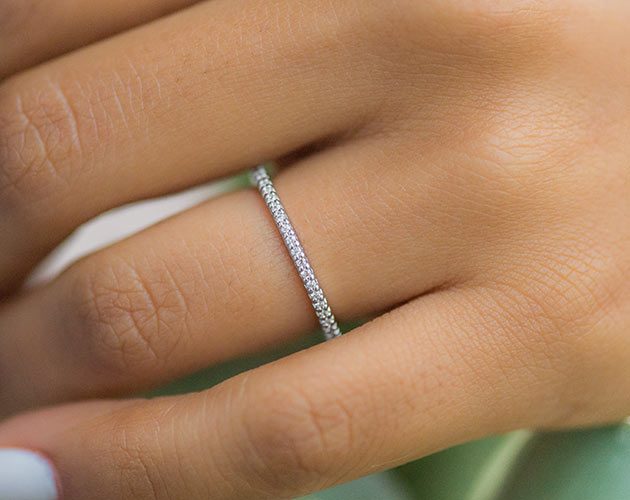 Quality of materials
The metal used on this eternity ring is platinum, typically noted as a higher quality metal than some. This makes the price point potentially a little bit higher at $3,742. The ring also comes with 1.50ctw diamonds.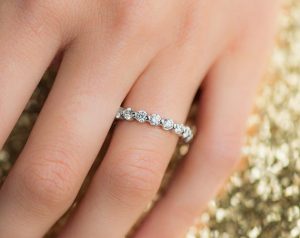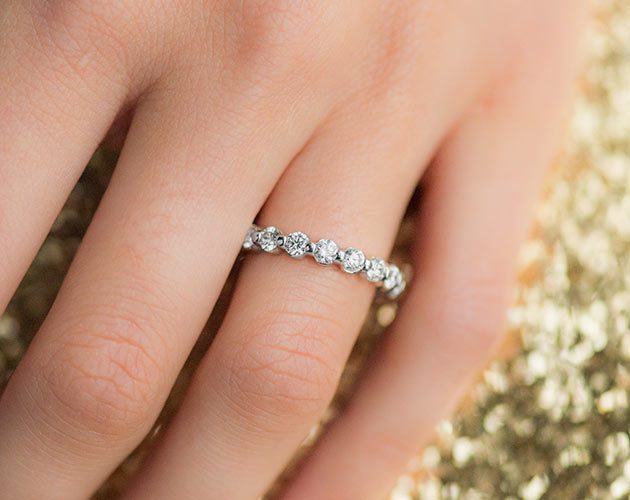 Eternity rings are available from many jewelers. You will be able to find one in your budget, no problem. Keep in mind that you will have to pay more for quality materials, however, the nicer materials come with the benefit of being more durable and longer-lasting.
Eternity rings are made of fine metal and diamonds. They feature an endless loop of diamonds or gemstones and for this reason, they symbolize eternal love.
Eternity rings can be a gift to your spouse and can be a way to show your love and commitment. Eternity rings are perfect for holidays and special occasions. They can be given for anniversaries and milestones, or can be given as a wedding band! There are numerous uses for eternity rings that make them such a special gift for those you love.