A beautiful wedding ring is a symbol of love and commitment between two people. No more, no less. Does a wedding ring need to be expensive? A wedding ring does not need to be expensive because they are emotionally priceless. The value of the wedding ring does not matter at all.  
What is the history of wedding rings?
The first wedding rings were exchanged by the Ancient Egyptians. A continuous band that symbolizes commitment and eternity.  Since then, wedding rings (also called wedding bands) are exchanged in many cultures. They are an important part of the wedding ceremony. They are exchanged as wedding vows between the couple.
It is a well-known superstition that if a groom drops the wedding ring during the service, it will bring the couple bad luck.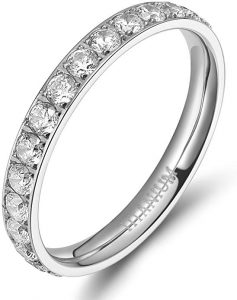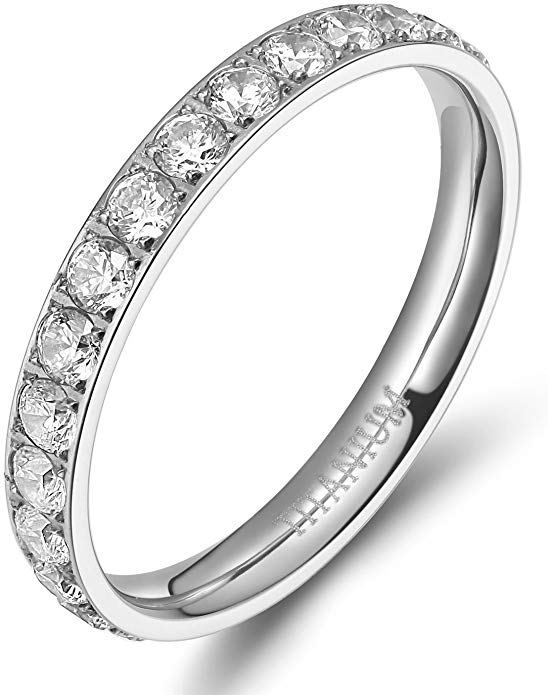 What finger is a wedding band worn on?
In Roman times, wedding rings were placed on the fourth finger of the left hand. The Romans believed in the Vena amoris. It means the vein of love. It runs from this finger straight to the heart. The wedding ring is still worn on this finger in many countries.
In other countries like Germany, Greece, and Russia, wedding rings are worn on the fourth finger of the right hand.
In some parts of India, the ring is actually worn on a toe!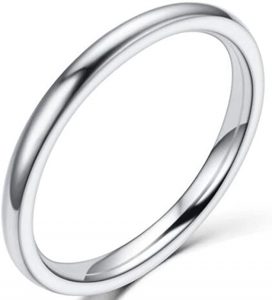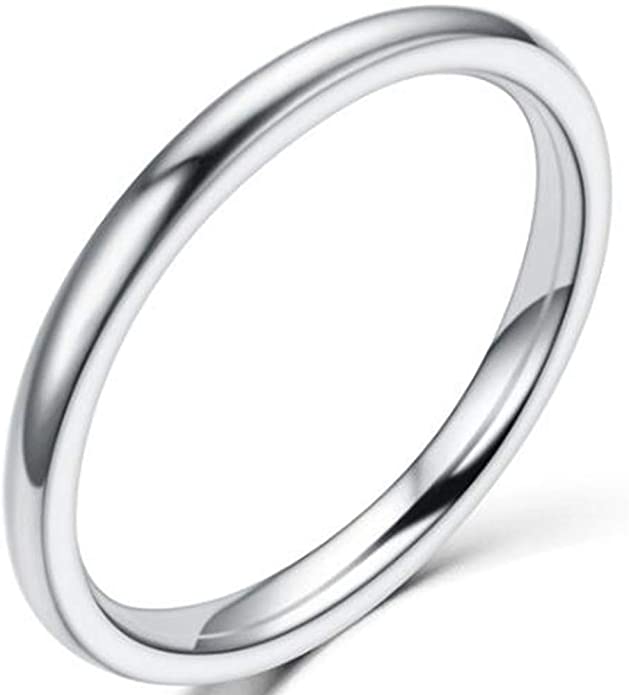 What metals are used for making wedding rings?
The most popular precious metal used for making wedding rings is white gold. White gold accounts for 73% of all wedding ring sales. Yellow gold and platinum are also popular. Palladium (a rare silvery-white metal) is the new trendy choice of metal.
If you are looking for something different, there are more unusual golds. You can try red gold which is 75% yellow gold mixed with 25% copper. You can try rose gold, which is made by mixing 50% yellow gold with 22.5% copper and 2.5% silver.
In the United States, 17 tons of gold are used each year to make wedding rings!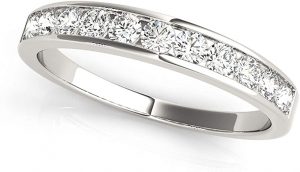 What about matching wedding rings?
The first matching wedding rings appeared during the Second World War. Couples separated by the war could think about each other with their wedding ring. Matching wedding rings have continued to be popular. They are usually made in the same style, reflecting the couple's taste and style.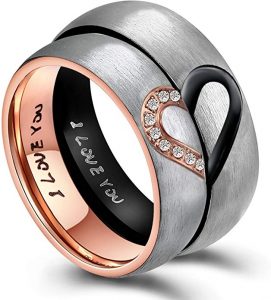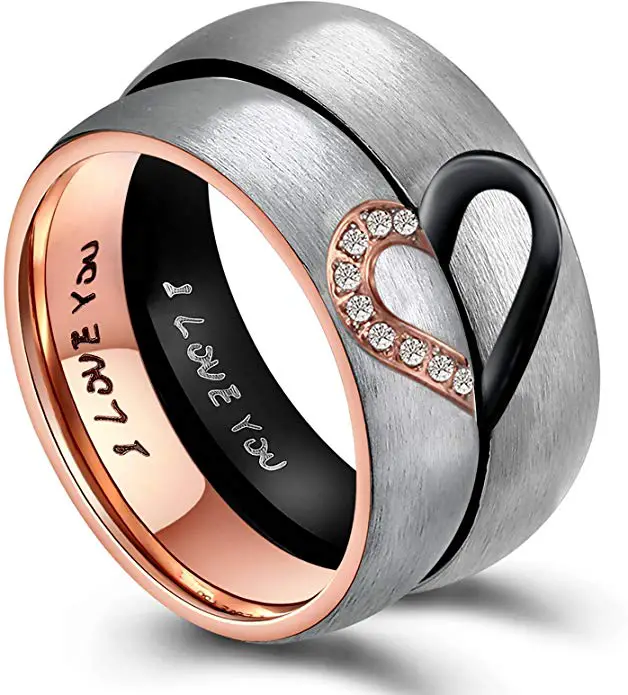 Wedding rings can be engraved on the inside. Popular engravings can be the partner's name and the wedding date.
What are the styles of wedding ring?
Most types of wedding rings are simple, plain bands of metal. Some are broad, some are narrow and some are flat like a band. Some wedding rings are shaped to sit comfortably next to the engagement ring.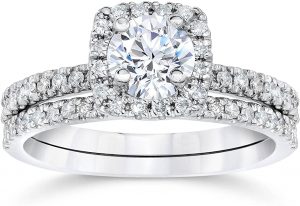 Modern designs of wedding bands are decorated with diamonds. There are wedding rings on the market to fit everyone's budget. The normal plain metal band is usually well-priced.
See Also:
The "wishbone" wedding ring is popular. Wishbones are traditionally broken on Thanksgiving Day to bring luck. The wishbone ring symbolizes the same. The wishbone has a row of diamonds on each branch. The 'V' of the ring is worn facing the heart.
A very special silver wedding ring….
In Romania, there is a tradition that couples exchange a silver wedding ring. This is to mark their "silver wedding anniversary", 25 years of marriage. The couple continues to wear the wedding rings they exchanged on their wedding day. Then they wear the silver wedding ring as well.
Unusual designs for wedding rings.
Smooth polished gold bands are the most traditional style of wedding ring. But there are a number of new styles on the market. Normally, the wedding ring was plain and simple. The engagement ring was ornate and sparkly. See also: What Is the Difference Between Engagement Ring and Wedding Ring?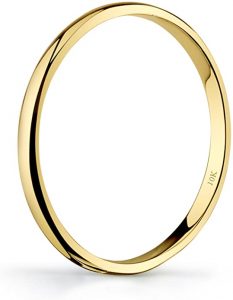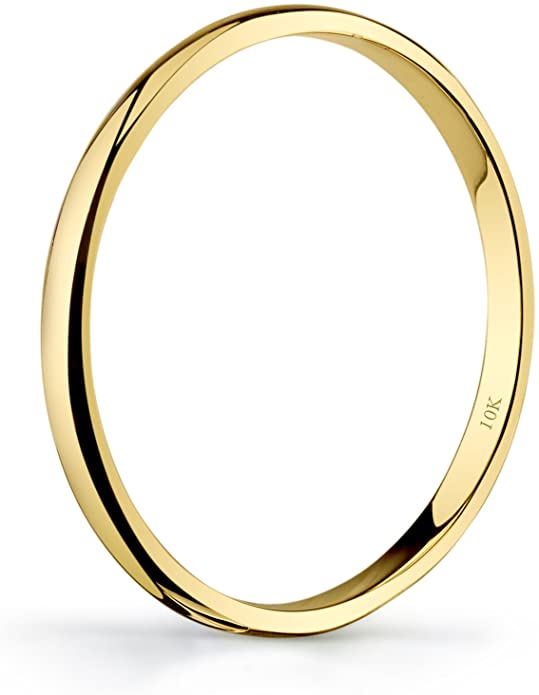 Many couples are now choosing one ring instead of two, to combines both ideas. This style of wedding ring has a double row of small diamonds on the top half (the face) of the ring. Although this style looks similar to a "half eternity ring". Eternity rings usually have just a single row of stones.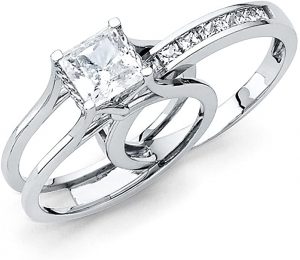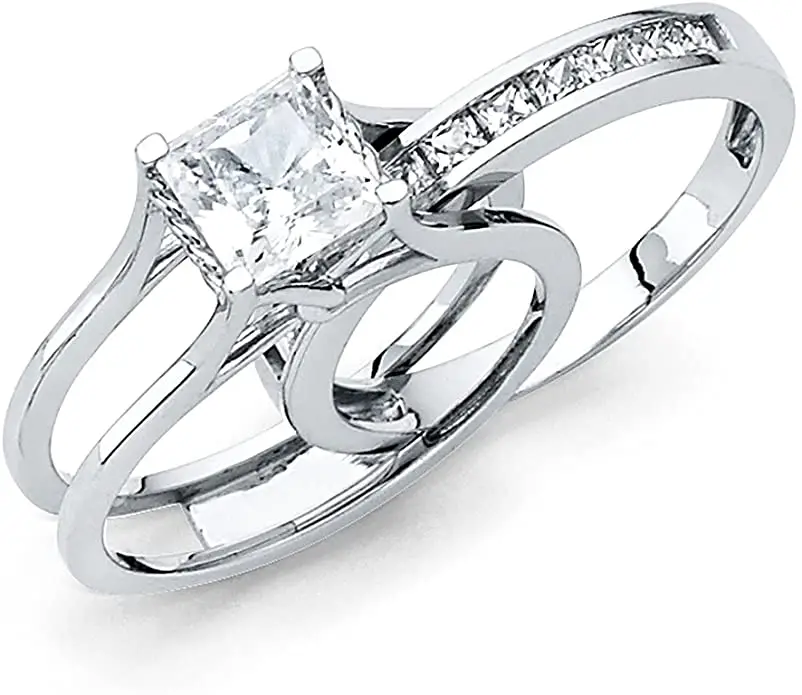 Another popular style has three rows of diamonds. A gorgeous row of baguette diamonds in the middle of the ring. And a row of tiny round diamonds on each side. Each row of diamonds is a complete circle. This style of diamond wedding ring has a hefty price tag, but has a "wow" factor!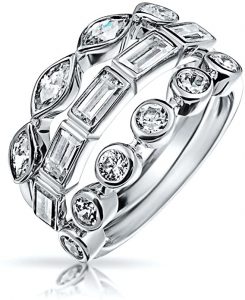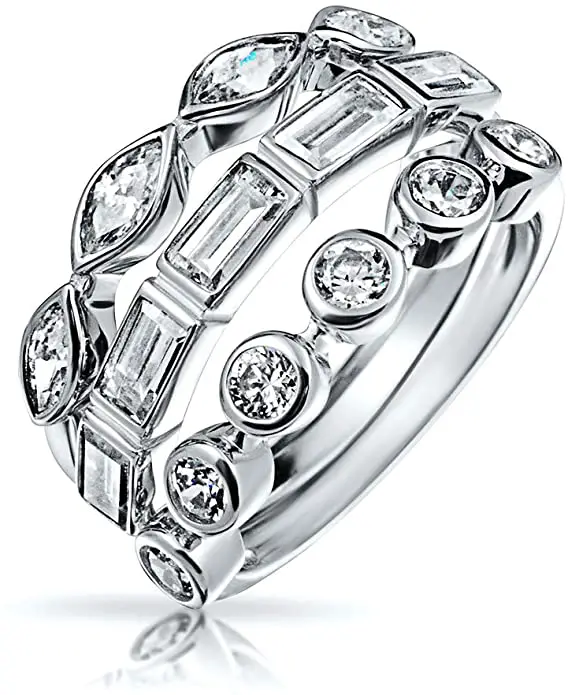 Would you like an "alternative" wedding ring, not just a polished band? There are many textured styles to choose from. The most popular is the type of textured ring has a bark finish. Jewelers create this style of the ring by setting the gold in cherry wood molds.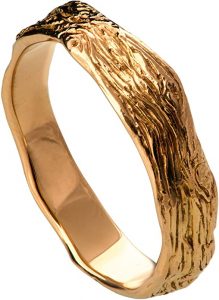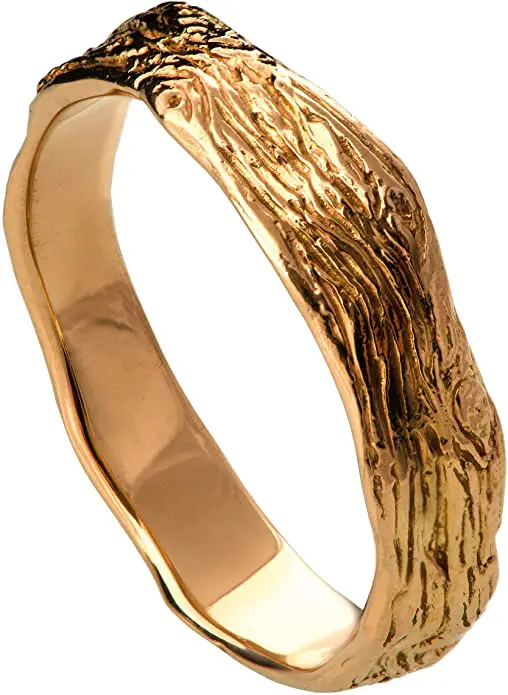 If you are looking for a more unusual style of ring(s), antique jewelers and auction rooms are good hunting grounds!
Learn more about Wedding Rings and Wedding Bands:
Was this article helpful?
Let us know if you liked the post. That's the only way we can improve.