If you love to wear jewelry, then you take the time to hand-pick items that reflect your personality. If you are a die-hard silver fan, then no matter how gorgeous the piece, you wouldn't let gold near your skin. Jewelry is a beautiful way to express yourself. And have something sparkly. Your engagement ring is the ultimate accessory to show off your style. With over a dozen shapes to choose from, finding the right one that shows who you are could take some time. That's what I'm here for.
You probably know the most popular diamond shapes – round, princess cut, and oval. While those shapes are stunning, there are more options you should consider before saying yes. There are other shapes like pear, cushion, emerald, and more. One of these might be a better fit for you and make you feel more connected to the piece. Some shapes look better in certain settings, some are more cost-effective, and some shapes don't need the fluff of an intricate setting.
What are the other shapes? What are the ups and downs of them? Well, that's the journey we are about to go on together. Please keep an open mind. I went into this only liking a certain diamond shape and came out actually thinking that I may not be able to pick a favorite anymore. Depending on your budget, band and setting liking, and sparkle preference, there's a diamond shape that's best suited for you. Okay – enough chit-chat. Let's find out which diamond shape you should get for your new best friend.
Round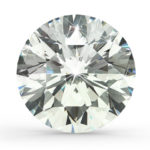 Round diamonds are the most popular out there. Also called round brilliant, they reflect the light like no other shape due to how they are cut. That also makes them the most expensive, unfortunately.
But if you have your heart set on round, the sneaky trick is to get a .9 carat instead of a full carat to make it more affordable. This shape looks amazing on any color metal and can be worked into any setting. It's a winner for a reason.
Why it's amazing
Best sparkle
Most popular
Best light reflector
Why you wouldn't like it
Princess cut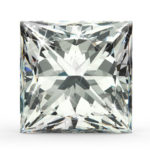 The princess cut used to be my one and only diamond shape love. It still is for most people as it's the second most popular diamond shape. It can be added to any kind of setting and look amazing.
It's almost as brilliant as a round and because of the shape, you can save about 25% of the retail price comparatively. The biggest downside to this one is that it snags on everything. The number of battle wounds I have seen from princess cut scratches is ridiculous.
Why it's amazing
Work great in any setting
More affordable
Why you wouldn't like it
Oval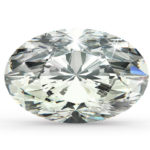 If you love the concept of a round, but want a bigger stone, then you should go for oval. The same carat weight can look larger because of the elongated shape. An oval diamond looks great on everyone.
If you are super picky though, you might want to pass on this one. Because of the shape, you'll be busy trying to find one that doesn't have that bowtie pattern in the middle. The shape also means that unless you get a really high color grade, the color metal you get for the band can make it look tinted easily.
Why it's amazing
Larger surface area
More sophisticated and graceful look
Why you wouldn't like it
Shows color easily
Shows bowtie pattern in the middle
Pear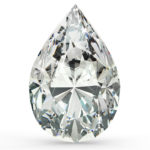 I used to absolutely hate a pear-shaped diamond. But the more I look at this one the more I really appreciate the unique teardrop shape. With the right setting, this one can be stunning, but it also stands alone really well.
The trendy and fun shape means you get more surface area with a lower price tag than with a round. The bad news is that because of that shape it is more prone to chip and can snag. There's that whole visible bowtie pattern if that's an issue for you. But overall, this one is a winner.
Why it's amazing
Unique shape
Larger surface with lower cost
Why you wouldn't like it
Can snag and chip easier
Will show bowtie pattern in the middle
Marquise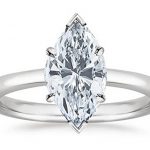 Though a marquise shape has never been my favorite, I like it a lot more after looking at all of the other shapes. It has a timeless, romantic feel to it that reminds me of the antique-style rings I love. As it should, since the marquise has been around for hundreds of years. The shape will make any hand appear slimmer and the stone larger.
You know the drill, with the elongated shape, that bowtie pattern issue pops up again. The other drawback with this shape is the pointed ends are more fragile, so you have to watch for chipping. They also make this shape a snag magnet, so be careful with that.
Why it's amazing
Timeless look
Looks amazing on any hand
Larger surface area
Why you wouldn't like it
That bowtie pattern strikes again
Ends are fragile
Cushion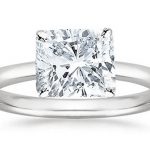 If you can't decide between a round and an oval shape, then a cushion is the way to go. You'll get decent surface area with rounded sides so snagging isn't an issue. The demand for this shape has shot up as more people want a romantic, vintage look to their ring. I see why. It's gorgeous. Plus, cushions are up to 40% cheaper than rounds, so you can't argue with that math.
If you have to have that sparkle and shine, this shape will deliver. It looks great in modern or vintage settings as well. Plenty of options with this one.
Why it's amazing
Super affordable
Gives an elegant vibe
Brings the sparkle
Why you wouldn't like it
Face area appears smaller
Color shows easily
Emerald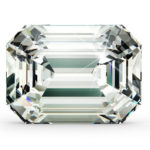 Also knowns as a "step cut" due to stair-like sides, an emerald is a bold choice for your engagement ring. This unique and rare shape doesn't give off that sparkle like the others. Instead, you get a cool, almost carnival room of mirrors effect.
You can snag one at a reasonable price and still get a nice carat weight and face area. The only flaw is, well, flaws. The way an emerald is cut means flaws can be seen a little easier. An emerald shape is becoming more popular, especially in the colored gem world. I really like this one for its unique shape that can stand alone without a busy setting.
Why it's amazing
Rarer cut
Like looking at ice or clear water
Why you wouldn't like it
Easy to see flaws
Can appear smaller than actual carrot weight
Baguette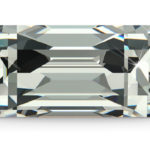 I just want to throw the baguette shape out there really quickly. I know – this one is usually only used for accenting the main diamond. But I found some pretty nice-looking engagement rings that used a baguette as the main diamond. And not everyone wants a giant diamond for their ring. Some people prefer a band or other style for their engagement ring, and we welcome all shapes here.
The baguette is pretty much the same as an emerald except for one main thing. The sides of the baguette are square where the sides of the emerald are cropped and angled. Everything else applies.
Why it's amazing
Unique and rare cut
Get that cool, still water look
Why you wouldn't like it
Flaws stand out more
Doesn't sparkle and shine like the others
Asscher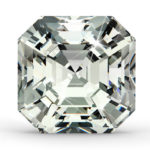 If you love geometrical designs, then an Asscher shape diamond would be perfect. It's basically a square emerald. But going from a rectangle to a square does enough to transform the look. You still get a good carat weight for a great price.
But you have to know that this cut shows off flaws easier than the others. But the cool octagonal shape catches the eye. This one is great if you want something different, fun, and want to play with the setting. You can make this totally unique to your personality.
Why it's amazing
Cool, clear appearance
Vintage, Art Deco style
Why you wouldn't like it
Flaws are easily seen
Small face area
Heart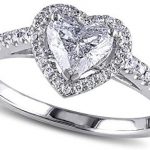 Oh, the heart shape diamond! I can't see one and not think of the 6-carat stunner that Lady Gaga was gifted when proposed to by Chicago Fire hunk Taylor Kinney. Don't let the fact that they broke up deter you from giving this one a go. It is show-stopping if done right.
It's romantic and elegant and doesn't need anything else since the shape is unique. The only downside is you have to go big. It's really hard to set, and anything smaller than a carat really doesn't look like anything but a blob. But when you get at least a carat it can look so lovely, and you don't need anything for the setting.
Why it's amazing
Eye-stopping shape
Romantic
Why you wouldn't like it
Difficult to set
Have to get at least 1 carat
Radiant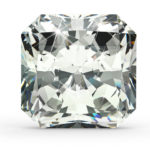 A radiant cut gives its secret away in the name. It's the most radiant shape. It combines the round and emerald cuts to make a beautiful shape that just lives to sparkle. If you like the princess cut but want something a little tougher, then a radiant diamond would be smart.
This shape looks great in any setting, against any color metal, and you don't have to worry about spending a ton of money on the highest clarity. If you want an intricate setting, this would work well because you won't take away from that sparkle.
Why it's amazing
One of the most brilliant cuts
Looks great in any setting
Hides flaws well
Why you wouldn't like it
Trillion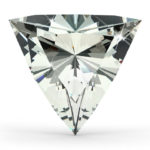 Have you ever heard of Trillions before? Was your first thought at seeing it "I want the ultimate Zelda accessory." Consider this triangle shape diamond, it looks so awesome! Due to the shape, it can actually look larger than a round without spending that kind of money.
The big downside is that it's hard to find these guys. The shape makes everything more difficult. But if you have the patience to work with a jeweler to find one with the quality you want, then I say go for it. How many times have you seen this shape as an engagement ring? Exactly! I'm all for this one.
Why it's amazing
Bold, stand out shape
Bigger face area
Why you wouldn't like it
Lozenge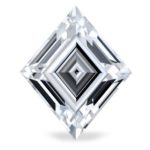 Oh my goodness is this one a keeper. If you like the idea of a trillion, but don't want to go full triforce, you should check out a lozenge shape diamond. The vintage look just speaks to my soul. If you are more about the look and feel of a ring instead of the sparkle, this diamond shape is the only answer
You don't get that light and sparkle show with this, but you can get so creative with the setting, or just let the shape speak for itself. Be careful, after looking at some nice ones, those price tags make me put this in the "in my dreams" drawer. But if you want something totally different from what everyone else has, this is the option I'd say to look at.
Why it's amazing
Amazing shape and look
Vintage vibes
Why you wouldn't like it
Won't get that big sparkle
Can get expensive
Whichever one you get, make sure you look at all of them
I know – that was a lot to take it. If you thought the engagement ring choice was between round and princess, you have a lot to think about now. Every engagement ring starts with a diamond. You're going to spend the majority of your time picking out the shape and size of the stone for the ring. You want to make sure it's one that will speak to the person wearing it.
Again, I ask that when you go to the jeweler, or go online to look at rings, that you don't dismiss any of the diamond shapes. Look at all of them. We all have that one shape that makes us frown. That was pear for me.
But if you don't give all of the shapes a shot, you might not like the look on the person's face when the box is opened. Once you pick a metal color or setting, you can transform the look of the ring and find that magical fit that no one can turn down. But it all starts with the shape, so take your time and choose wisely.