When it comes to rings and diamonds James Allen takes a lot of care in creating and shipping them. They offer free world-wide shipping, but how long does that take?
How long does it take to get a James Allen ring? Typically James Allen rings will ship in one to three weeks. The biggest factor is the production schedule of the item you choose. You can see the shipping ranges on the detail page of each item. 
Their rings and diamonds are always carefully inspected prior to being shipped. It is important to give yourself enough time to allow this to be done so you can end up with a ring that you'll love and expect.
How long does James Allen shipping take?
James Allen uses FedEx Priority for everything they ship. Their loose diamonds can ship out in one to four days. This is to allow proper time to be inspected and all the boxes checked for your perfect diamond.
James Allen engagement rings and other jewelry can take one to three weeks depending on production. Typically they can send them out rather quickly. In cases where the ring is personalized though it's best to plan on it taking longer than shorter.
This is so they can get everything right. JA takes great pride in delivering quality, beautiful jewelry, so taking their time to make sure everything is just right is a good thing.
Does James Allen ever ship early?
Some orders do have the ability to be expedited. However, it is important to note that each and every ring and wedding band is crafted when they are ordered. So although some can be sped up it is better to allow the additional time if possible.
James Allen's quality assurance team really does want your ring to be special. They also will go to great lengths to do whatever they can when you need it. Just remember that anything of great quality takes time, and the longer you wait the better it will be.
Jewelry Lost During Shipment?
You may be wondering what happens if your jewelry is lost in the mail too. Well, the folks at James Allen have you covered there as well.
Each package they send is insured. They will also make it required that a signature takes place for all packages, so if something happens it can be tracked down.
How Are James Allen Rings Packaged?
Every James Allen piece of jewelry is packaged with care instructions and a very unique unexpected box.
Engagement rings arrive in a white and silver box. They even come with James Allen's signature heart-shaped butterfly as well.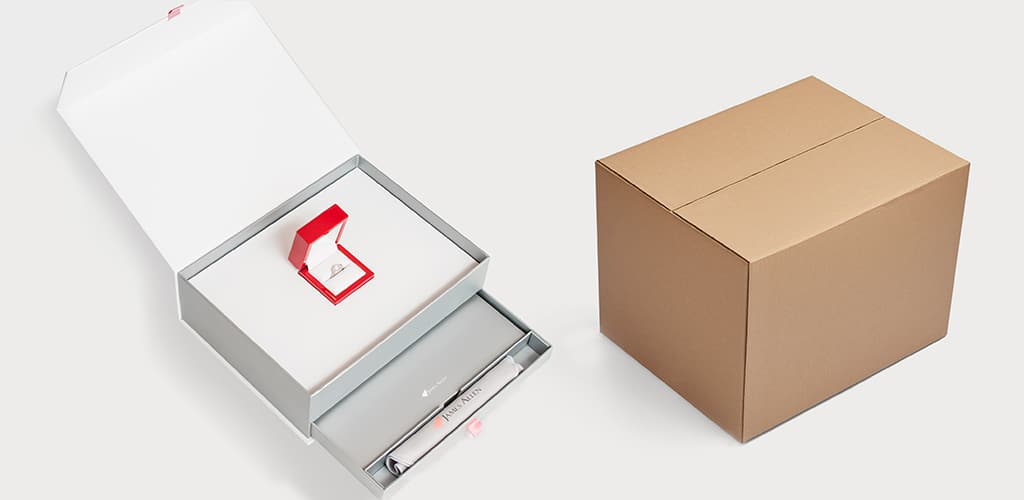 Within this box is another little box, ya know so you can tuck it inside your pocket for that right moment. Whether it is as a surprise or she knows it's coming the box only complements the whole experience.
The cherry on top, the larger box can be changed into an elegant keepsake as well so you can have it there to treasure the whole thing forever.
Inside the bottom drawer, your certification will be right there along with a cleaning cloth to always keep your ring looking its best. Now that sounds like some beautiful packaging, and well worth the wait.
---
As you can see the wait time to get a ring from James Allen isn't all that long. Especially when you compare it to other places.
James Allen also goes to great lengths to protect your purchases all the way from the beginning to the end and beyond.
This way when you do receive your ring from James Allen, it is everything you wished for and more. Focus on the moment and the beauty of the ring and leave the rest to the capable hands of James Allen.
Curious to know what I think about Buying Diamonds and Rings on JamesAllen.com? See my James Allen Review.
Was this article helpful?
Let us know if you liked the post. That's the only way we can improve.