James Allen makes shopping for diamonds, and jewelry a seamless process. With its innovative website, you are sure to pick a great diamond. It is quite a simple process, to be honest.
How do you pick a good diamond on James Allen? Picking a good diamond on JamesAllen.com is easy. You can either build your own ring based on their "select a ring" program, search for loose diamonds yourself and apply filters, or finally for additional help or customization questions, ask their super-fast customer service.
Everyone at James Allen can help you pick a great diamond, but you can do so yourself with their amazing details and pictures when selecting any of their diamonds.
Now that we know a few ways to pick that perfect diamond.
Let's break it down a bit further.
"Select A Ring" Program and how to use it
James Allen has a wonderful service when selecting a ring and diamond. It is so simple to use that even a, well caveman can do it (sorry Geico). Let me show you how it works.
Step One
Go to jamesallen.com. It will look similar to this: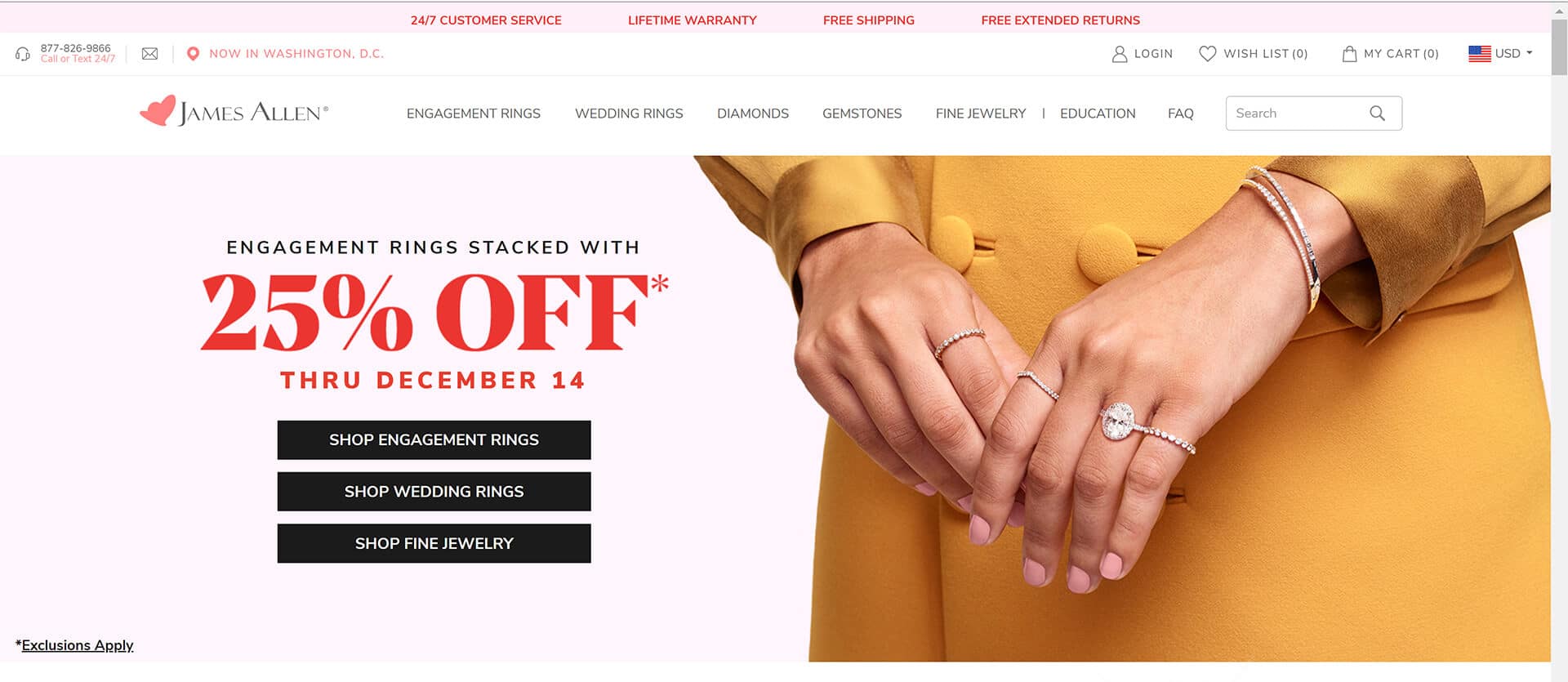 Step Two
Now that you have their website open, go to Engagement Rings and select any of the "Start with" selections. You can start with any of the following:
Ring Setting

Diamond

Lab-created Diamon

Gemstone
This is what it is going to look like.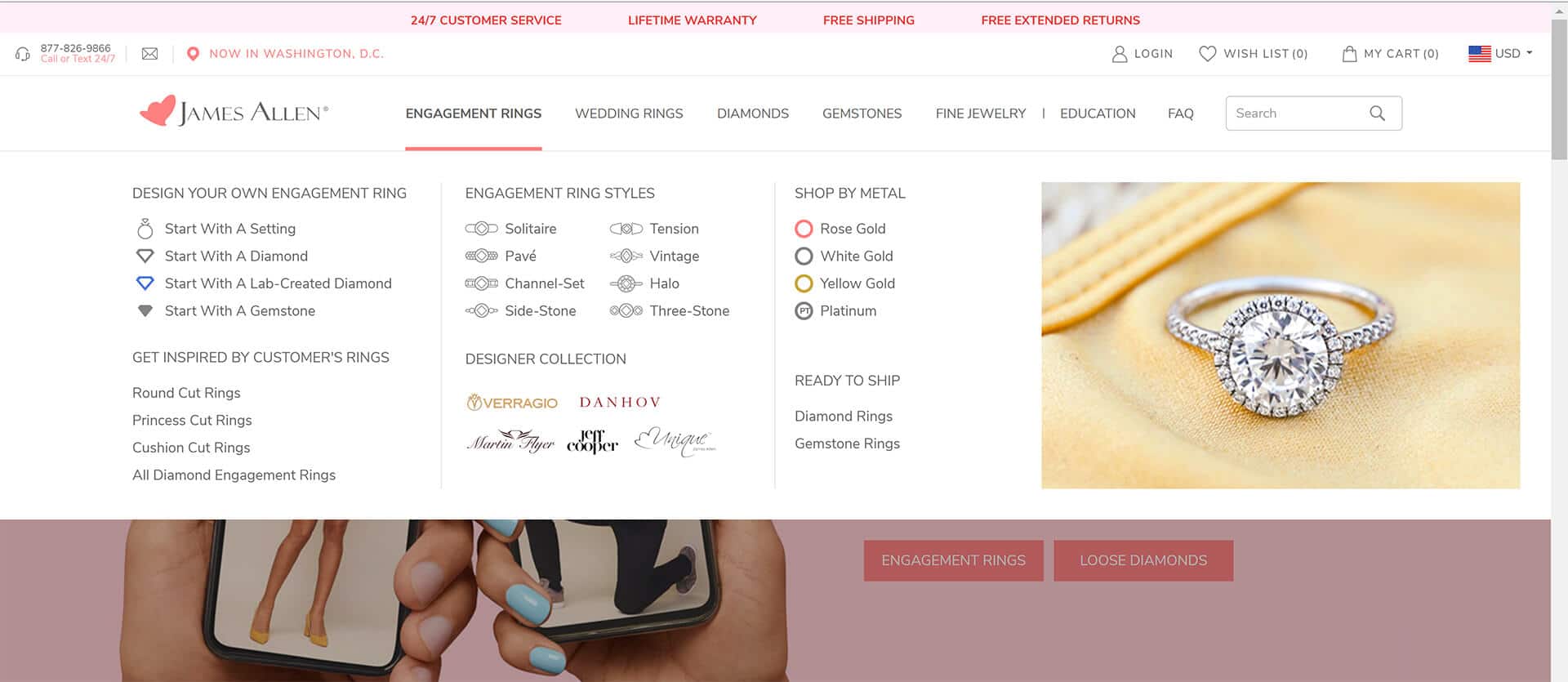 Once you decide where you would like to start let's go to step 3.
Step Three
In this article, we are going to focus more on choosing our diamond. So we will select "Start With A Diamond".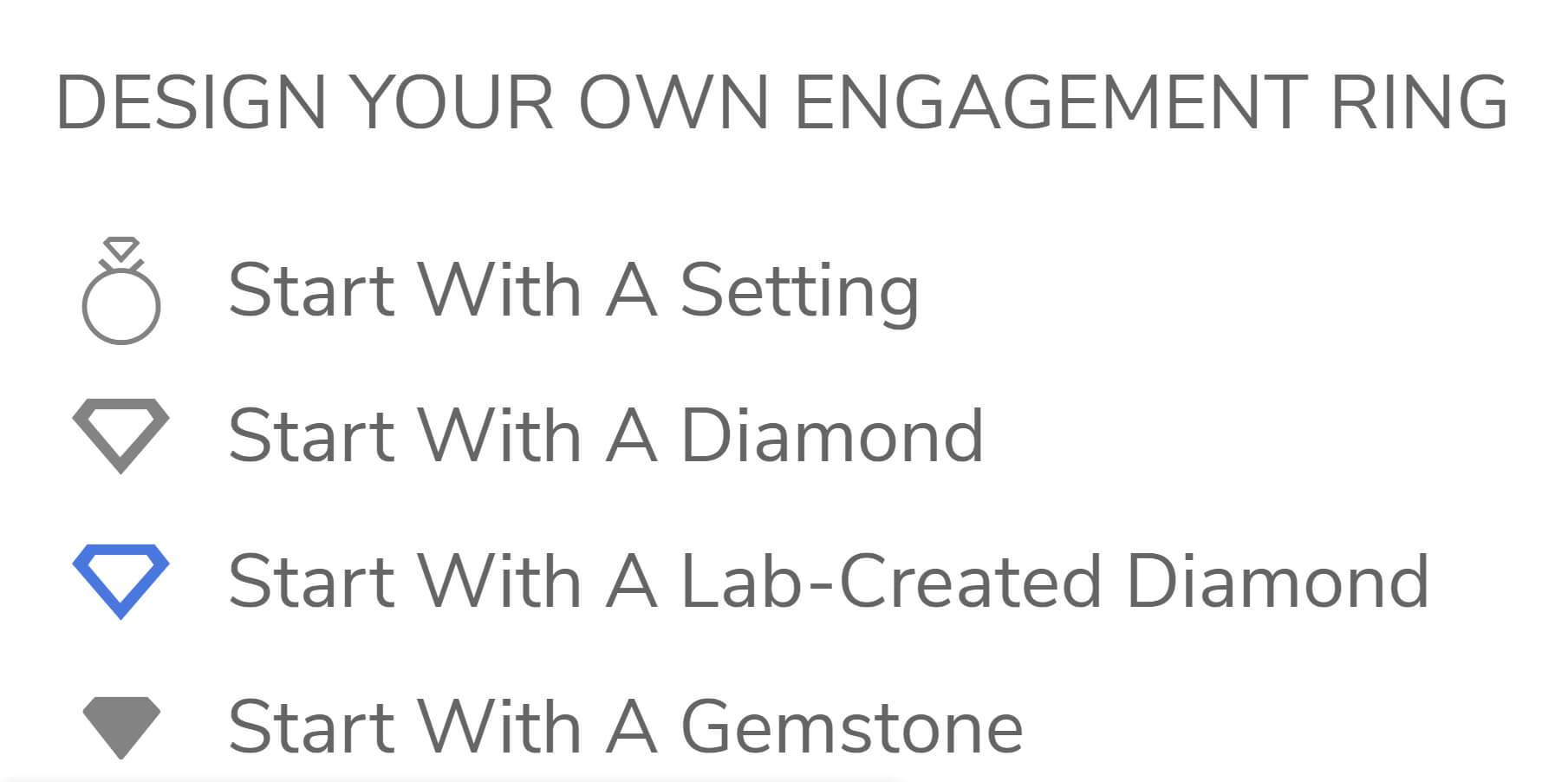 Step Four
Once you have selected "Start With A Diamond" you'll have a screen that looks a lot like this one.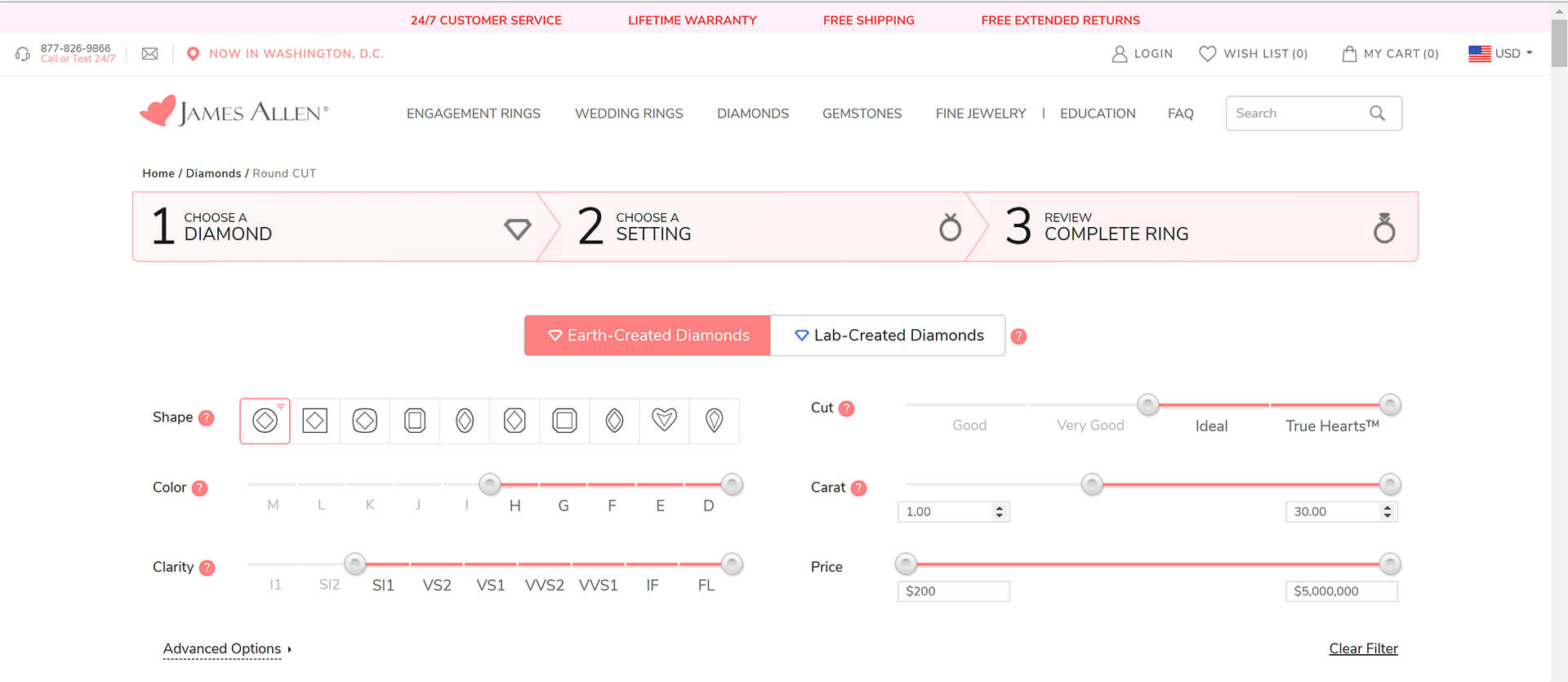 From here you'll want to put in all the parameters of the diamond your looking for. For our example, we are searching for a good diamond so let's set them all at a higher option.
In this range, a great diamond will be available to pick. So let's find one for $5,000? 
Step Five
I changed my search filters to now meet my budget. I also had to adjust on the carats because my budget is only $5,000 I'll be hunting for a smaller (but not to small) diamond. I usually set the filters to $500 over and $500 under since it's rare to nail an exact $5,000 diamond on the dot.

Here is the diamond that I would purchase if I had $5,000.
Isn't just beautiful? Enough about that though, see how easy it is to find a great not just a good diamond on James Allen? 
I don't know of very many places that make it so simple and easy to find a gorgeous diamond so quickly.
They also offer you plenty of options to fit whatever you care about most.
It's kinda fun to go and play with the filters just to see how the prices change from one diamond to another, if you get the chance you should try that out as well. 
Our Recommendations for picking a good diamond:
Color: Stay above H
Clarity: Stay above VS2
Cut: Stay above Ideal
Carat: Stay above .90 for an engagement ring.
See Also: Is $5000 Good For An Engagement Ring?
James Allen Customer Service
Now if choosing your own settings, or just the online world kinda freaks you out then worry no more. James Allen has you covered for that too. 
JA's customer service is a great place to call or online chat for any questions you may have, or to even do the whole process if you'd like. They can walk you through customization, ordering, and any of the questions you can come up with. 
In a world where a lot of things are going online, it's nice knowing that James Allen is there to help you out, no matter what. 
Side note: in a recent comparison I did between Bluenile and JamesAllen, I found that  James Allen responded to my online chat within 15 seconds. So they are definitely on the ball over there.
---
Now you know how to pick not only a good diamond on James Allen but a great one. So try not to worry too much, the folks at James Allen have you covered in every way you can think of. They even have some great policies to back that all up. 
Curious to know what I think about Buying Diamonds and Rings on JamesAllen.com? See my James Allen Review.