Diamonds have been the staple when it comes to engagement rings. You've seen all the commercials featuring them in jewelry stores. The more carats, the better. However, the engagement ring rules are changing and people are choosing alternative gemstones. One of these stones is the morganite, which is significantly cheaper than the diamond.
Morganite is an excellent choice for an Engagement ring. Morganite is significantly cheaper than diamond, making it an appealing alternative to diamond engagement rings. The stone is beautiful and can range in color to suit anyone's tastes. It is a semi-precious stone that can dazzle as an engagement ring. Morganite as a substitute for diamonds in engagement rings is currently trending with modern couples.
There are a variety of characteristics of the morganite stone that are different than the diamond. The biggest differences are price, look, and maintenance. These differences make the morganite a great option for anyone looking for a cheaper alternative that can still be dazzling and special.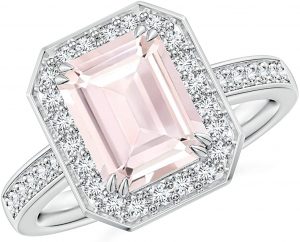 How much does a Morganite Engagement Ring Cost?
One of the biggest reasons to get a morganite ring is the price tag. Morganite rings are cheaper than diamonds while still looking beautiful. The prices for Morganite engagement rings can range from $800-$2000 depending on the size, color, and if the ring is combined with diamonds.
On the other hand, diamond rings can vary from $3000-$10,000 depending on the size or carats. The cheaper price tag can help you and other couples on a budget or don't like diamonds.
Are Morganites Rare?
Morganite is a very rare stone, despite its cheaper price tag. Many sellers drum up the price of stones to instill interest, so the price tag can be misleading. The larger a morganite stone, the darker the color. A light pink will be cheaper than a darker pink or orange color.
Be sure to look at the options of colors before deciding to buy so you and your partner will be happy with the ring. The band can vary from gold, rose gold, or silver depending on your preference and the jeweler you go to for the ring.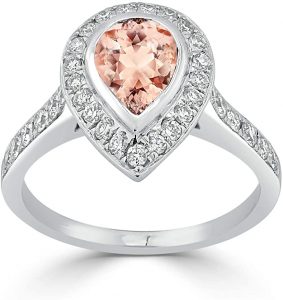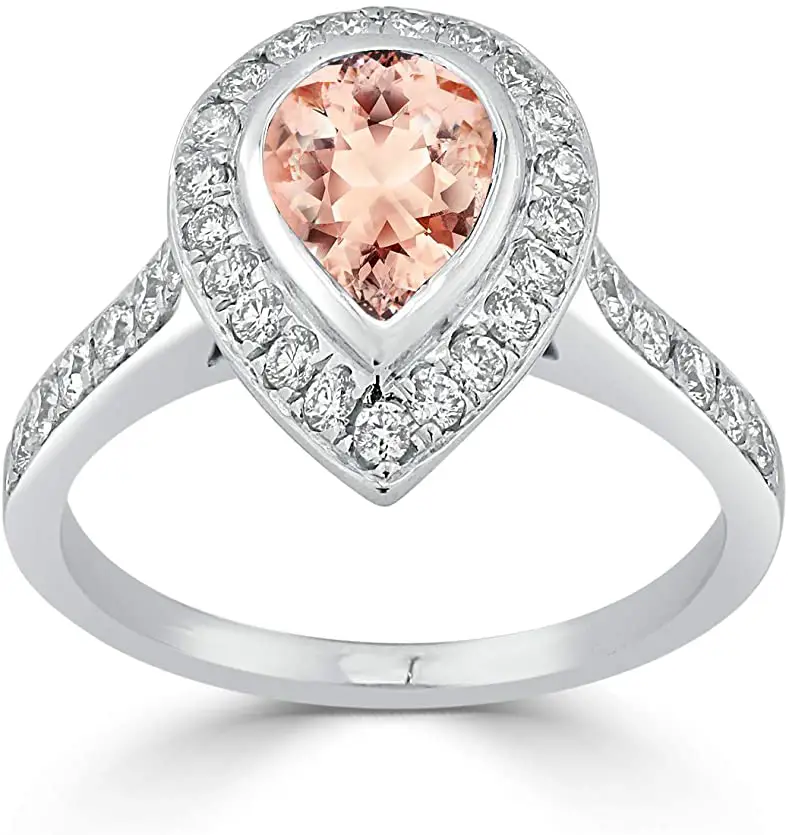 What is the most valuable color of morganite?
Dark Pink Morganite is the most valuable color. Light Pink Morganite is the most popular color. Whether it is the bright color or the price, light pink is the most popular morganite color on the market. The color is both beautiful and affordable, given that the morganite color is softer when it is smaller. You'll want to check with your partner or your tastes to see if the light pink works for you.
It is also an excellent comparison to the pink diamond, although it does not shine as much due to the stone's different qualities.
What does a Morganite engagement ring mean?
Morganite engagement rings mean that you are a "match made in heaven and the two of you will live happily ever after."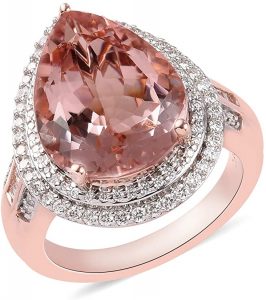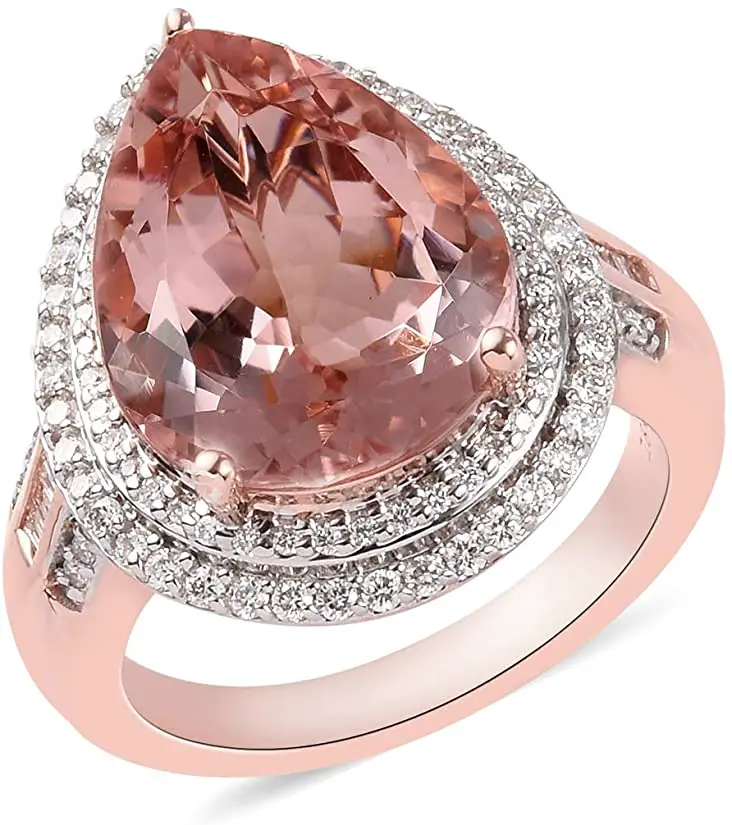 Morganite Does Require Some Care  
Morganite, unlike other stones like diamonds, does require some upkeep. So be careful! This option may not go well with people who are clumsy and bump into things a lot. The stone can get dirty, and dirt can get into the nooks and crannies of the ring.
Is Morganite durable enough for an engagement ring? Will a morganite ring last?
The stone also tends to be softer than diamond, so it does not have as much longevity. Insurance on the ring would be a good idea since wear and tear can damage the ring over time. You want to make sure the ring lasts!
Wash The Ring with Soap and Water
You'll want to wash the ring with soap and water at least once every six months. Dirt and grime from everyday wear can stick to the ring. A soak in soapy water and wipe from a washcloth should be enough to clear away any dirt. Let the ring air dry before wearing it again. If you are too rough with drying it, the stone could pop out of the ring and need to be replaced.
Can you shower with Morganite?
You can shower with a Morganite ring on your finger. However, everyday exposure to water can decrease the life expectancy of the ring.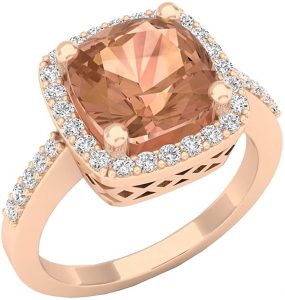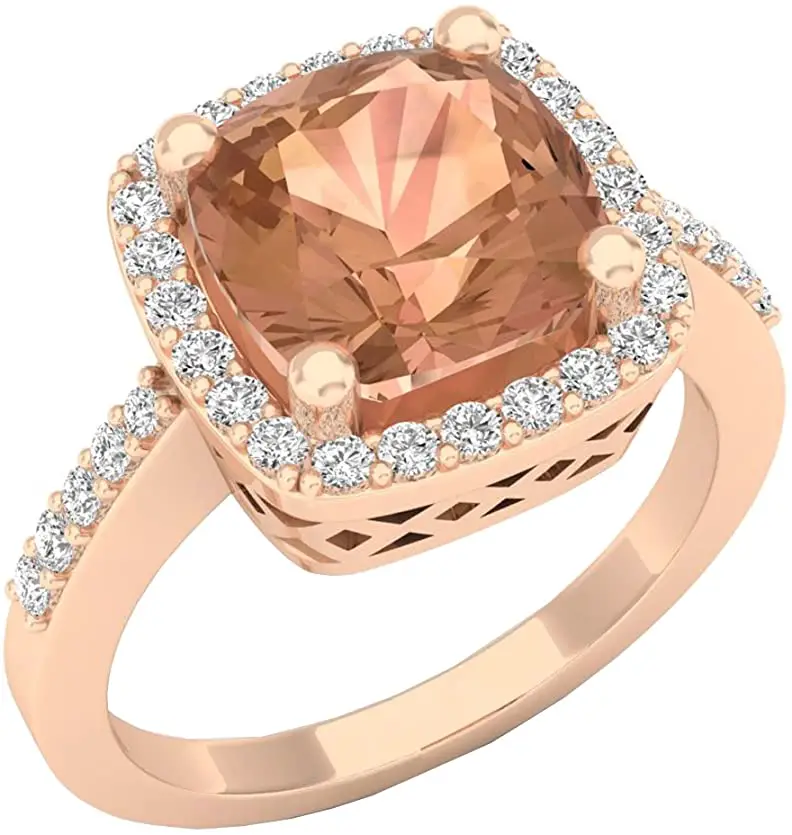 Buy Your Morganite engagement Ring from an Accredited Jeweler
Morganite is a softer rock, so it won't adhere to the ring settings that keep it in place. But a skilled jeweler can guarantee that the stone stays in better than buying it cheap from a website.
James Allen specializes in engagement rings with all types of stones, such as morganite, and you can guarantee that your ring is put together with the utmost care.
Is a Morganite engagement ring tacky?
Reviews from a ring forum talk about morganite rings as beautiful and soft, not tacky at all!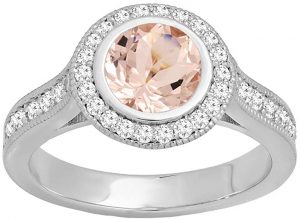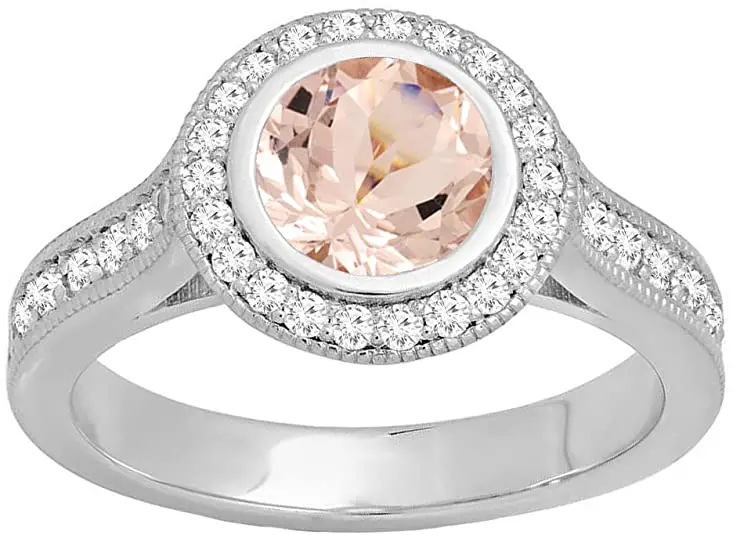 Is Morganite better than a Diamond?  
If the price and maintenance don't impact your choice, then here are a few other aspects to consider.
Morganite is a durable stone, maybe not as durable as a diamond, but it is strong enough to withstand everyday wear. They have a 7.5-8 rating on durability, while a diamond has a 10.
Morganite rings are a great investment because they last a lifetime and are affordable compared to other stones like diamonds.
Morganite is also a trending stone for newly engaged couples.
The various colors also provide a refreshing take on engagement rings in comparison to your normal colorless diamond ring. They are also much cheaper than Fancy colored diamonds.
The Morganite Style Is In For The Engagement Scene
This more affordable, semi-precious stone is trending currently in the engagement circles. Given that it is cheaper than a diamond, many couples can spend less on a larger stone to make a more significant statement than a diamond would. It shows that many couples are moving away from traditional engagements and weddings, promoting morganite engagement rings over diamond ones.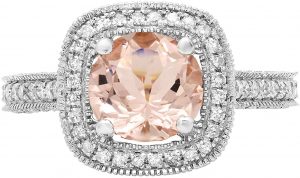 Overall, these facts about the morganite should help you decide whether it would be the right choice for your engagement ring!
Was this article helpful?
Let us know if you liked the post. That's the only way we can improve.