Engagements are a beautiful moment in any person's life. For most people, the ring is an essential part of an engagement. When it comes to buying an engagement ring, you might feel quite overwhelmed as there are many different styles to choose from. We're here to talk accent rings, what is a diamond accent ring?
Diamond accent rings are diamond rings with a large center diamond that is surrounded by smaller side stone diamonds. The accent diamond side stones enhance the center diamond and the overall beauty and brilliance of the ring. Accent rings can have from two side stones up to numerous accent diamonds surrounding the center diamond or encompassing the entire band of the ring.
There are a variety of diamond shapes when it comes to having a diamond accent ring. Some of these shapes include baguette diamonds which come in two shapes, the tapered and straight baguette. There are also trillion cut diamonds and small round diamonds. Keep reading to find out more about accent diamonds.
What Diamond Shapes Are There For Accent Rings?
You can get a variety of diamond shapes for your accent ring. These shapes are the perfect fit to go alongside a larger diamond. Below we have explained the different types.
Baguette Diamonds
Baguette diamonds are considered the perfect accent ring diamonds because they create a row of diamonds that make the ring look incredibly beautiful. Sometimes the accent diamonds even help the central diamond to stand out more.
If you are looking to buy an accent ring on a budget, then having a baguette-style ring is a perfect choice. They are cheaper due to the carat weight usually being smaller, so it will cost less money. The only downside to this type of accent diamond is that sadly the baguette style rings aren't as sparkly as other types. Make sure you know what your significant other is looking for sparkle-wise!
Tapered Baguette Diamond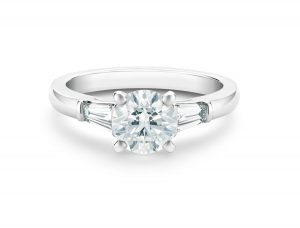 A tampered diamond is a rectangular shape (You could say hence the baguette in the name). Even though it is a rectangular shape, one side of the diamond is wider than the other side. It is a unique shape but still looks elegant when paired with a round brilliant cut, an emerald cut, a radiant cut, and a princess cut. They are usually placed on the ring as a side stone or as three stones.
De Beers is selling a round brilliant and tapered diamond ring. You can see how the tapered baguette looks on a ring. However, if you decide you like this ring you might be shocked by the price, it is rather extortionate but stunning!
Straight Baguette Diamond
The straight baguette cut is more of a rectangular shape compared to the tapered shape. Both widths are equal on either side, whereas the tapered is wider at one end. The straight baguette appears larger on the ring and to other accent diamonds due to the large table size.
The straight baguette makes the accent ring look symmetrical and therefore makes it appear more expensive. A straight baguette is commonly used alongside a Round Brilliant cut, a Marquise cut and an Asscher cut.
Trillion Cut Diamonds
A trillion cut diamond is a triangular shape, very unique and not one that is commonly bought in comparison to the usual round and square accent diamonds that support the central diamond. The trillion cut diamond follows the natural curve of a ring. They work best as a three-stone appearance. The diamond cut most often used is a Round Brilliant or Cushion cut; they can sometimes work with a princess or a radiant cut.
Calf Cut Accent Diamonds
Calf cut accent diamonds are considered quite rare and very unique. Calf cut accent diamonds are often used in a three-stone setting, usually used alongside the center stone which is frequently a princess cut or a radiant cut. The sizes of calf cut accent diamonds range from 0.15 to 1.00 carat. 
Half-moon Accent Diamonds
The name of the half-moon accent diamond quite self-explanatory, they are straight on one side, and the other is curved like a half-circle. They are mainly sold as a three-stone setting. Usually, half-moon accent diamonds are sold as pairs, one on one side and the other on the other side. The sizes of a half-moon accent diamond commonly range from 0.10 to 2.5 carats.
Small Round Diamonds
Small round diamonds come in three categories. These categories are stars, full cuts, and melee.
Star accent diamonds are 0.02 carat or less.
Full cuts accent diamonds are between 0.02 carat and 0.07 carat.
Melee accent diamonds are between 0.08 carat to 0.18 carat.
These are usually displayed in a three-stone appearance, sometimes they are side stone, halo, pave, or as a channel ring.
Are Accent Diamonds More Expensive than the Center Diamond?
Accent diamonds are cheaper than center diamond stone. This is because accent diamonds have a lower diamond rating which means they are not as valuable and expensive as a center stone diamond on its own.
Now you know what an Accent Ring is!
As you can see, there are many styles of rings which you can buy, we've spoken about accent rings, but there are other styles such as pave, halo, cluster, etc. An accent ring is a ring with multiple diamonds. These diamonds will be a smaller carat weight.  Despite this type of ring costing less money than one individual diamond on its own, many people feel that an accent ring is more beautiful and stands out better.