Picking out a good pair of earrings is important to complete any outfit. While choosing the front of the earring is the first thing you'll focus on, you also need to consider the backing you will use. But which type of earring back is the best one? Well, I researched all the options and these are my top 13 different types of earring backs to help keep your earrings in place.
The most popular styles of earring backings include:
Clip on earrings
Push backs
French Clip
La Pousette Backs
Jumbo Earring Backs
French Wires
Kidney back
Chrysmela
LOX
Lever backs
Saddle backs
Push-on stopper
Plastic backs
All of these have benefits depending on what feels the most comfortable for you and what type of earring you would like to wear. Let's take a look at each one of these different types of earring backs and see which one will provide you with the look and security that you want for all of your earrings.
The Different Types of Earring Backs
There are several types of backs that will help keep your earrings in place. Each one will provide a different level of security for keeping the earring in place. Some of the different options to choose include: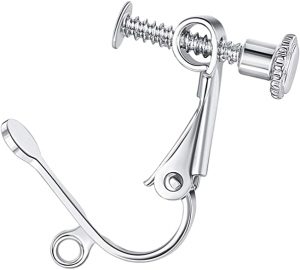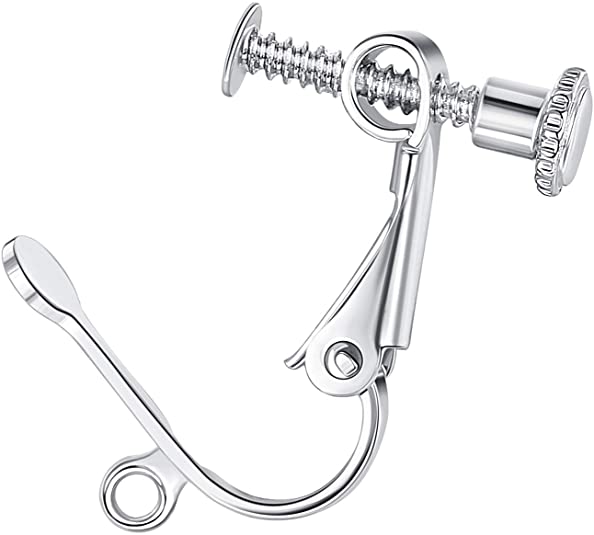 Clip on Earring Backs are a good type of earring to wear when you do not have your ears pierced. They rely on a nice little hinge that the clip can attach with, which will grab your earlobe and keeps the earring in place. There are some who will wear this when they have pierced ears, such as with costume jewelry. Be careful with these because the heavier pieces can pull on the ear or be painful.
These clips make it easy to keep the earring in place, no matter how much you move around. It is more secure compared to some of the traditional earring backs, so you won't have to worry about how long the earring will stay in place. You can find a lot of clip options to help you make the best decision.
The benefits
Good for those who want to wear earrings but do not have pierced ears.
The clip and earring stay together.
The negatives
Heavy
Not high-quality like other pieces.
Will hurt your ear quite a bit.
Should you wear these?
If you would like to wear earrings without going through the process of piercing your ears, then this is a good option. However, most of the pieces that use this kind of clip are in the category of costume jewelry, which means it is not high quality compared to some of the others. The weight of these pieces can also pull on the ear, which can cause some pain.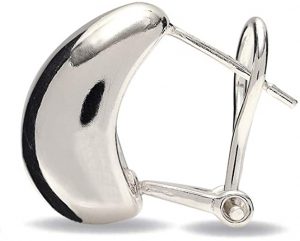 There are versions of French Clips that work well for those who have pierced or have unpierced ears. They come with a clasp that is good for gripping onto the earlobe and can be found with any type of earring that has a gemstone in it. This helps you to hold onto the earring better and not lose the gemstone.
There are a few different types of French clips available. Some will have a little screw that can attach the back into place better. Basically, though, this one will have a post attached to the top of the earring and then the clasp will have a hole that the post can move through when it is closed.
The benefits
The back is connected to the earring to prevent losing the back.
They are secure and simple to wear
The clip is on a hinge so it will grab onto the earlobe and keeps the earring in place.
The negatives
Depending on the size of your ear, the clip may not be big enough and can cause some pain when pinching.
Should you wear them?
These are comfortable and work for all types of ears. They are made in different sizes so you can find one that fits with your ears easily. The clasp is easy to use, without in most cases, and they help keep earrings with gemstones in place.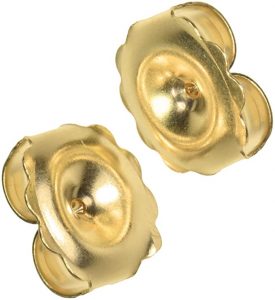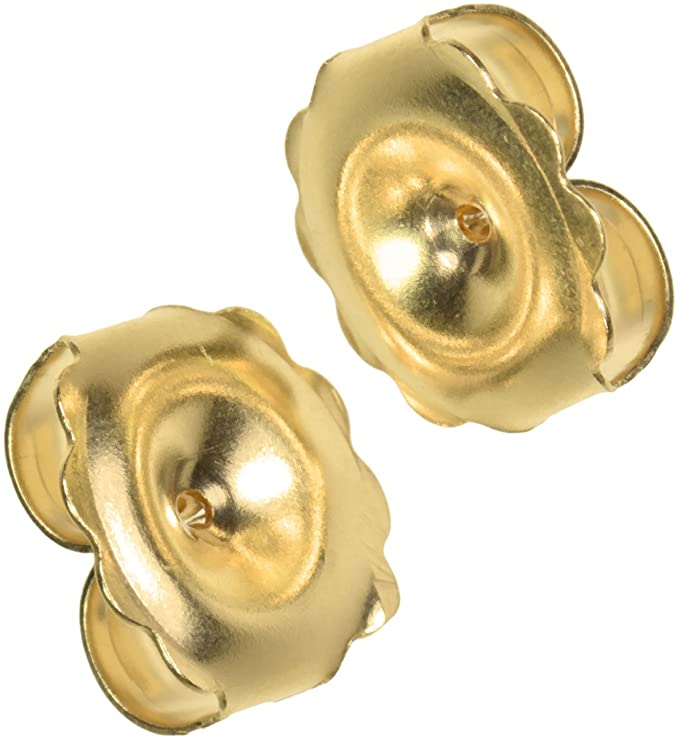 For some, the jumbo backs are the best option to go with. They are simple to put in, they won't get lost as quickly, and they fit with most earrings. The large backs of these will look like a disc and when you put them on, they can help flatten the earlobe and ensures the earring will lay down better.
These earring backs can actually enhance the way the earring looks and they are more comfortable than some options. They also come in a variety of shapes and colors so they can match in with the earring that you choose.
The benefits
Really comfortable to wear
Can work with most earrings you would like to use.
Can make the earring lay against the ear better.
The larger size makes it easier to find if you drop it.
The negatives
They are really large and may show from behind with small ears.
They do not work with every earring.
Should you wear them?
If you want something that is comfortable to wear and fits well, then the Jumbo Backs are the best option. Because they are larger, you won't lose them as quickly and they are more likely to stay in place when you wear your earrings out. They are just made out of plastic in some situations but work with almost any type of earring you want to wear.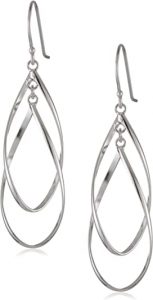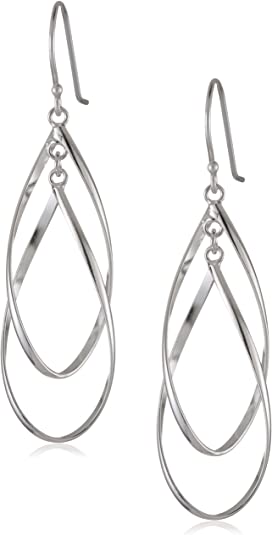 You know you have a French wire when you look at the earring and notice that it looks similar to a fish hook. These are often put together with a heavy earring, often with a teardrop-shaped earring. Because the earring is heavier, the earring will stay in place.
The backs of these are just a curved wire hook that can easily fit through your ear. But there is no other back that goes with it. The reason for this is the wire is usually big enough to stay in place so the back is not necessary.
The benefits
Stays in place with a long wire.
Easy to put in and keep in place.
Can hold some heavier pieces in place
The negatives
No back so it may get lost easier.
The regular earring can be heavier, making it hard for a smaller ear.
Should you wear these?
These often have some really beautiful jewelry on the other end and you do not need to worry about keeping track of the back at all. However, because it doesn't have a secure part that goes with it, there is a higher risk of losing the earring when you move around.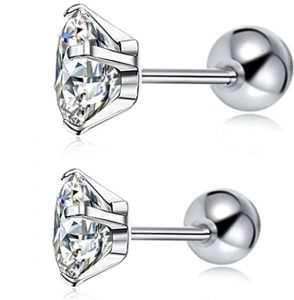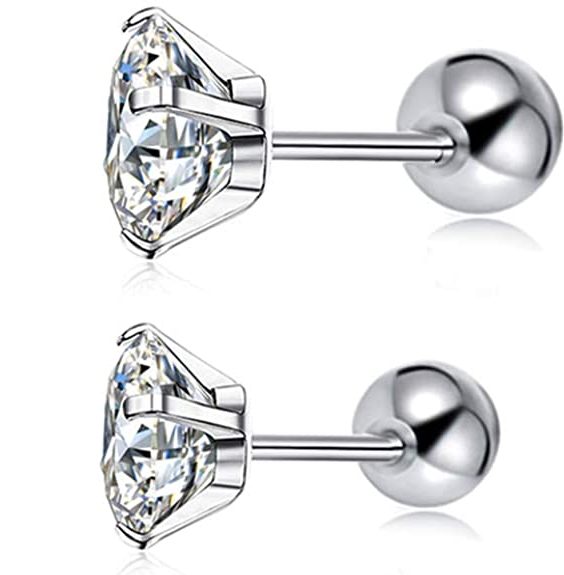 Ball Backs are a lot of fun to wear and can be part of the design of the earring. They are used to show off from behind and can sometimes be a variation of some of the other types of earring backs as well. It is most likely that you will find this kind in atypical earrings, including cartilage piercings, rather than on regular earrings. They may not be that comfortable either so most people will avoid them.
The benefits
Look unique
Can add a great look from behind.
The negatives
Hard to find
Don't work well with most traditional earrings
Should you wear them?
Most people will find that the ball back earrings are not the best types of backs to wear. They are not that comfortable, they do not always fit well with a traditional earring, and they can easily fall off.
Push Backs (AKA Butterfly Backs, Post Backs, or Friction Earring Backs)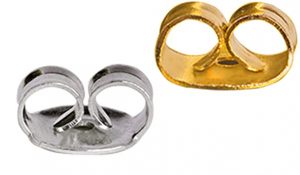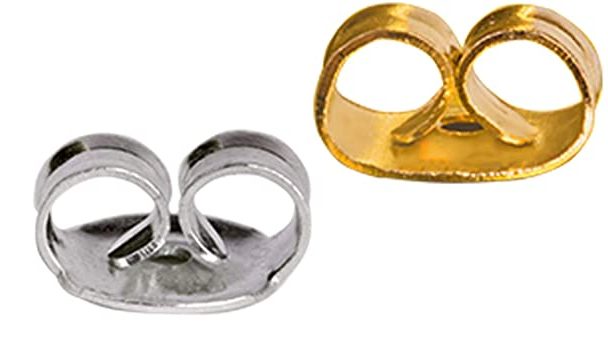 Push Backs may also go by the name of a butterfly or post back. This is the standard earring back, the one you are most likely to see when you purchase an earring outside. They are popular with some basic stud earrings as well. Butterfly earring backs are shaped like a butterfly and are made out of a thin wire. Then there is a small hole right in the middle that you can place the earring inside.
These often have a snug fit with them to make sure the back stays in place and will ensure your earring will stay in place. You can also wear just the pushbacks, which can make it easy to lose the earring so they are not always the most popular.
The benefits
Simple and easy to find
Work with almost all types of earrings
Lots of options
The negatives
Not as secure as some of the other choices
Should you wear them?
Many of the earrings you will purchase rely on these types of backs to keep things in place. However, they are also easy to lose so you may want to go with something that is better designed.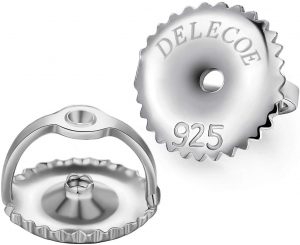 Another option you can use for your earrings are screw backs. These are very similar to the push backs that are the most common to most of your earrings, they are more expensive due to the fact they can make all of your earrings more secure along the way.
This type of backing will have a kind of winding groove along with the post, one that you are able to twist screw on and off. And since the whole earring will scree on tightly, you do not need to worry about it getting loose or falling off.
When you first look at this kind of backing, it will look like the pushback and it is sometimes hard to notice the difference. However, the way it is used will be different. Rather than pushing the back into the earring to make sure it closes, you will choose to screw it in instead. This is what makes it more secure compared to the push back.
The benefits
They work with most earring types
They provide a good amount of security to the earring
They are comfortable to wear
The negatives
They are not as secure as some of the other options out there.
Should you wear them?
If you like the ease of use that comes with the push backs, but you do not want to keep losing them, you should consider this type. They are simple to use, will work with many of the same types of earrings as the push backs, and can be comfortable and easy to use.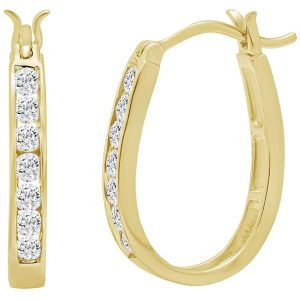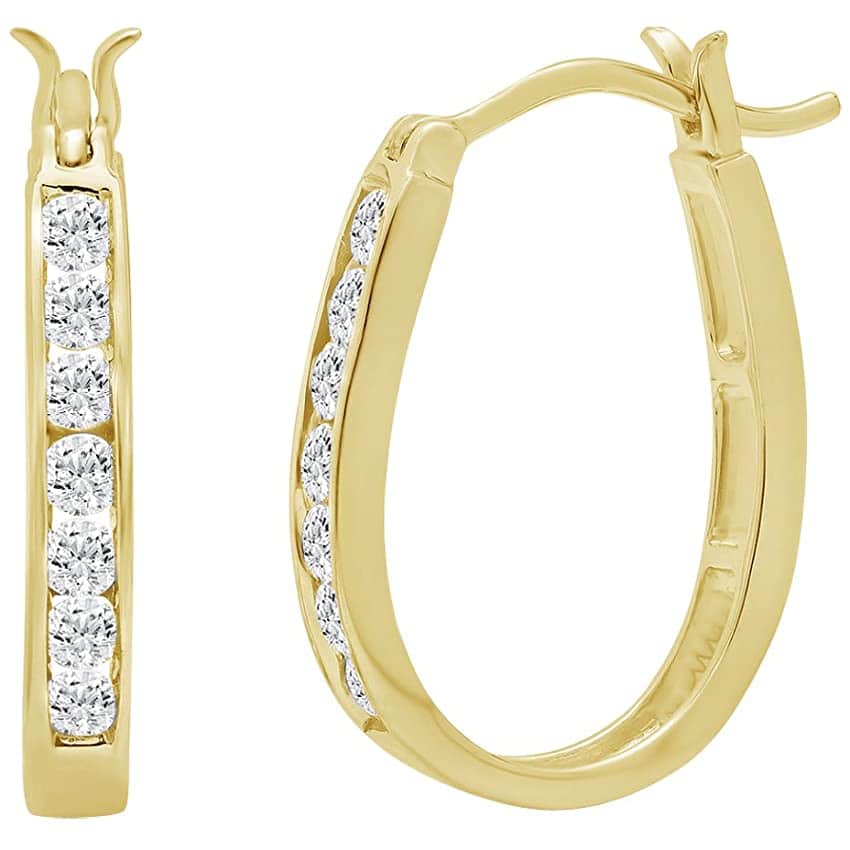 If you wear a pair of dangling earrings, it is likely they are in the style of a latch back. This is also something you are likely to find in hoop earrings because they fit neatly with some kind of loop in the earring.
This type of earring just fits nicely into a little hook in the back after looping around in the first place. It is often in a circle so you will have the latch on one side and the pin on the other. There are no clasping mechanisms which makes it an easy one to wear.
The benefits
Easy to hook on and wear
Works well with dangling or hoop earrings.
The negatives
Not as secure as some of the other types
Should you wear them?
If you are looking for something that is simple and elegant and works well with bigger earrings, then the latch back is one of the best options. It is a simple hook, which can make putting them on easy, but be aware that they may not stay as secure.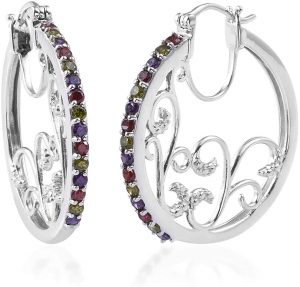 Saddlebacks are similar to a few of the other options on our list, though there are a few differences. They are going to come with a hinged post and a metal catch that will help provide a little more security to the earring you plan to wear.
The benefits
Provide more security to the earring
Work with hoop earrings
Are easy to put in
The negatives
Only work well with hoop earrings
Should I wear them?
These earring backs work well for hoop earrings. They provide an added level of protection that will keep the earring in place a little bit better than some of the others.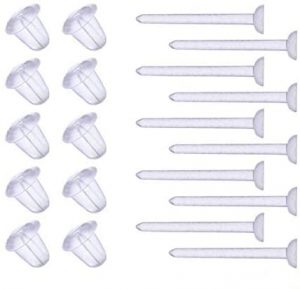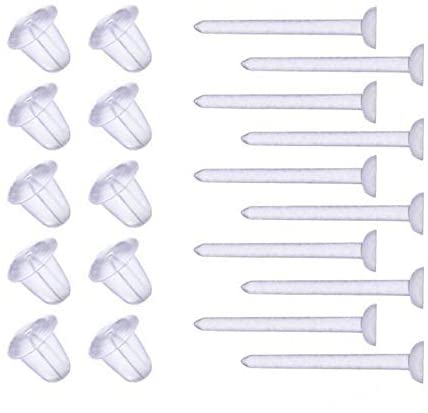 There are some backs for your earrings that come in plastic and silicon. Plastic Backs are often inexpensive, which makes it easy to get a bunch of them and not have to worry about when they get lost. You can also choose the one that fits on your earring the best.
For the most part, when you pick out a plastic earring back, you will get a simple plastic piece with a hole in the middle. It is often tight enough to keep the earring in place, but also loose enough to move back and forth as necessary. These are not the sturdiest options but are simple to use and do not cost a lot.
The benefits
Cheerful and inexpensive
They are tighter fitting so will not fall off easily.
The negatives
Can be too tight to put on the post you use
Should you wear them?
This is a matter of personal preference. There isn't anything too special about these earring backs, but they do the job and are not too expensive. It may be worth it to keep a few around.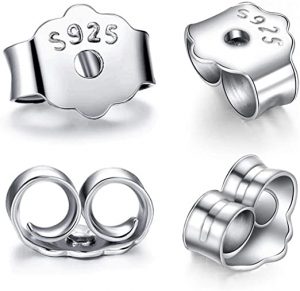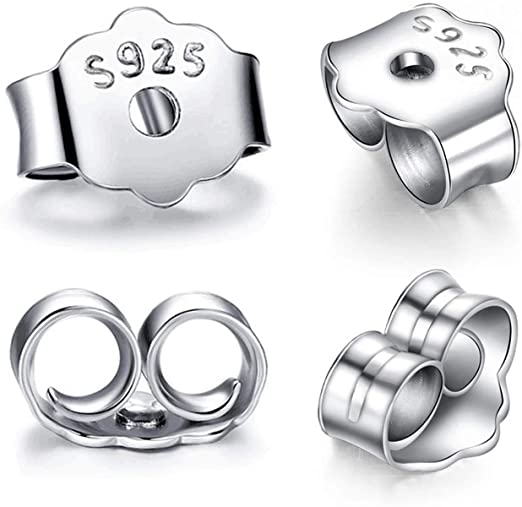 A Push-On Stopper is a great option to use to keep the earring in place. It has a bullet clutch design with a push back mechanism as well, helping to get the earring back on nice and securely while being smooth. They also have a diameter hole that is non-adjustable so it may work for most earrings, though not all of them.
The benefits
Secure
They are easy to get on and off without trouble.
Comfortable
The negatives
They are only one size so may not work with all of the posts you have.
Should you wear them?
These are pretty basic backs for your earrings, though they are designed to give a little extra protection so they are less likely to fall off. If you have a post that will fit in them, they can be a good choice.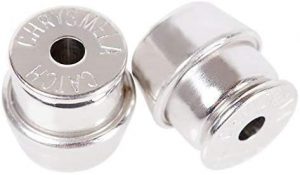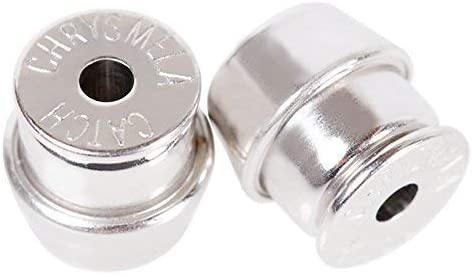 These locking earring backs are touted as being the most secure ever, and they come with some patented material that helps them do this. As you slide the back of the earring onto your post, there are three tiny bearings inside this back that can grip and then will lock right onto the post easily.
To release a Chrysmela, you will need to pull back on the endplate to help get the lock to release. There are several sizes available to fit any of the posts that you would like and they are designed out of hypo-allergenic material, which makes them a good fit for almost everyone. They will not move until you are ready to take the earring off, giving you some more peace of mind.
The benefits
They are the most secure possible.
They work for all types of earring posts.
They will last a long time.
The negatives
They are quite a bit more expensive than some of the other choices.
Should you wear them?
The higher price point will turn most people away from these. However, if you have a few pairs of really valuable or expensive earrings, the peace of mind that these can provide may be worth it.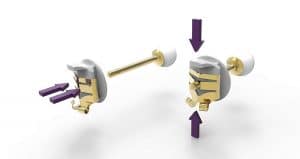 LOX are earring backs that were created by an engineer whose wife had a lot of trouble keeping track of her earrings. To make this one work, you take the LOX earring back and slide it onto the earring post, stopping it at the exact location that is most comfortable for you. Then the back will grip onto the post well. The back is not going to move around at all, even with some pressure on it.
To help remove the backs, you will need to grip onto the little metal and the levers and squeeze a bit. This helps to release the hold on the post, helping the back just come right off the earring that you are wearing.
The benefits
Very easy to use
Can work with many different types of earrings no matter what you want to wear.
Are secure and will not fall off.
The negatives
They can cause a little mark on the earring.
Should you wear them?
These are simple to wear and can keep your earring in place. They are a little more expensive and more difficult to use compared to some of the other options out there though.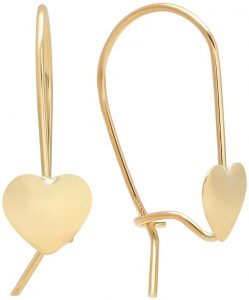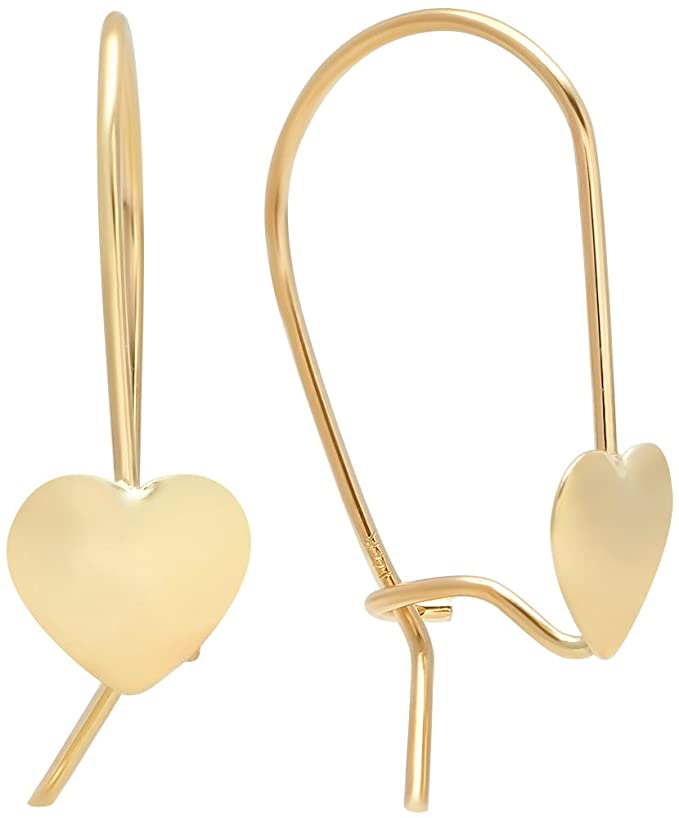 Kidney Wires are a little bit different compared to some of the other options, but they are also often used just for customized earrings. They include a partial loop that will completely shut the earring off so it can't fall off from the ear. The reason it gets this name is that the shape looks similar to a kidney. They are wired and work well for dangling earrings and fancy jewelry, though they will not work well for studs.
The benefits
Help keep the earring in place
Work nice for longer and dangling earrings
The negatives
Will not work with studs
A bit harder to put the earring in
Should I wear them?
This type of earring back is not as common as some of the others because it is more difficult to wear and uncomfortable. It does keep the earring securely in place tough.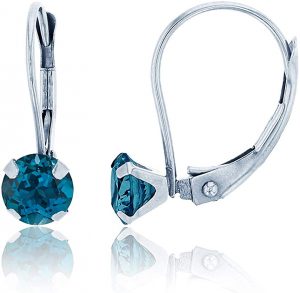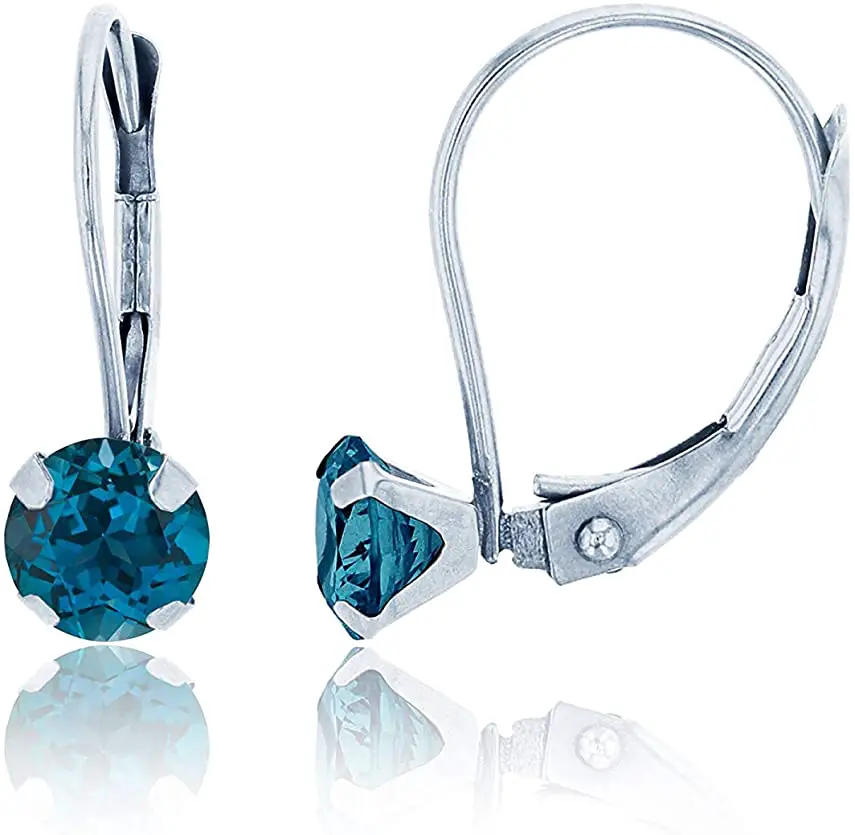 Lever Backs are similar to some of the other latches and clasps that are listed above. They will have a hinged post along with a metal catch that will come together. The catch can come in several different types. The hatches on the lever backs are often made with a spring and a lever to help make sure the earring will always stay on well.
When you see this kind of earring, you will notice that it pretty much makes a loop and then there is a small hole that shows up right at the end of the loop. This hole is where the earring, including the gem and everything else that comes with it, is attached. The loop will attach at this point as well.
The benefits
Easy to use
Can keep the earring on your ear
The negatives
Takes some time to get used to wearing
May be too tight on the ear
Should I wear them?
The lever on these earrings is simple to put on while adding in some more security. They will also be more comfortable compared to some of the other similar options for earring backs out there.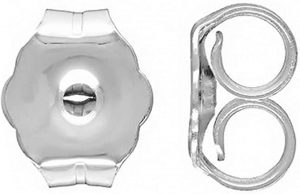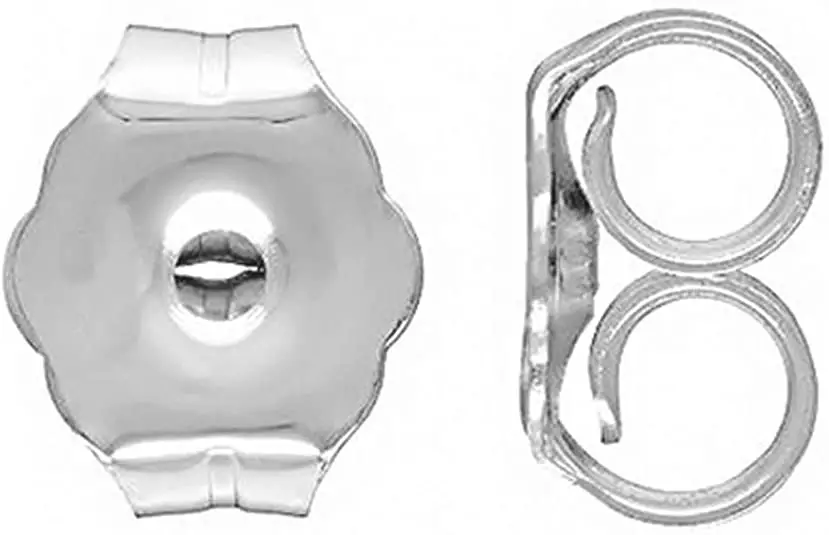 The La Pousette backs can be really interesting to put on, providing almost like a little lock to keep the hack in place. They have a post with a special indentation in it. This means that if the post does start to slide down a little, it ends up getting stuck and will not fall off at all.
In addition, you will notice that there is a spring-loaded mechanism that is activated with some pressure. It is easy to use also. To but the back on and off, you will need to squeeze both of the ends of the back together. This will open it up to allow the post to get inserted. If you would like to take these off, you just need to squeeze the ends again and pull it off the post to take the earring off.
The benefits
Easy to put on and take off.
Is more secure than other options to help you keep the back in place.
Unique earrings use this option.
The negatives
You need to use a little more work to put the earring back on, but this keeps it more secure.
Should I wear them?
If you do not mind a little bit of a learning curve, these are some of the best backs to work with. They are secure so they do not fall off at all and can fit very comfortably on your ear.
Which Style of Earring Backs do I Like the Best?
The best earring backs in my opinion are the jumbo backs. These are large enough that they are easy enough to find if one does fall out while still being comfortable on the ear. In fact, they are also able to lay the earring down in such a way that it actually looks better than it would in any other type of earring.
The clasp options are my second favorite. They add in an added level of protection to keep the earring in place. You do need to choose the right one to make sure it will not pinch the ear or get too tight. Most are set up in a way to help keep the earring in place so you do not need to worry about it falling out.
The worst two earring backs are the French wire and the butterfly back. The French wire doesn't include any type of back and relies on the earring not moving to keep it in place. This can result in the wire moving around and not staying in place. The butterfly earrings are the most common, but they do move around and are the most likely to fall off the earring and get lost.
If you like the option of the push back or the butterfly back, but you are worried about losing your earring all the time, then using the screw back is a better option. It provides a little bit more security, but still gives the look and feel of the push back, while also keeping things easy to use. Most of the earrings you have will work with the screw back as well so you won't need to replace your earrings to use this either.
Conclusion
There are many different options you can choose when it comes to earring backs. Some will be specific to the weight or type of earring that you would like to wear. Others are specific to whether you have pierced ears or not. Take a look through this list to see which type of earrings back is right for you!