Hoop earrings are a wardrobe staple. They are also a classic choice. Hoop earrings can enhance any outfit. You may be wondering how big hoop earrings is. Depending on your style or the occasion, you may want different sized earrings.
If you are going to a big party or club, you will want larger hoop earrings. If you like to experiment with styles and trends, large hoops might be your everyday go-to. If you are more minimalist or have a classic wardrobe, you might go with a smaller hoop.
Although this is the standard, you may want to switch it up. I'll will give you all the information you need to decide which size is best for your next pair.
What Diameters Do They Come In?
Hoop earrings come in many diameters. The smallest is called a huggie-style. They come in diameters from 10mm to 62mm. 62mm can sometimes touch shoulders! You can choose different diameters for different occasions, outfits, or more.
What Should I Wear for a Statement?
If you're looking to make a statement, you can wear larger hoops. You can find all sorts of styles of larger hoops! A simple silver or gold makes a statement when they are larger in diameter. You can go smaller and find a thicker, more designed hoop style as well.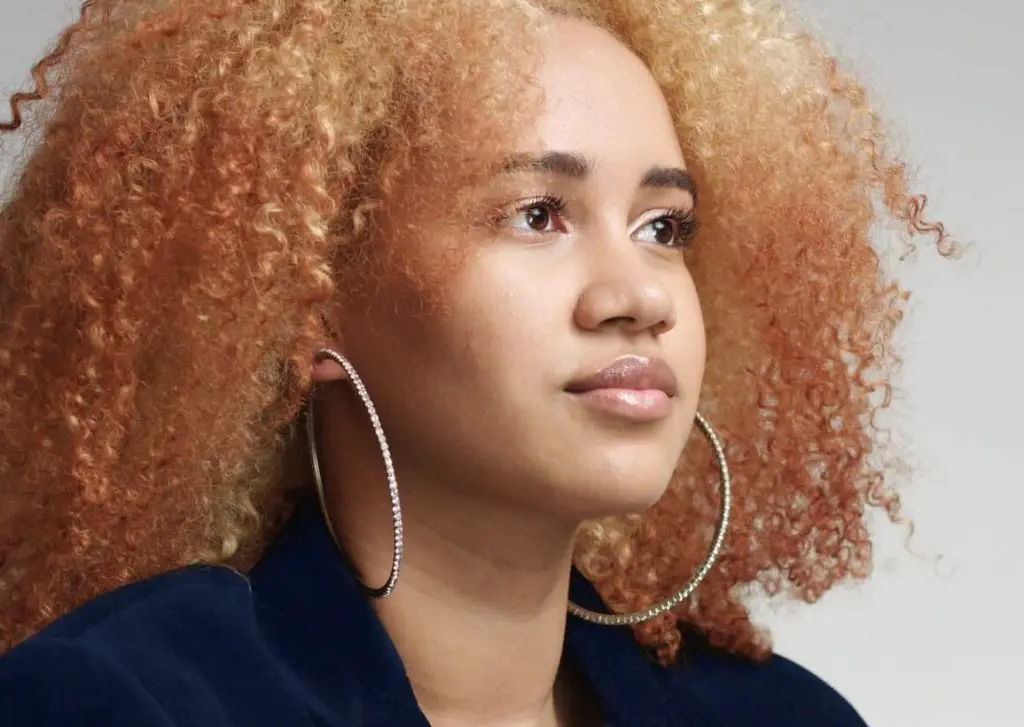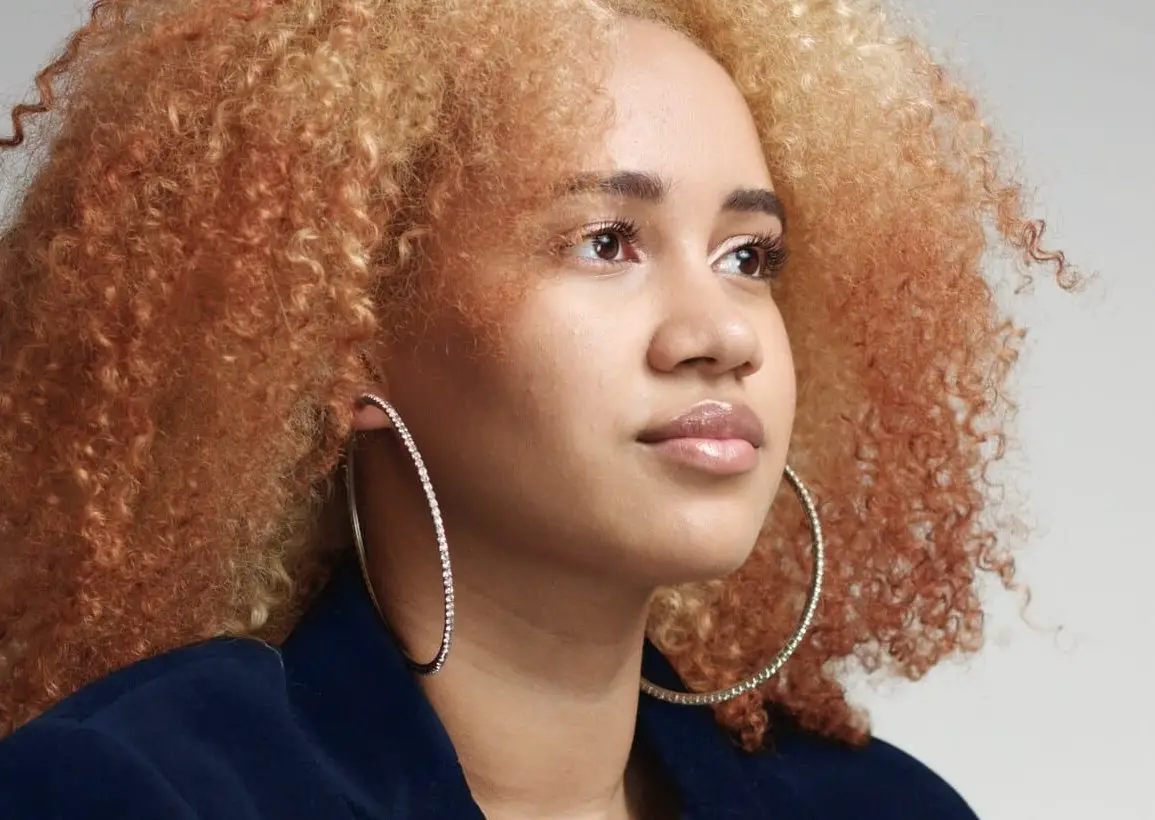 Hoop earrings can be simple, or they can be more designed. Depending on the thickness and the design, you can find hoop earrings to make a statement of all sizes. There are beaded hoop earrings, hoop earrings with diamonds, and much more.
Wearing hoop earrings for a statement does not automatically mean that they need to be large. Depending on the event you are going to, you can find many different ways to make a statement with a hoop earring!
What Should I Wear Casually?
For casual wear, you can look at your lifestyle to decide what size might be best fitted for you. Are you the type of person that wakes up early in the morning to go for a run? A person who dresses very classically and doesn't play too much with style?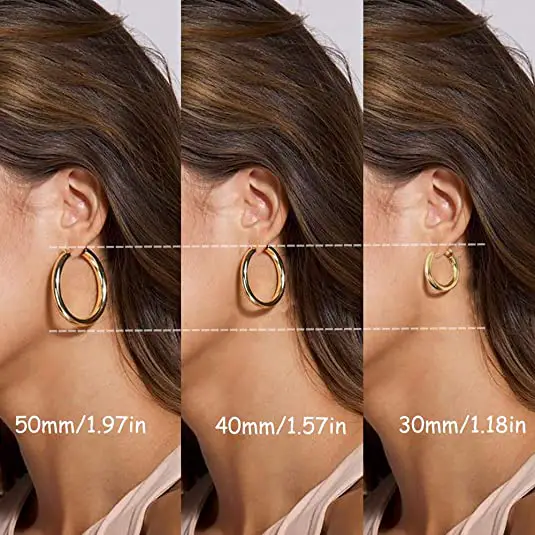 You might look at a huggie-style or slightly larger than that. It's a classic look that doesn't get in the way of your day.
If you like to really make a statement with your everyd
ay clothes, you may consider a larger sized hoop for your everyday wear. You might love going to clubs or concerts on the weekend and make sure you are part of the social scene. A huggie-style might not fit your personality!
What Does My Wardrobe Tell Me About Which Size?
If you tend to wear tailored suits or have a minimalist wardrobe, you will likely want smaller hoop earrings. You'll be looking at smaller hoops for your wardrobe to best match your everyday style.
When you're a person that wears formal clothes and attends formal events quite often, you can look at smaller hoop earrings that have a thick width. These earrings go very well with formal outfits.
If you are an urban fashionista, you'll need a large pair of hoop earrings! At least one pair. This will be the perfect accent piece for your outfit.
However, it's important to remember these are just tips. If you want to rock a different style, go for it! As long as you're comfortable with the size of your hoop earring, that's all that matters. You'll look fabulous either way you go!
What Does My Hair Tell Me About Which Size?
Typically, if you have longer hair, you may want to look at larger hoops. This helps add style and depth to your look. Of course, that doesn't mean you can't wear smaller hoops! Smaller hoops are classic and go well with any hairstyle.
If you have shorter hair, you have a lot of options. With shorter hair, you can wear and showcase smaller hoops. You can also make a great statement with larger hoops. It truly depends on what kind of style you are aiming for that day.
Does Width Matter?
Yes! The thickness, or width, of the earring can certainly change the statement your earrings make. Hoop earrings come in many styles. These styles vary in width.
Wide hoop earrings make a statement without being quite as large in diameter. If there are gems in your earring, such as diamonds, you can get a much smaller size to make a big statement. You can also go larger to have even more of a statement!
The width paired with the style is important to pay attention to when buying an earring. It's all about what type of statement you want to make. You can find hoop earrings that are very thick and made of rhinestones. These can even be quite large in diameter and still look great!
---
There are many options when it comes to choosing hoop earrings. You can choose the size, the material, and the design. The possibilities are endless! When you are wondering how big your earring should be, it can seem intimidating to choose. The important thing is to find a size that makes you feel like you.