Imagine this – The engagement ring you are about to give your (soon-to-be) fiancé is dazzling right in front of you. Indeed, you will want to buy it. But choosing the right carat can be a daunting task.
A 2 carat diamond in a round shape should be approximately 8.10 mm in diameter. If you find a scale to measure this, you will be left with the same weight as half a raisin. Even then, it will depend on the usage, cut, and shape of the diamond. But, in general, it will weigh less than 400 milligrams.
Does it sound confusing, or maybe intriguing?
Either way, we will inform you about every aspect related to a 2 carat diamond. After reading this post, you are likely to gain proper insight and choose the right diamond for your beloved.
What's a 2 Carat Diamond, and How Big is It?
We are not going to sugarcoat it – Shopping for a diamond can get incredibly confusing!
The weight of a diamond depends on its size, but it is not similar to the overall size of the ring. So, a 2-carat diamond is nothing but a rock that weighs 2 carats.
It means that you will have a 400-milligram weight or 0.4 grams on the hand. Well, to paint a better picture, such a diamond ring will have the same weight as a half-cut raisin.
These diamonds can have a variable appearance, meaning that they will either look smaller or larger. That depends on your intent of use, shape, clarity, and more.
So, if you are sitting next to a person wearing a 2 carat diamond ring, you will see its flamboyance. But it might not draw attention to the finger if the wearer is in a crowded street.
Even then, such a diamond is truly rare and stunning to behold. They have a beautiful sparkle that will display the aesthetics of the ring.
This image depicts how big a round 2 carat diamond ring will look like. Ideally, numerous factors influence its size due to the scarcity of this significant diamond.
For example, a 2 carat round excellent cut diamond with VVS1 clarity and J color will have a surface area of 7.91 × 7.99 mm. On the other hand, the same diamond having I color and VVS2 clarity with a very good cut will have a surface area of 7.8 × 7.89 mm.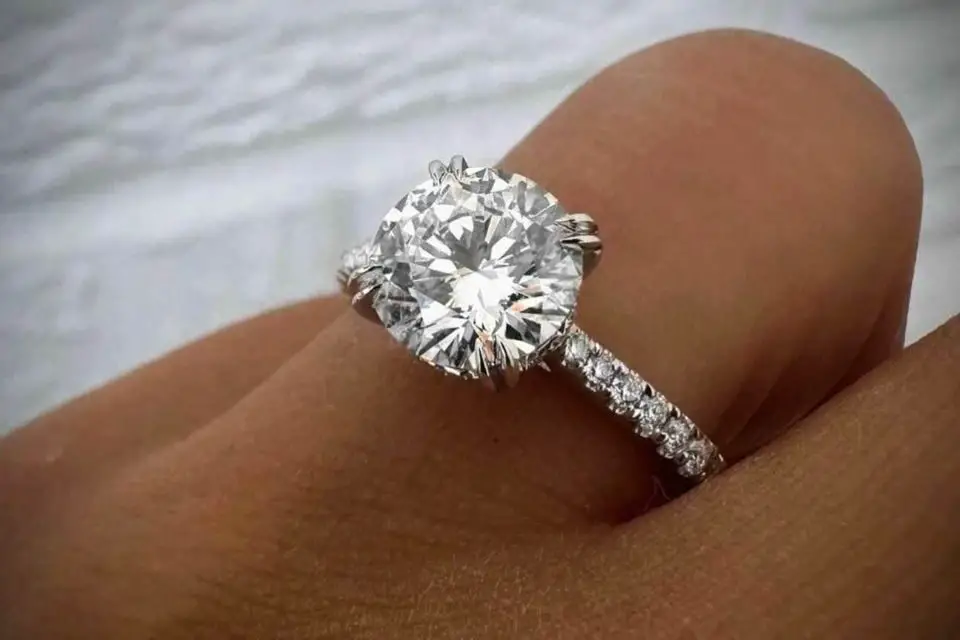 Factors That Influence the Size of a 2 Carat Diamond
We have found three main factors that influence the size of a 2 carat diamond ring:
Shape and Cut: Every diamond comes in various shapes and cuts, alluding to its finesse, symmetry, and polish. But, the 2 carat diamond size greatly depends on its cut, as depicted below. For a 2 carat diamond, you should choose between good to ideal.
Color and Clarity: The clarity and color of the diamond you have chosen will significantly impact the overall size. It refers to the visual appeal of the diamond. You can select from VS2 to VVS1 clarity for a 2 carat. The best color range for your diamond can be from G to I.
Setting: The most important aspect that influences its size is the ring setting. Ideally, you can go for a 5 to 7 ring size which is the most common for 2 carats.
According to GIA, 2 carat diamonds are rare for the high quality they possess. Hence the price will also be more. They also suggest that the lesser color you choose, the higher grade of diamond you will get.
2 Carat Diamond Shapes and Sizes: At a Glance
| | |
| --- | --- |
| Diamond Shape | 2 Carat Table Surface (mm) |
| Princess cut | 6.94 × 6.94 |
| Round Brilliant cut | 8.19 × 8.19 |
| Oval cut | 10.23 × 6.82 |
| Cushion cut | 7.34 × 7.34 |
| Trillion cut | 9.75 × 9.75 |
| Marquise cut | 13.08 × 6.54 |
| Radiant cut | 7.28 × 7.28 |
| Emerald cut | 8.42 × 6.24 |
| Asscher cut | 7.07 × 7.07 |
| Pear-shaped cut | 11.4 × 6.87 |
| Heart-shaped cut | 8.27 × 8.27 |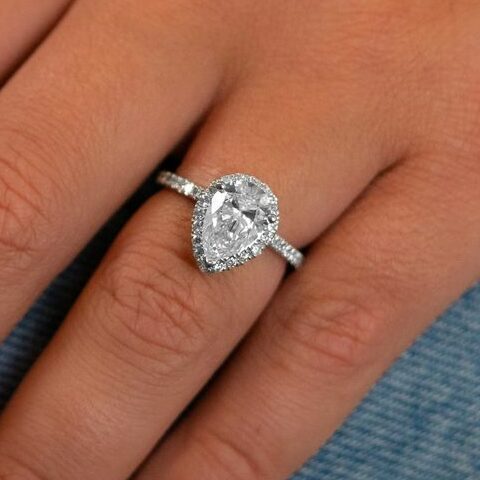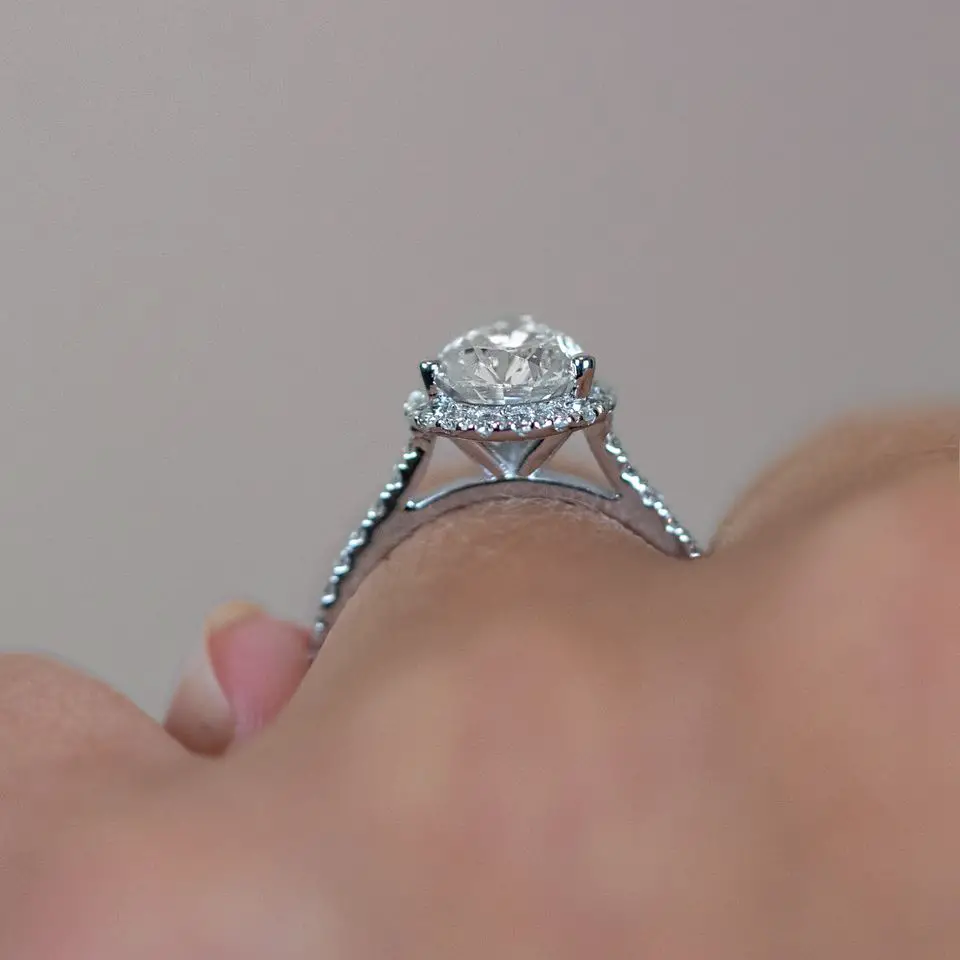 | | |
| --- | --- |
| Ideal Diamond Shape | Size |
| Round | 8 mm |
| Princess | 7 mm |
| Cushion | 7 mm |
| Heart | 8 mm |
| Asscher | 7 mm |
Note: We wish to emphasize that the surface areas do not have any linear relationship with the carat weight.
It means that if the surface area of a 1-carat becomes 66 square millimeters, it does not necessarily mean that the 2 carat will be 132 square millimeters.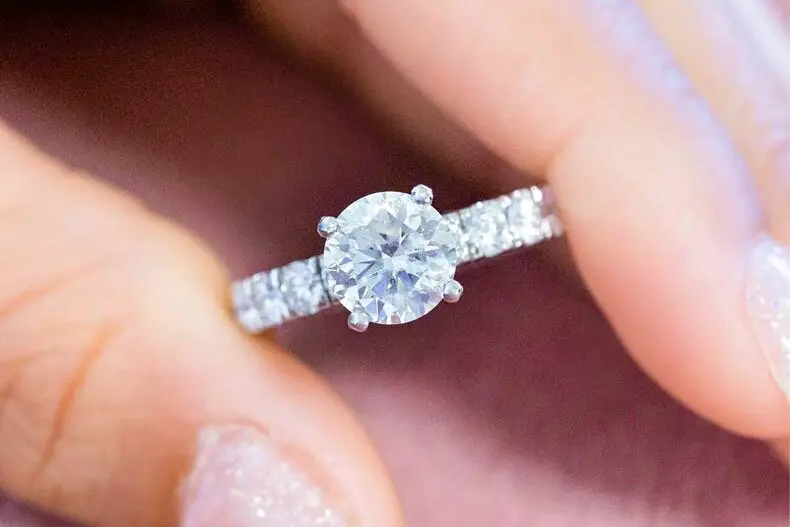 How Much Does a 2 Carat Diamond Cost?
The above image depicts a 2 carat round cut diamond with a color variation from E to G. It has VS2 clarity and an Excellent cut. The prices may not vary "too" much, but the diamond has different aesthetics.
A 2 carat diamond will cost anywhere between $18,000 to $40,000 or more. Obviously, the price range will depend on the cut, clarity, shape, color, and setting.
Let us put that to the test, shall we?
A 2 carat diamond with VVS2 clarity, a very good cut with I color, will cost $13,820. Now, if we add a solitaire setting, it will be worth $240. Then, the completed engagement ring will cost $14,060.
On the other hand, a cushion diamond of G color and VS2 clarity with a very good cut is $21,490. And, if we pair that with a 14K white Pave setting of $1,120, the finished ring will have a price of $22,610.
Your taste and requirement for the setting, clarity, cut, and color will determine the price of any 2 carat engagement ring.
See also: How Much Should You Pay for a 2 Carat Diamond Ring?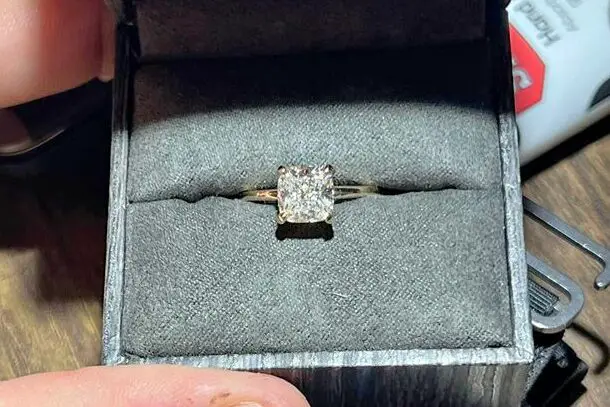 The Impact of the Diamond Shapes on the Price
The shape of a 2 carat will drastically affect the price. Once you start your shopping adventure, you will notice numerous variances in pricing based on the diamond shape.
For example, a 2 carat round diamond with VVS2 clarity, excellent cut and H color can cost $18,040 in the low range or $30,190 in the higher range.
But, the same in a princess cut has a low range of $14,480 and a high range of $19,270.
Indeed, the diamond shape will either skyrocket the price or bring it down. Therefore, you must choose the diamond shape wisely when going on a diamond "window-shopping" spree.
Here is a tabular representation of 2 carat diamond prices with a G color rating with clarity of VS2 to VVS1 and an excellent/ideal cut.
Shape
Price
Clarity
Round
Highest: $39,580
Lowest: $21,610
VVS1

VS2

Princess
Highest: $21,870
Lowest: $16,230
VS1

VS2

Cushion
Highest: $23,410
Lowest: $13,910
VVS1

VVS2

Emerald
Highest: $24,090
Lowest: $15,690
VVS2

VS2

Oval
Highest: $26,710
Lowest: $16,720
VS1

VS2

Radiant
Highest: $24,220
Lowest: $17,550
VS2

VS1

Asscher
Highest: $23,760
Lowest: $14,430
VVS2

VS1

Marquise
Highest: $28,500
Lowest: $22,320
VVS1

VS2

Heart
Highest: $27,690
Lowest: $14,990
VVS2

VS2

Pear
Highest: $27,670
Lowest: $18,230
VVS2

VS1
Note: The highest price for a 2 carat diamond would be a round shape, and the lowest would be a cushion shape.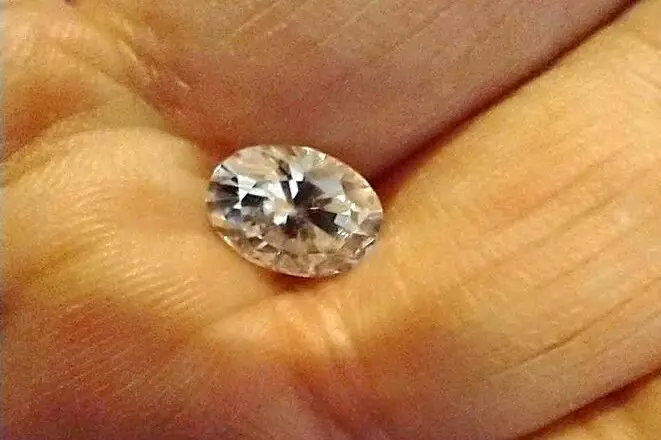 Tips for Buying a 2 Carat Diamond
According to Statista, the world mined over 142 million carats in 2019. Does this not allude to a huge demand for this precious rock? Proposing to your beloved with a huge rock can be special and truly beautiful.
Those who can afford a rare diamond ring usually go for a 2 carat one. These diamonds have a perfect display of sparkle and dazzle of aesthetics.
But their weight and size mean that a slight inclusion of poor cuts can be easily noticeable. Here are some tips that you can follow to make your engagement ring perfect.
Buy it Online
Buying it from James Allen or the Blue Nile should be your first choice. 2 carat diamonds are rare and local stores might not have the truest form. In case they do, you may have a limited selection available.
That is why we recommend that you go online and get your dream diamond.
Stick to a VS or Better Clarity
You can go for lesser diamond clarity when the carat is smaller. But we recommend that VS clarity or more would be ideal for a 2 carat.
It is due to the overall bigger diameter these diamonds possess. Hence, the black inclusions can be visible to the naked eye, and you wouldn't want that.
Choose a G or Better Color
Choosing a color for diamonds is a subjective matter. Yet, larger diamonds like a 2 carat are color sensitive. So, they will shine brighter when you choose a G or better color.
If you do not, then you are likely to witness the undertones of yellow nuances.
Go for AGS and GIA Graded Diamonds
When looking for diamonds, make sure you find GIA or AGS certifications. These are gemological grading services that can assure the quality of your diamond.
Note: Never, and we mean NEVER buy diamonds certified by any other lab.
Optimal Cut, Clarity, and Color Rating for a 2 Carat Diamond
For a 2 carat diamond, we recommend getting a clarity grade of VS1, VS2, or above as it does not showcase any blemishes. The ideal color rating would be G to I as it ensures that the diamond appears colorless as seen by the naked eye.
Similarly, we recommend a good to very good cut for your diamond ring.
Where to Buy a 2 Carat Diamond
Even though 2 carat diamonds are a rare beauty to behold, you can find them on trusted online jewelry stores. Online retailers like James Allen and the Blue Nile are reliable sources to get 2 carat diamond engagement rings.
The stores offer authentic and GIA-certified engagement rings that resonate with elegance and glamor.
James Allen
It is one of the most reliable stores to go to when you have a diamond ring requirement. This online store has topped the industry for years. You will find high standards in both their customer service and the excellent quality stones they sell.
Indeed, James Allen has a guarantee of meeting all your expectations.
What we love: Our love and respect for this company stem from the user layout. We could easily navigate through their endless options when picking a diamond.
You can choose the ring setting, diamond cut, shape, color, etc., with ease. Apart from that, the company also offers a hassle-free return policy in case, well, we better not say.
Blue Nile
This online store is considered to be one of the best and offers the most exquisite jewelry range. They have exotic diamond engagement rings that you choose from at a competitive price.
What we love: Their website is navigable, and we love the ring settings they offer. Besides, they have exceptional benefits like easy returns and free shipping.
That is why you will fall in love with what the Blue Nile has to offer. Their entire collection is at par with the current ring-setting trend.
Frequently Asked Questions
1. Is a 2 Carat Diamond Engagement Ring Too Big?
Yes, a 2 carat engagement ring is ideally considered to be big. But if you want to make a statement and gift your significant other an eye-catching and noticeable ring, then this would be the best option.
At the same time, your budget should also be higher than usual – Say $10,000 to $20,000!
2. What is the Best Diamond Shape for a 2 Carat Diamond?
Ideally, we recommend that a round or princess shape would be perfect for a 2 carat. But you are free to choose the style as you please.
3. What is the Best Ring Setting for a 2 Carat Diamond?
The solitaire setting is the most popular because of its simplicity. It can also look beautiful with a wide range of 2 carat diamond shapes.
Summing Up
Choosing a 2 carat diamond ring is a commitment. The average size of a round 2 carat diamond ring is 8.10 mm, which means that this is as big as half a raisin.
Indeed, the list of considerations is long, but we have provided all the information you need to know:
Choose online stores like James Allen and Blue Nile
Price and size depend on the type of diamond you choose
A 2 carat goes perfectly well with VS clarity and G color
Due to its rarity, it can cost you anywhere between $8,000 to $50,000 or more
Well, this sums everything up! Now, it is time for you to go and get your 2 carat magic.