If you are new to diamond shopping, the myriad of details you face when making your choice are often overwhelming. You learn about carat weight, cut, color and clarity and how each of these affect the quality and price of your stone. In learning all these new terms, you may overlook choosing a diamond with its own security features built right in. Here's how to find what diamonds have serial numbers and why you should consider purchasing such a stone.
Just What Diamonds Have Serial Numbers?
Not all diamonds have serial numbers. In the US, only diamonds that have been graded by the Gemological Institute of America (GIA) carry an engraved serial number. (photo below)
The serial number is engraved into the diamond as part of the certification process and matches the number on the diamond's certificate.
In other countries, there are similar grading and certifying institutions that certify diamonds.
How Do I Find a Diamond With a Serial Number?
Many reputable jewelers carry diamonds that have been graded by the GIA. Diamonds are graded as loose stones, not after being placed in a piece of jewelry. Many jewelers that offer loose stones and settings separately have stones that have been certified, though you may also find a certified diamond that has already been set. Ask to see the certificate before purchase if a diamond with a serial number is important to you.
Why is it Important for My Diamond to Have a Serial Number?
Since a diamond is often a large investment, it is a good idea to purchase a certified diamond as a way to protect this investment. There are three primary benefits to owning a diamond with a serial number.
The certificate authenticates the diamond's details. It shows the carat weight, cut, clarity and color. You can be certain these details are true when you buy because of the certificate.
The certificate will be listed in your name after you purchase. This can help you recover the diamond if it is lost or stolen because the matching number is engraved into the diamond.
If you choose to sell the diamond, you will be able to obtain a better price from a buyer because the details of the diamond are certified.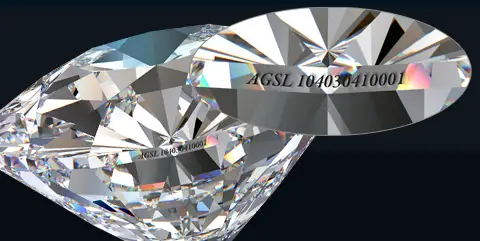 Does engraving a diamond lessen its value? Can I see the engraving?
A diamond is engraved on its girdle, which is a small rim around the perimeter. This part of the diamond usually sits within the setting. Special equipment is required to see the numbers, so these do not interfere with the diamond's beauty. As an owner, you would never know the numbers are on the stone without the certificate.
Now that you are aware of what diamonds have serial numbers, you can use this information as you shop for your diamond. It is always a good idea to buy the best diamond you can afford, and having one with a serial number is a great way to ensure you know what you're buying and to protect that investment.
Learn more: