For anyone who is shopping for a tennis bracelet, you will quickly notice that it is a sleek and modern staple that will add some sophistication and sparkle to any look that you have. There are many different styles and types of tennis bracelets that you can pick from. They are all elegant and look nice with every outfit you choose to wear them with.
There are 6 types of tennis bracelets. Here are the different types and styles of tennis bracelets in order of popularity:
Four Prong Diamond Tennis Bracelet
Three Prong Diamond Tennis Bracelet
Bezel Diamond Tennis Bracelet
Two Prong Diamond Tennis Bracelet
Three Prong Flower Clasp Diamond Tennis Bracelet
Multiple Rows Diamond Tennis Bracelet
Choosing a tennis bracelet can be a challenge. There are different things to consider and it may be confusing to figure out which bracelet is the right one for you. In this article, we are going to take a look at some more of the things you should consider when it comes to choosing your very own tennis bracelet.
HURRY 25% OFF on Tennis Bracelets! Use Promo Code BRACELETSAF from James Allen!
*Valid for select tennis bracelet styles. Promotional discounts applied to an order are only valid for the item purchased and will not be applied to future purchases or exchanges after the sale ends. Cannot be combined with any other offer. Promotion ends March 31th, 2021 at 11:59pm EST.
What is the price of a Tennis Bracelet based on? 
The price of a Tennis Bracelet is based on the type of metal, and the quality as well as the number of diamonds used in the tennis bracelet. 
Get the Best Prices on a Tennis Bracelet here
The Different Styles of Tennis Bracelets
There are several types of tennis bracelets you can choose to wear. The one that you choose will depend on the style and price point you enjoy the most. Some of the most common types available include:
Four Prong Diamond Tennis Bracelet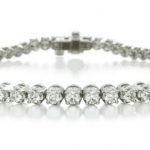 This is a classic choice when it comes to picking a tennis bracelet. It has a single row of brilliant diamonds that have been crafted by professionals into a crafted four-prong basket. The four prongs make it really sturdy and keep everything in place really well, so it is a popular option. You can choose from natural or lab created diamonds to get a timeless look for your budget.
With the prong tennis bracelets, there are small pins that help hold the stone in place. This is similar to what you see with a diamond setting in most diamond rings, though the prongs are smaller and there are more of them, in a tennis bracelet.
Three Prong Diamond Tennis Bracelet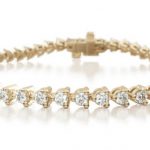 You can also choose the three prong diamond tennis bracelet. This one is similar to the one above, but it has one row of diamonds in a beautifully crafted three-prong basket. You can choose from several different types of diamond colors and clarity, but this one is available with natural diamonds.
Bezel Diamond Tennis Bracelet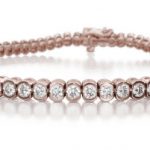 The bezel setting helps to put this bracelet apart. It is simple and beautiful, making it the option that you are sure to love. You can choose between 2 carats up to 10 carats of natural diamonds to grace your wrist. The bezel bracelet holds the diamonds a little differently.
In this setting, all or part of the diamond will be encircled with a strip of metal. This is sometimes believed to hold the diamond in place a little better.
Two Prong Diamond Tennis Bracelet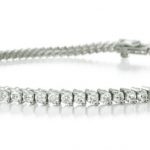 This classic bracelet will stand out while matching every outfit that you want to wear. It places the diamonds carefully on two prong baskets to make it simple and elegant. The diamond does not have as much holding it on. You'll have to careful with this style.
Three Prong Flower Clasp Diamond Tennis Bracelet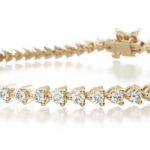 Another option that you can choose is this flower clasp tennis bracelet. This is the one that you use when you want to stand out. While the others are elegant in their simplicity, this one includes a flower design that helps to hold it together. The brilliant natural diamonds are set in three prong baskets to keep it secure and looking amazing.
It relies on the three-prong method, but the prongs are designed in the shape of a flower instead of just the simple prongs on it.
Multiple Rows Diamond Tennis Bracelet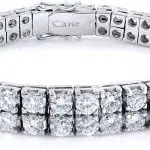 The options we talked about above are simple and elegant options with just one row of diamonds all around. For most people, this is the kind of tennis bracelet they would want. However, there is the option to have two or three rows of diamonds sitting on top of each other. Tennis bracelets with multiple rows can also use the different prongs or the bezel style too depending on the look of the bracelet.
These options from James Allen provide you all of the classic beauty that you want for an affordable price. No matter what your style is or whether you want a lab created or natural diamond in your tennis bracelet, these five options are sure to meet your needs.
What Should I Look for in a Tennis Bracelet?
When you are looking for a tennis bracelet, you will need to pay close attention to four factors. The first is the metal used in the bracelet and the second is the size and quality of the diamonds.
The Type of Metal
First, let's look at the metals. There are several metal types that you can consider. The most common metals for a tennis bracelet include sterling silver, white gold, rose gold, platinum, and yellow gold.
All metals are great for a tennis bracelet and will depend on the look and feel of the bracelet. If you want to wear the bracelet often, you need to make sure the metal is durable. Yellow gold, white gold, and rose gold are durable options to wear each day. Sterling silver and platinum can work well too.
The way you plan to wear the tennis bracelet will determine the type of metal you want. For daily wear, platinum is often the best option to go with. It is durable and will match almost any outfit without standing out too much.
If you want something that is more affordable, then rose gold and yellow gold are the better options. They are much less expensive, even if you use natural diamonds, compared to other metals and look amazing.
White gold is a good option if you want something that has the same look as platinum and sterling silver, but you want to keep the price down a little. White gold is fairly durable too so you can wear your new tennis bracelet often without issues.
The Diamonds
There are a few things to look at when it comes to choosing the best diamonds for your tennis bracelet.
1. Diamond Color Grade:
The classic tennis bracelet will feature diamonds that are colorless. These are diamonds often more expensive though so many people may look for something with a lower color grade. You are usually pretty safe going with something less than perfect color quality. While a completely colorless diamond will be a D, choosing something that is an E or F is a great option and barely indistinguishable from a D. You can even go down to an H and still have a diamond that sparkles and shines.
2. Diamond Clarity Grade
It is also important to choose the right clarity of diamond for your tennis bracelet. As each diamond in this bracelet is small, it is hard to tell the difference without the right training. The best bet here is to get a bracelet with "eye clean" diamonds. This means that by looking it over you can't see any noticeable issues with the clarity. The higher the clarity grade, the better the diamond inside. You will usually be fine with a diamond that is S1 or S21 clarity grades. They are not perfect, but you will not notice these imperfections when you look at the diamonds in the bracelet.
If you review the diamonds on your own, make sure that they offer brilliance. What this means is that they shine and sparkle when reflecting any light. Check to see that the diamonds look eye clean, or that you do not notice any blemishes with a quick look. You want the stones to be white or clear in comparison to their setting.
3. Diamond Carat Weight
The carat weight has a huge impact on the cost of the bracelet. The bigger diamonds cost more, plain and simple. When the diamonds are bigger you want to choose ones that have good clarity and color since they can show blemishes easier.
Something you may not have thought about is that the more carat weight of the diamonds, the fewer diamonds that will be in the tennis bracelet. The bigger carat weight means that the diamonds are bigger. So bigger diamonds mean fewer are need to fit around your wrist. A smaller carat weight means that you will have more of the diamonds around the tennis bracelet. So, to help you visualize this, a 2ct tennis bracelet would have about 60 diamonds in it. However, a 10ct tennis bracelet would only have 38 instead.
4. Diamond Certification
Usually, diamonds in a tennis bracelet are not certified. They hand-selected by the jeweler. You receive an appraisal, although it would not have a diamond grading report or certification.
Why aren't they certified? Well, two reasons. In smaller carat weight bracelets, the diamonds that come in this type of bracelet are often too small to grade them. But usually, it's due to cost. To get a diamond certified can cost between $75-$150 per diamond. So if the tennis bracelet has 55 small diamonds, which is about average in these bracelets, it would be around $5000 just for the certification! That's probably more than the tennis bracelet is worth. So an appraisal is just fine.
This is why you should pick a bracelet through a reputable company. James Allen, Brian Gavin, and Blue Nile are some great options. They will provide you with a high-quality tennis bracelet that has the style and craftsmanship you desire.
5. Lab Grown or Earth Grown Natural Diamonds?
Choosing between earth-grown and lab diamonds depends on your budget. Natural diamonds carry more prestige with them, but they also come with a higher price tag because of the process it takes to find them. Lab diamonds are a great alternative. They are more affordable, easier on the environment, and easier to make.
For an affordable option, lab grown diamonds are better. Lab diamonds are indistinguishable from natural diamonds so your tennis bracelet will still look amazing. The price is much lower though so you can get a bigger and better bracelet.
The Settings
Look at the settings too. The style of tennis bracelets can vary too. Most of the designs will contain one row of diamonds, though there are a few that may have up to three rows. You can look at the type of cut of the diamond. Most options have a round cut diamond to give a classic look, though some will provide an emerald cut instead.
There are three main varieties of bracelet settings including bezel, channel, or prong.
Prong Setting: With this setting, the metal that holds the stone will stick out on all four sides, similar to what you would see with a diamond ring. This is a great setting to use to show off the brilliance of the diamond and is one of the most common types for tennis bracelets. These come in two, three, and four prong options.
Channel Setting: With this setting, you will have two rows of metal that go on either side of the diamonds like a channel of water. This helps the diamonds sit right in line by each other.
Bezel setting: This looks similar to a watch head. Each diamond will have a metal setting, similar to what we see in a watch.
What this means is that the setting will help hold the diamond in place and offer a unique look. They can change the style and look of the bracelet you choose.
The Clasps
The clasp type of the bracelet is important. There are three main clasp types to consider. This includes the spring ring clasp, the one that is the most common. You can also work with the box clasp and the lobster clasp.
Spring Ring Clasp: This is a common clasp found in most tennis bracelets. It includes a clasp with a circle that will work through a spring. You simply pull back on the small lever and an opening appears for the other side to fit through. This clasp is common with necklaces so you have most likely used it before.
Box clasp: This option works because you insert a little tab into a box-shaped frame using a little hinged clasp to help cover the opening. These are found in many diamond tennis bracelets because they offer elegance and style to the design.
Lobster clasp: This is one of the most widely used jewelry clasps. To open the claw, you just need to push down on a lever. Releasing the lever shuts the claw and keeps things in place.
Which Type is the Most Expensive?
The quality and carat weight of diamonds, as well as the type of metal used to hold the diamonds, will determine the price of the bracelet. Often platinum tennis bracelets are more expensive compared to other options like white gold. For example, a platinum tennis bracelet with 8ct diamonds will cost close to $9,600. That same bracelet made with rose cold costs closer to $8,800. Choosing the right metal can help you save or spend more money on your tennis bracelet.
The carat weight of the diamonds will make a difference too. The more diamonds you add to your bracelet, and the heavier the weight of the diamonds, the more expensive the tennis bracelet will become. A 10ct tennis bracelet will be more expensive than a 2ct tennis bracelet.
If you want to add any embellishments to the bracelet or anything extra, then you will need to spend more too. A simple bracelet with one row of diamonds will always be less expensive than one that has a special clasp or two rows of diamonds in it.
See also: How Should a Tennis Bracelet Cost?
Why are Tennis Bracelets so Expensive?
There are several reasons why tennis bracelets are so expensive. Some of the most common reasons for this include:
They are popular: This type of bracelet has been one of the most popular on the market for 30 years. They have gained popularity all around the world and thanks to lab created diamonds, it is easier to get ahold of them. The popularity helps increase the price.
Timeless design: The design of the tennis bracelet is such that it is timeless and can last for a very long time. While other types of jewelry will go out of style in a few years, you can expect your tennis bracelet to still look amazing in the future.
The quality of diamonds used: While the weight and cut of diamond will vary between bracelets, the quality of these diamonds is usually high. And since there are so many smaller diamonds to make up the bracelet, it will cost more money.
How Many Carats Should a Tennis Bracelet Be?
The average number of carats on a tennis bracelet is between 3 and 4 carats. The number of carats can vary between the types of tennis bracelets. Most will range from 2 carats in total weight to 10 carats or more. This depends on the size of the diamonds and how many are on the bracelet.
Never choose one that is less than one carat in total weight. There are a lot of diamonds that are on the tennis bracelet and choosing something that has fewer carats can indicate a lower quality diamond that you do not want.
Which Tennis Bracelet is the Best?
The tennis bracelet that is the best will depend on your own personal style. You may like something that Is simple and elegant. Or you may choose to go with a tennis bracelet that is loud and bold, something that everyone is going to notice right away.
One of my favorites is the 14k Yellow Gold Three Prong Diamond Tennis Bracelet from James Allen. It comes in varying weights for the diamonds so you can pick the one that you like the best based on your budget. The elegant gold will match anything you want to wear and the 2-carat weight makes it unassuming enough to wear all day long.
Choosing a tennis bracelet is a great way to get a piece of jewelry that others will notice, one that is timeless and will last you for the rest of your life. There are a lot of different options you can go with depending on your own tastes and budget, making this the perfect accessory to look for!