With a 3 carat oval diamond, you'll be able to make a statement and flaunt it with the best of them.
The 3 Carat Oval diamond is a beautiful and rare variety with prices ranging from $21,960 to $99,060. The variation in price largely depends on the cut (Very Good – Excellent), color (I-D), and clarity(SI1-FL).
Wear your love proudly with these beautiful diamonds. They're perfect for any setting and will brighten the room no matter where you put them!
Choosing a 3 Carat Oval Diamond
The 3 Carat Oval Diamond is an excellent choice for those who want a large and truly dazzling diamond. They are also a good option for those who want a more unique look, as they are not as common as other diamond shapes. Oval diamonds tend to have more sparkle than other cuts, thanks to their unique shape. They are close cousins to round diamonds, which are the most popular shapes for engagement rings.
Oval shape diamonds have a few distinct advantages. First, they can appear larger than a round diamond of the same weight would. That's because an oval's length creates the illusion of greater size. Additionally, oval diamonds tend to be less expensive than rounds of the same weight.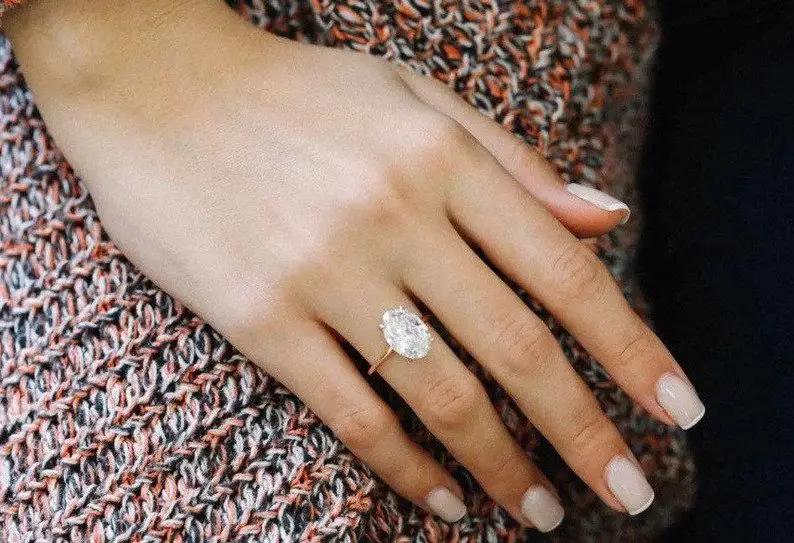 Why Choose Oval Diamonds over Round Diamonds
There are a few reasons why you would choose an oval diamond over a round diamond.
Oval diamonds tend to be less expensive than rounds of the same weight.
Oval diamonds can appear larger than rounds of the same weight, thanks to their unique shape.
Oval diamonds have more sparkle than rounds, due to their elongated shape.
Problems with Oval Diamonds
The search for the perfect three-carat oval diamond can be difficult. When you're ready to purchase one, you'll face a lot of challenges!
Lack of Inventory: The most common problem is that there are very few three-carat oval diamonds on the market. Most companies do not cut their diamonds into this shape, so they are quite rare.
Poorly Cut: Many oval diamonds are cut poorly. To maximize an oval's potential size, some diamond cutters will make the stone too shallow.
Boe-Ties: Many oval diamonds have "bow-tie" shapes, which means that they appear to have a dark shadow in the center of the stone. This is due to an optical illusion caused by the oval's shape.
Limited Ring Setting Styles: The typical engagement ring setting styles (solitaire, halo, three-stone) do not work well with oval diamonds.  This is due to the fact that ovals are not symmetrical like round diamonds.
Finding out the exact prices for such large diamonds from traditional vendors might be difficult. Most jewelry shops do not keep many of these larger diamonds in inventory.
The oval cut is one of the most popular diamond shapes, but it can be tricky to find one with perfect proportions. According to our Actual Diamond Size Chart, a well-cut 3 carat weight stone should measure 10mm by 8mm (or about as big around at its shortest point). But they will all vary to some degree.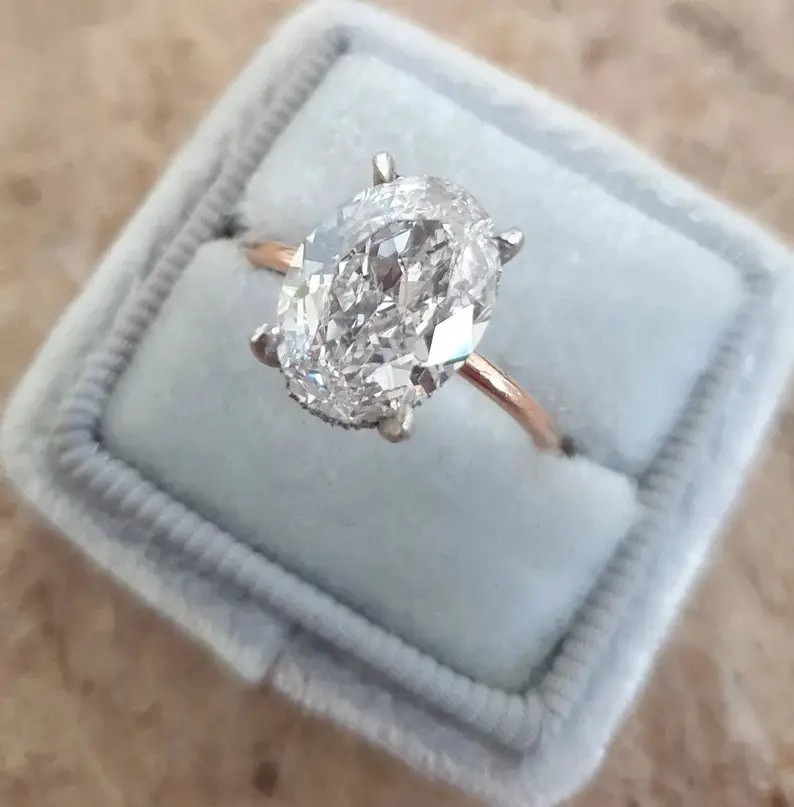 Here is the chart for the oval diamond carat size:

How Much a 3 Carat Oval Diamond Should Cost.
If you're looking for a 3 Carat Oval Diamond, expect to pay diamond prices anywhere between $21,960 to $99,060!
With a budget of $50,000 you can get a great quality, eye-clean 3 carat oval diamond like this 3.01 Carat E VS1 Oval Diamond for $49,650 from JamesAllen.com.
The value of 3 carat diamond can vary quite drastically depending on its quality. The higher the "grade," or specifications, the more expensive it will be for you as well!
Action to Take
When shopping for a ring, get the finest quality you can afford. If you're looking for an engagement or anniversary ring, find out what style your significant other prefers before making a purchase. Maybe it's a yellow gold setting or platinum.
Visit the 3 Carat Oval Diamond page on Jamesallen.com and choose a diamond you like. Buy it! They have the best prices online. Then read our guide for putting it together with a ring: How Much Should a 3 Carat Diamond Ring Cost? Prices and Tips to Save
If you decide a 3 Carat Oval Diamond isn't for you then take a look at some other diamond shapes you might like better.
We are always here for you. If there's anything we can do to help, please don't hesitate to get in touch with us!
References: