When the question is popped, the engagement ring comes out, and the magic begins. That's where the channel setting comes in. It's a beauty. The channel gives an extra sparkle to engagement rings. Its clean modern look has been dazzling fingers for years.
The Channel engagement ring setting has the gemstones on the shank of the ring. The stones are set between two walls of metal in a groove. The groove is called a channel. The channel has a small lip that spreads over the gemstones' edges to secure them.
Choosing the perfect engagement ring can be both exciting and challenging. This is your forever ring, so you want it to be perfect. The pros and cons of a channel setting will be evaluated. We'll take a look at how a channel setting will not only look but fit your lifestyle.
What are Channel Set Diamonds?
The channel setting incorporates diamonds and or other gemstones around your band. It makes an engagement ring sparkle and looks glamorous. The stones are set in a groove around the band. Often times triangular-shaped spaces appear in the corners. These spaces are between the stones. This adds to its glamorous look.
What is the difference between a Channel Setting and a Pave Setting?
The channel engagement ring was wildly popular in the 1980s through the 1990s. But this beauty of a setting is timeless. It is like a pave set ring. Keep in mind that the pave word derives from the French word paved. So, the pave setting is really a paved road of beautiful gemstones.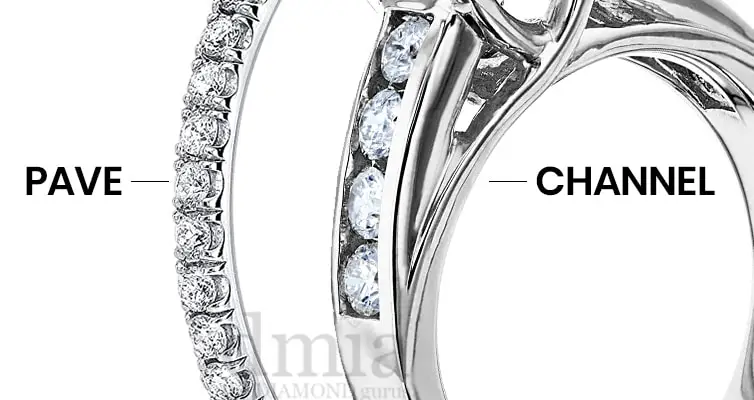 There are minor differences between the channel and pave. In a channel settings, there is a literal channel that the accent diamonds fit within. The diamonds are locked in by the lips of the channel. With the pave setting, the stones are held together with individual prongs. The channel setting's band is a thicker metal to secure the gemstones.
Channel setting does not have has gaps or prongs between the diamonds.
Channel setting is thicker and offers more security than Pave.
Why choose Channel Setting for your ring?
There are a few reasons to opt for the channel setting engagement ring. But before you jump in, look at your lifestyle and what your priorities are. If you are an active person or work with your hands, this setting is for you. The channel doesn't have prongs so that you won't catch it on anything. It won't snag your clothing.
The stones are set deep in a groove, so you don't need to worry about losing them. This allows you to wear it worry-free despite your active lifestyle.
If you like attention, and who doesn't, this setting is just the ticket. It's an eye-catcher. It's such a sparkler that people will notice and compliment. You and your future fiancé will be thrilled with the attention.
Channel Settings are Versatile
One of the many nice perks of a channel setting is its versatility. It can stand on its own or be paired with other settings.  And even when it stands on its own, you can jazz it up with different colored stones. You can combine:
Emeralds
Rubies
Sapphires
These stones really make diamonds pop with color. For instance, pair diamonds with sapphires, and you have an elegant ring that is sure to take your breath away.
A channel setting can be paired with other settings. Your band could have both the channel setting with a center gemstone set with a prong or cathedral setting. A three diamond classic is also accentuated with a channel setting. Talk about showing off a sparkler. The sky's the limit with the channel setting.
The Best Diamond Shapes for a Channel Setting
Once more, the difference between pave and channel comes into focus. The pave usually uses small round diamonds. The channel setting is much more imaginative. Some of the cuts the channel uses include:
Choose the cut that complements your style. Also, choose a cut that complements a center stone if you have one.
The Pros of a Channel Setting
The channel setting has many wonderful attributes. We'll take a look at some of them. They include:
Secure and durable
Draws attention
Cost-effective
The Channel Setting secures your gemstones
One big advantage to the channel setting is the security it gives your stones. The gemstones are set in a groove or channel. Because of this, it's not easy for them to fall out. They're not set in prongs. Prongs wear and have the propensity to break. Prongs also catch on clothing and other items. You don't have to worry about that with the channel setting. So if you're active or work with your hands, this is perfect for you.
Always the center of attention
The channel setting is well, flashy. It will be noticed. Keep that manicure up because people are going to be looking at your finger. Make it a head-turner by mixing and matching stones. If you want to go all out, pair it with a center stone and watch the heads turn.
Channel Settings are cheaper than other settings
As beautiful as a channel setting is, it is also cost-effective. That's because you don't have to worry about using uniform-sized gemstones in the setting. Because you don't set each stone individually, different sized stones can be hidden. The price is lower as a result.
There are Some Cons to the Channel Setting
With all the pros of the channel, it may be hard to believe there are some cons. But let's take a look at them.
Difficult to keep clean
Repairing is problematic
Resizing is tough
Gemstones are hidden
All those gemstones need to be cleaned
The channel that protects your gemstones can also collect dirt. And once that dirt enters the channel it's hard to remove. The dirt becomes trapped.  You pretty much need to keep an ultrasonic cleaner handy. If you don't have one, your jeweler will. See also: How to Keep Your Diamonds Sparkling like a Professional
If it needs to be repaired, that could be a problem
The structure of the channel doesn't lend itself to an easy repair. Keep in mind that trying to fix a problem could cause more problems. If not done correctly, there is the possibility of bending the channel. If you need a repair, always take your ring to a reputable jeweler. See also: What Does Resetting a Ring Mean?
Resizing a Channel Setting is challenging
Similar to repairing the channel setting, resizing can also be problematic. The ring needs to be bent to change the size. This can loosen the stones. Tightening the stones again is difficult. If you're using your future fiancé's grandmother's antique channel setting, and it needs to be resized, take it to an excellent jeweler.
Your gemstones are obscured
The channel setting keeps your gemstones safe, but it also hides them to a certain extent. Because the stones are in a groove, the light is only hitting the top. This may reduce some of the stones' brilliance.
See also: Pros and Cons of Channel Set Rings
How the Channel Setting Compares to Other Settings
The channel setting is a flashy ring, and it demands attention. But how does it look compared to other settings?
It's difficult to compare the appearance of a channel with a prong or cathedral setting. It's like the proverbial apples to oranges. All three settings warrant attention and will have it. But the cathedral and prong set the gemstone high. This makes them vulnerable to damage. They easily catch.
The channel's gemstones are deep in a groove and are well protected. So, you have both sparkle and security.
Buying Your Channel Setting Engagement Ring
The number one priority is sizing your finger. Make sure the ring you purchase is the right size. This seems basic, but remember, the channel setting is difficult to resize, so you want it right the first time. When looking at the setting, make sure you check for loose stones.
You also want to keep an eye out for misaligned or bent walls in the groove. All the edges should be smooth. You also don't' want the stones to overlap. But the stones may touch each other.
Make sure you and your future fiancé have set a budget and only look at rings that fall into it. You don't want to fall in love with a ring that breaks the bank. Remember to only purchase from a reputable jeweler.
Your Forever Ring Needs to be Perfect
The channel setting is timeless. It's the perfect symbol of your eternal love. From its flashy looks to its durability, this setting goes the distance. For all its glitz, it's an economical alternative. If you have an active lifestyle and don't want a setting that sits high, the channel is perfect for you.
Next Steps
Was this article helpful?
Let us know if you liked the post. That's the only way we can improve.