Have you wondered which diamond cut is the biggest? Of all diamond cuts, marquise diamonds look bigger than other cuts. Also known as the navette and little boat cut, the marquise diamond has a long and narrow shape with pointed ends. Marquise cut diamonds have 58 facets with 33 on the crown and 25 on the pavilion. This facet distribution gives the marquise its large surface area.
No two diamond cuts are alike. Each diamond cut has its own benefits that set it apart from other shapes. Certain diamond cuts naturally look larger than other shapes of the same carat weight. Our diamond experts will show you what diamond cut looks the biggest and share buying tips to maximize its appearance.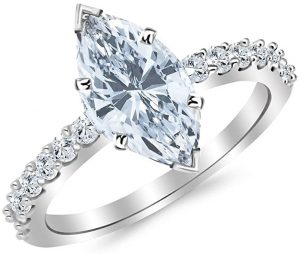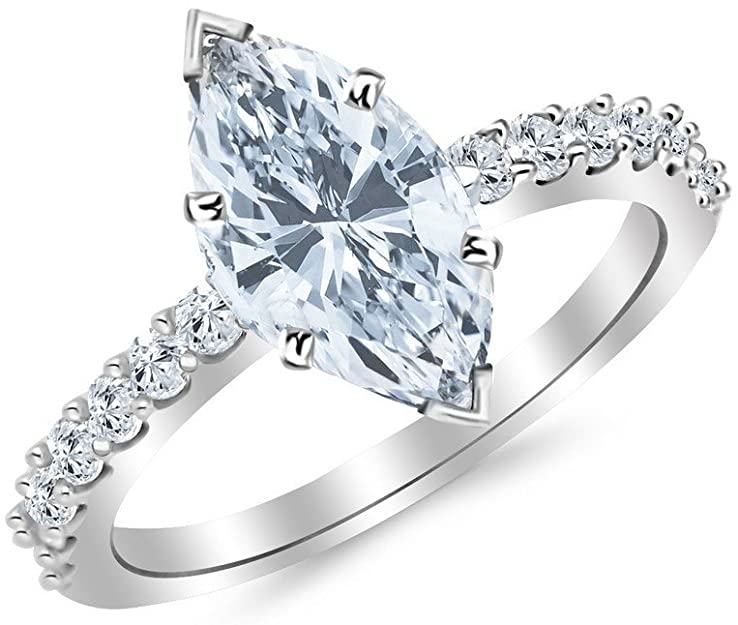 Marquise Diamond Benefits
Besides its large presence, marquise cut diamonds have many benefits. This cut offers the length of the oval and point of the pear for a dramatic and romantic shape. The marquise's generous length makes the wearer's fingers look longer and thinner. As a modified brilliant cut, the marquise provides sparkle comparable to rounds, the most brilliant of all diamonds.
Most enticingly, the marquise cut is more affordable than round diamonds. Let's compare a round and marquise diamond from James Allen. Both diamonds are 1 carat with an H color, VS2 clarity, and have a GIA certification.
The round diamond costs $4,710 and the marquise diamond costs $4,230. That is a difference of $480! Not only are you saving more money with a marquise cut, but you will also have a larger looking diamond.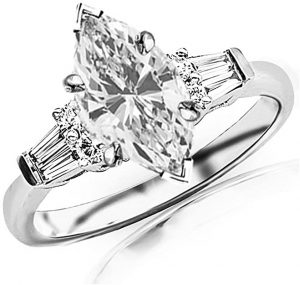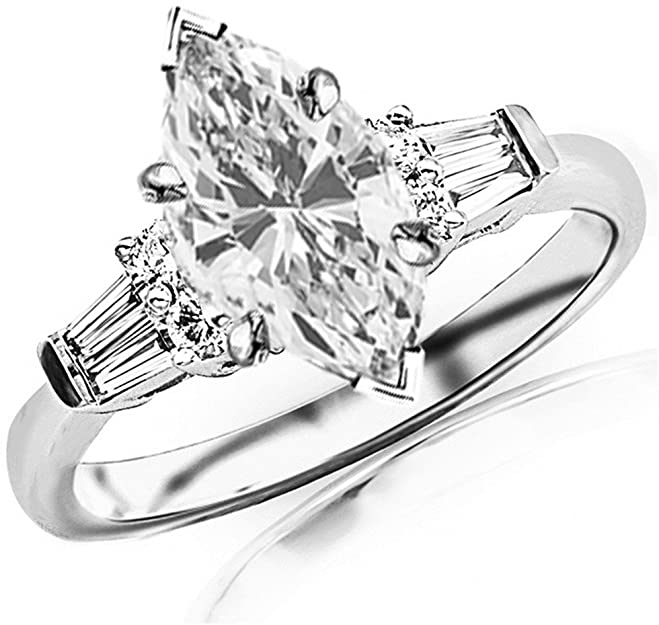 History of the Marquise Diamond
The marquise cut was developed during the 1740s. King Louis XV of France thought that his mistress, Marquise of Pompadour, had a perfect mouth. The King commissioned a diamond cut that resembled his mistress' alluring lips. This cut became known as the marquise, after the mistress' title.
Marquise cut diamonds were popular in engagement rings from the 1970s into the 1990s. Celebrities of the 1990s particularly favored the marquise's bold shape. The marquise's popularity fell in the 21st century for the trendy princess cut diamond.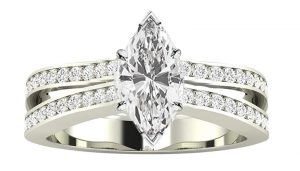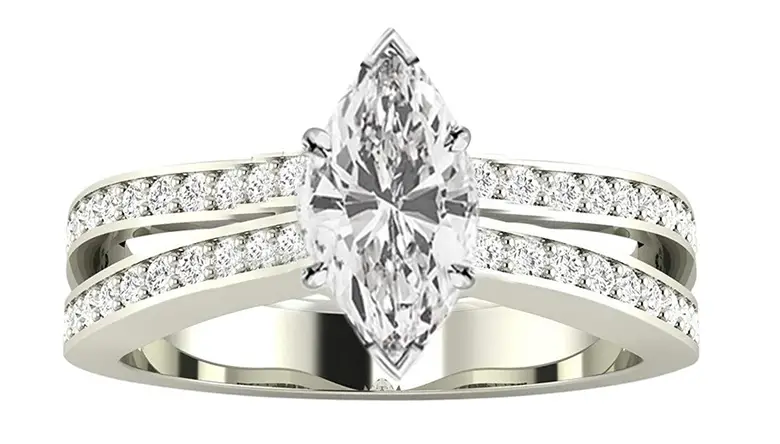 Famous Marquise Diamonds
Celebrities are known for their breathtaking engagement rings. Let's look at famous marquise diamonds that adorn celebrities' engagement rings.
Of Victoria Beckham's 14 engagement rings from David Beckham, their first ring was a marquise. This engagement ring features a 3 carat marquise cut diamond on a yellow gold band. The ring is estimated to be worth $80,000.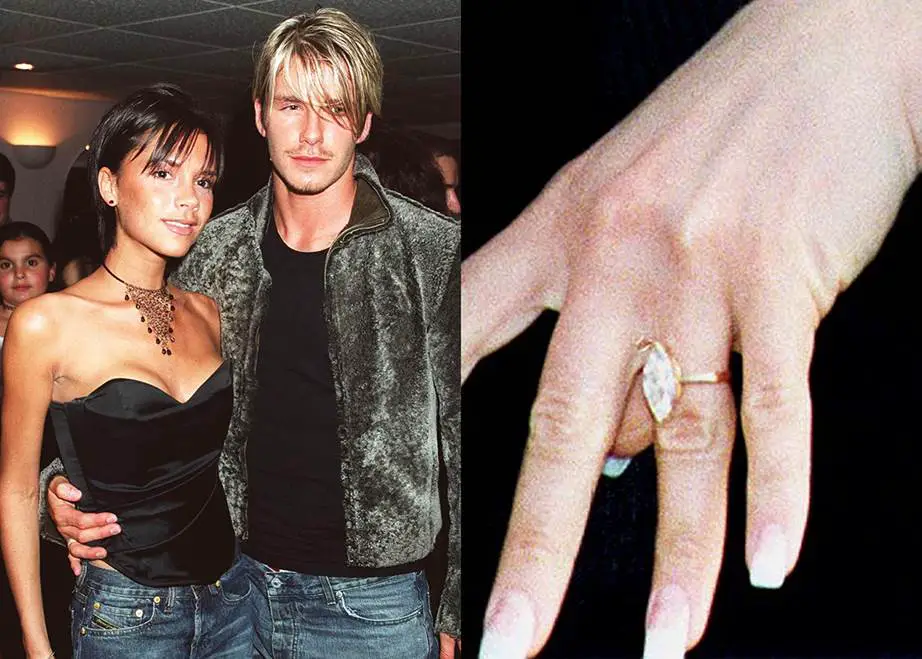 Catherine Zeta-Jones received a 1920s antique marquise engagement ring from husband, Michael Douglas. The 10 carat marquise has a unique east-west setting and 28 brilliant pave diamonds. Her ring estimated to be worth $1 million.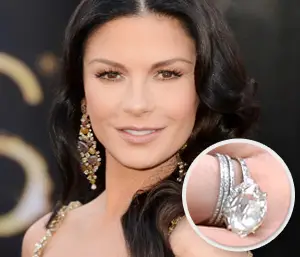 Ashlee Simpson was given a marquise engagement ring from former partner Evan Ross. This Neil Lane engagement ring has an Art Deco style. The ring features a 5 carat marquise cut center diamond, 12 rubies, and 140 accent diamonds. This ring is estimated to be worth $450,000 to $500,000.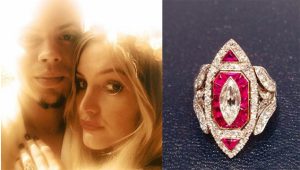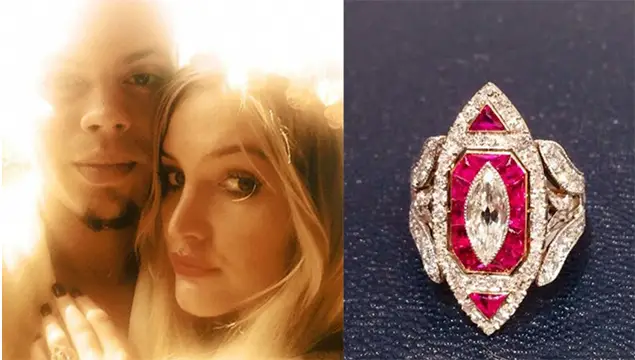 Portia de Rossi was proposed to by Ellen DeGeneres with a marquise diamond ring. The 3 carat marquise diamond has an east-west setting and pink pave diamonds adorning the band. Her ring is estimated to be worth $100,000.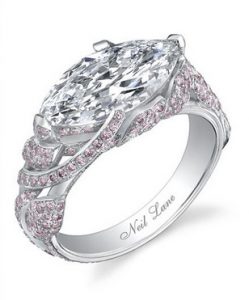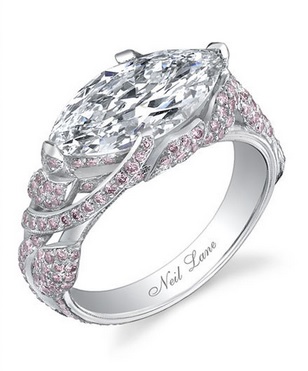 Buying Tips
To help you buy the marquise diamond of your dreams, follow our buying tips:
Know your ideal length to width ratio. Marquise diamonds have different length to width ratios. This is the diamond's length divided by its width. It indicates if the marquise is slim or wide. A larger length to width ratio means that the marquise is slim. For example, a 2.15 marquise is slim and a 1.75 marquise is wide. The length to width ratio for your marquise is entirely up to your preference.
Avoid strong bow-ties. The bow-tie effect is when a shadow appears in the middle of the diamond, resembling a bow tie. This effect can be seen on marquise, oval, pear, and heart cut diamonds. Strong bow-ties take away from the diamond's beauty. This effect occurs when diamonds are not symmetrical and a shadow spreads across its middle. When looking at a diamond in person, view it face-up in normal lighting to see the strength of its bow-tie.
Consider thicker girdles. With a thicker diamond girdle, you can lower the marquise's risk of damage. The marquise's pointed ends are vulnerable and a thicker girdle will offer more protection from sudden impact.
Add a halo. A diamond halo will make the center marquise diamond look even bigger.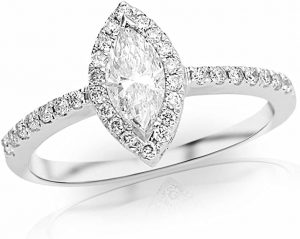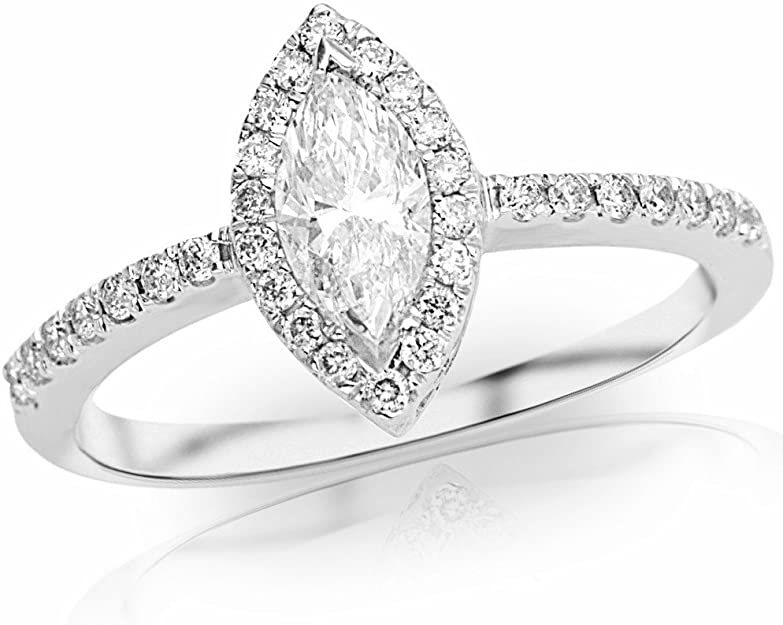 Final Thoughts
Marquise diamonds are often an overlooked diamond shape. Now that you have learned the benefits of the marquise, are you thinking about buying one? Thanks to the marquise's elongated shape, you can enjoy a large looking diamond at an affordable price. Whether you are shopping for a traditional marquise ring or one with a daring east-west setting, you will enjoy a stunning diamond cut with a romantic history.
Learn More about Diamond Cuts and Diamond Shapes: