Have you ever had a partner bust out a little box and your heart went in your throat because you thought they were proposing, but it turned out they were giving you a promise ring? Or you were going to a fancy dinner and couldn't find a cocktail ring to go with your outfit? Do you think an infinity ring is what Thanos is after? If you need help learning what any of that meant, we are here for you.
There are 20 main types of rings and there are many styles of rings that are appropriate for certain occasions. There are rings for romantic partners, like engagement rings or wedding rings. There are rings for dress-up, like a cocktail ring or a piece of costume jewelry. You can find a ring for whatever reason you are leaving the house for.
We get it, there are a lot of kinds of rings. We can help you sift through what to wear and when. Even for a woman, there are a lot of kinds of rings to keep track of. And for men, if you are looking to get your partner a gift, there are plenty of options for you to choose from.
Here are the main types of rings I'm going to cover…
Let's break down what rings need to be in your jewelry box.
Types of Rings you get your Partner
These rings are usually meant for partners to give to their, well, partner. There is nothing wrong with buying yourself your own diamond though. These are the traditional rings that you would buy someone else.
Promise ring
Promise rings are what you get your partner that you aren't ready to propose to, but you don't want them to get mad at you. Promise Rings mean that you want to be with them, and you are committed, but you aren't quite ready to take that next step. I'm fairly sure I still have my old high school boyfriend's promise ring somewhere. I should make a necklace out of that.
Engagement ring (AKA Wedding Ring)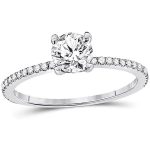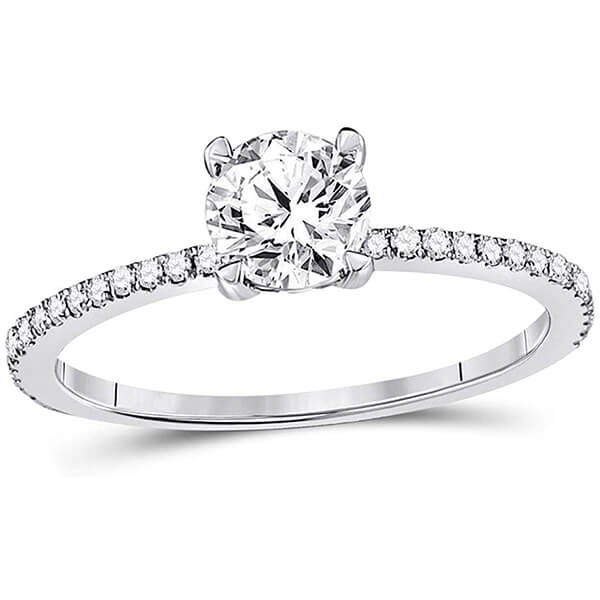 An engagement ring is typically a diamond ring that you give when you are proposing to someone you want to marry. Engagement rings can come in a band of platinum, rose gold, yellow gold, silver, or white gold.
The shapes can vary from oval to princess cut to round to pear. It can be a diamond by itself or surrounded by other, smaller diamonds. You can also do a gemstone like Moissanite or Morganite if you don't like the idea of a diamond. There are hundreds of options.
It is meant to be a symbol to you, your partner, and everyone else that you have committed to spend your life with someone. It's also great to wear to get creepers to leave you alone when you go out.
See more Engagement Ring styles
Wedding Band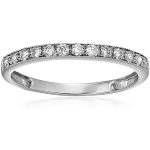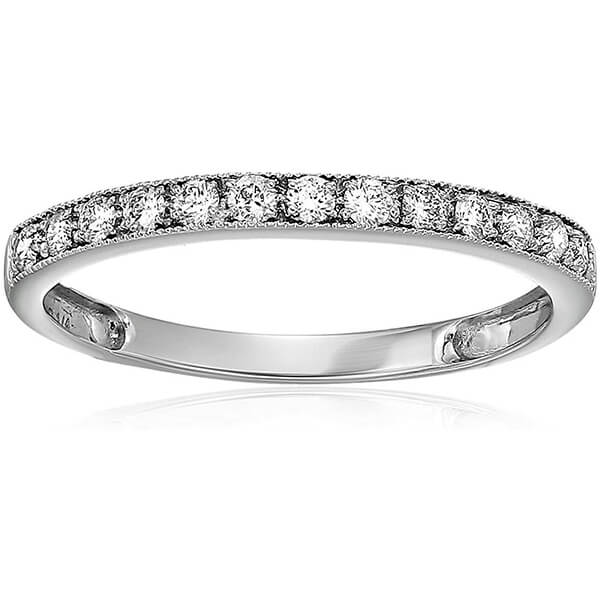 This is the band that you get on your wedding day. When saying your vows you place the wedding band on each other's fingers. A wedding band is a circle ring. It can be plain. It can match the metal of your engagement ring or not. I prefer when someone mixes metals. It's super fun and modern. You can have diamonds or stones in your wedding band (not to be confused with a wedding ring).
Fun fact I just learned. You are supposed to put your band on first and then your engagement ring if you want to wear both. Your wedding band is supposed to be closer to your heart to symbolize your wedding vows. That's cute.
Bridal Set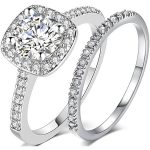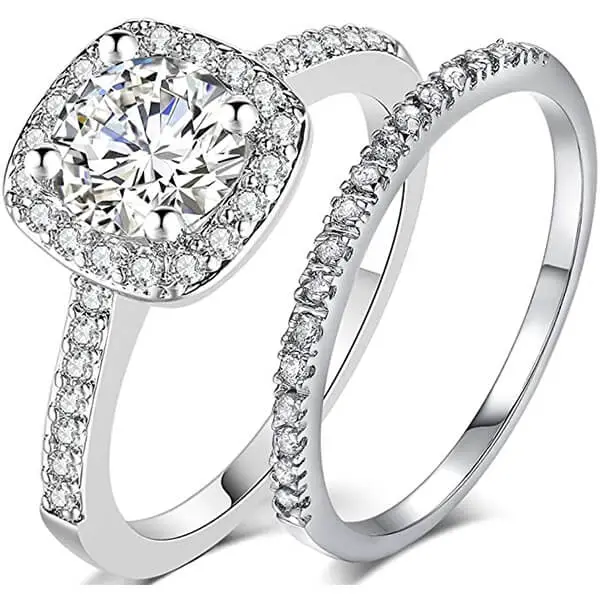 This simply means a matching engagement ring and wedding band. The color of metal matches and the diamond shapes match. This honestly is not my favorite and makes me think of the older generation. But to each their own.
See more Bridal Set Ring styles
Anniversary ring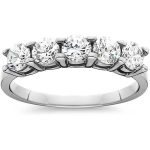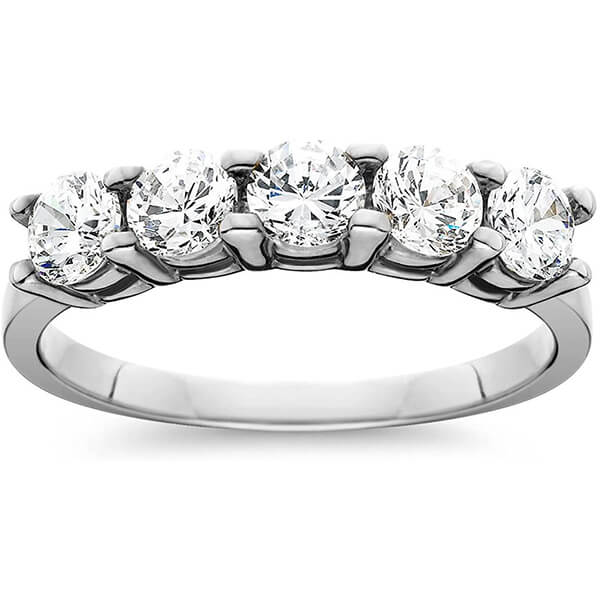 Anniversary rings are meant to renew your vows on the anniversary of your wedding day. Only for that. You don't give an anniversary ring for a birthday present or a Christmas gift. It's to symbolize the commitment to each other in the longer term.
You should give an anniversary band for your 5 year, 10 year, or 25 year mark. You can use this to replace your wedding band or it can be an upgrade. If your wedding band was just solid white gold, the best anniversary bands can have diamonds in them.
See more Anniversary Ring styles
Three stone ring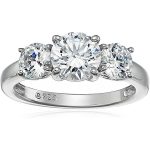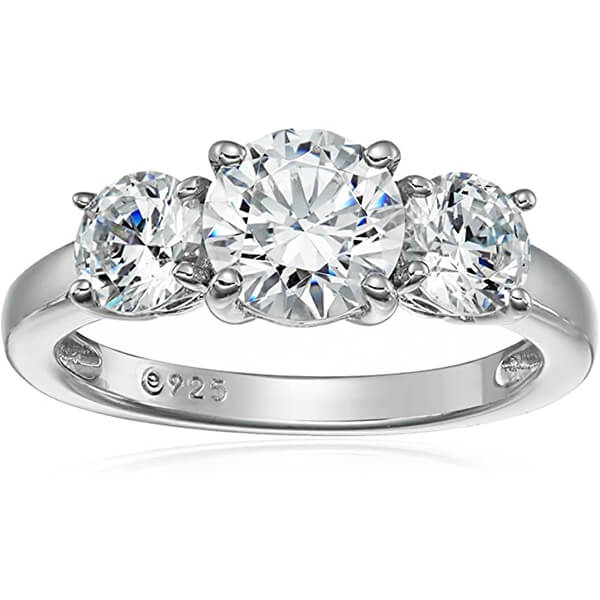 Three stone rings mean that there are three stones on the band. That should be a duh. But the three stones represent past, present, and future. It shows your partner that you cherish your past, love your present with them, and promise to remain committed to them in the future. They look pretty too. They don't have to be an engagement ring, but they usually are.
See more Three Stone Ring styles
Eternity ring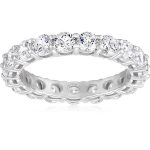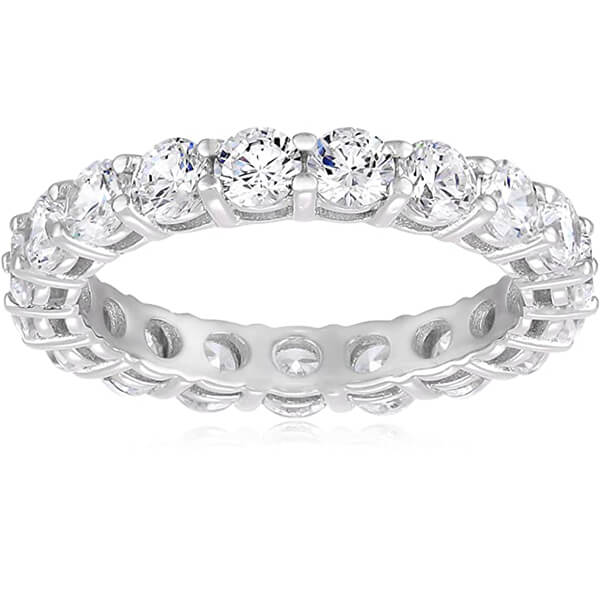 Eternity rings are usually gifted for a special occasion. For a birthday or Valentine's Day. It's meant to be a symbol of constant, never-ending love. The eternal circle of love. An eternity ring can have diamonds or gemstones in it. The diamonds or gems go all the way around the band.
You could use this for a wedding band or anniversary band if you wanted to. But the eternity part is the stones going all the way around the band.
Type of Rings for Dress-Up
There are rings you don't have to wait around for someone else to get for you. You can get these yourself at any time. Or buy for a friend.
Signet ring
Signet rings can be for men and women. Usually, men wear signet rings. A signet ring is a way to identify who you are. These were popular in Victorian times and worn by men and women who did not want to get married. Wearing this ring told people to know to stay away. I'll take 2, please.
They were also used to seal letters back then and act as a signature. Signet rings now are seen as a sign of wealth and power. It's like a visual title. It could have your family's initials, crest, or another family symbol. Men still wear these on their pinky.
See more Signet Ring styles
Cocktail ring
This ring means you want to make a statement. Women have been wearing cocktail rings since cocktail parties began. A cocktail ring should be big, bold, and colorful. These are made out of large and bright stones. Most of them are fake, but that doesn't even matter.
They are fun and they can transform a whole look by themselves. You don't need any other jewelry if you are wearing a beautiful cocktail ring. I have about 20 of them and I want more.
See more Cocktail Ring styles
Estate ring
Estate rings are rings that have been worn by someone else. Anyone else.  Buying an estate ring means buying a pre-owned ring. The ring isn't new. You aren't its first owner. It doesn't mean the ring is antique or vintage. It only means that you are buying a ring that someone else has once owned. Estate rings could be only a few months old, but no older than 30 years.
See more Estate Ring styles
Infinity ring
An infinity ring can mean a few things. You can buy yourself one. You can buy your best friend one. Infinity rings represent love and friendship in any form that takes. Your love for your friend. Your love for yourself. It means you will eternally care for the person the ring is intended for. Infinitely, meaning no ending to that love.
See more Infinity Ring styles
Special types of rings
Let's go over some other rings that everyone needs to be aware of. Some of my favorites are in this category.
Antique ring
I want all of the antique rings. To be antique a ring needs to be at least 100 years old. So if you are going to hit up your local antique mall to look for one, you need to ask them where the rings 100 years old and older are. Victorian, Georgian, Edwardian, and Art Deco are all areas that you are going to be looking for.
They don't make rings like those anymore. They are beautiful. They are detailed. And I will never say no to anyone who wants to get me one.
See more Antique Ring styles
Vintage ring
Another one of my favorites. Not to be confused with an antique ring or an estate ring. A vintage ring means it must be between 30 and 100 years old. That's it.
Vintage jewelry is still pretty old to me though. I think most pieces are beautiful. I love jewelry from that time.
See more Vintage Ring styles
Birthstone ring
These are cute. A birthstone ring means a ring that has a gem for a specific birthstone. It could be your own. You could have one for your brothers and sisters. You could wear your best friend's birthstone. It's a ring with the gem from your month of birth.
I used to absolutely hate mined when I was younger. Now I've found that I needed to see mine in another shape and setting to like it. Sorry August peeps.
See more Birthstone Ring styles
Claddagh ring
I think these are so fun. The purpose of a Claddagh ring is to show friendship, loyalty, and love. These used to be used as the wedding ring in Ireland back in the day. They typically have a heart held by 2 hands. The heart has a crown on it.
If you wear the ring with the heart facing out, you are looking for love. If the heart is facing you it means you are married.
See more Claddagh Ring styles
Mother's ring
These are hit or miss for me depending on how they are put together. Their meaning is pretty adorable though. A mother's ring is worn by the, you guessed it, mother. It can be a single ring that has all of the children's birthstones on it, or you could do single stackable rings with the birthstones separately.
I love the concept and I've seen some really beautiful ones. But I've also seen tacky ones. I'm working on getting my own, but classy and sophisticated.
See more Mother's Ring styles
Type of Rings Just for Fun
Sometimes you just want some fun, cute, they don't mean anything rings. Sometimes a ring is just a ring.
Costume ring
Costume rings are similar to cocktail rings, but not quite. Costume jewelry is meant to be less expensive. They are more than likely fake. Everyone's Grandmother probably has a ton of costume jewelry. I know I have dibs on my Grandmother's collection. See more Birthstone Ring styles
Cluster ring
A cluster ring is going to have one large diamond or stone in the middle, and a bunch of other ones around it. Cluster rings are usually bright stones, but diamonds can be used too. The large stone and the little ones are going to be the same.
They can be used for engagement rings, cocktail rings, or costume jewelry depending on the stones and if they are real or not. See more Cluster Ring styles
Puzzle ring
A puzzle ring is a ring made up of 2 or more bands that you adjust to wear. They started as wedding rings but then turned into almost a toy for kids. They look beautiful and would almost act as a fidget spinner of sorts it looks like. I think I need one. See more Puzzle Ring styles
Mood ring
Well, I had to end on a bit of fun. Who didn't have a mood ring growing up? I had one for every finger and loved them all being different colors. Gaining major traction in the 1970s, mood rings were made to show everyone what mood you were in by the color it changed to.
You had to carry that chart around with you to be able to read it every hour. It's a fun and cute ring that brings most people back to their childhood. Everyone should have a mood ring at least once in their life. See more Mood Ring styles
That's a wrap on rings
Wow. That was a lot of rings. There are so many more we didn't even get to. What were some of your favorites? Were there any that you didn't know about? Could you take a quiz on the difference between an estate, vintage, and antique ring?
Don't worry, there won't be a quiz. My head is still spinning from all of the kinds of rings anyway, I would be a horrible test giver right now. But whether you are looking to buy yourself a ring, your best friend a ring, or hope that someone buys you something shiny and sparkly, you now have a nice understanding of a good chunk of the ring options out there.
Have fun collecting them all!