So, you are thinking about purchasing a pair of diamond stud earrings? You are probably considering what size they should be. This can be a tricky question to answer but there are some general guidelines that will help you decide what size is best when it comes to diamond stud earrings.
Are You Looking for Everyday Earrings to Wear?
It is important to ask this question when looking to purchase the perfect size diamond stud earrings. For the most part, if everyday wear is preference then a smaller size would be ideal. However, you don't want the diamond to be small where you cannot get a good look at them. That can be .25ct to 1ct.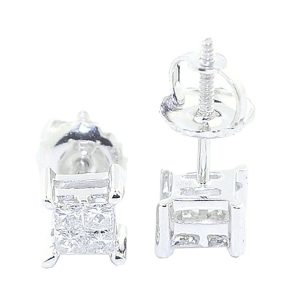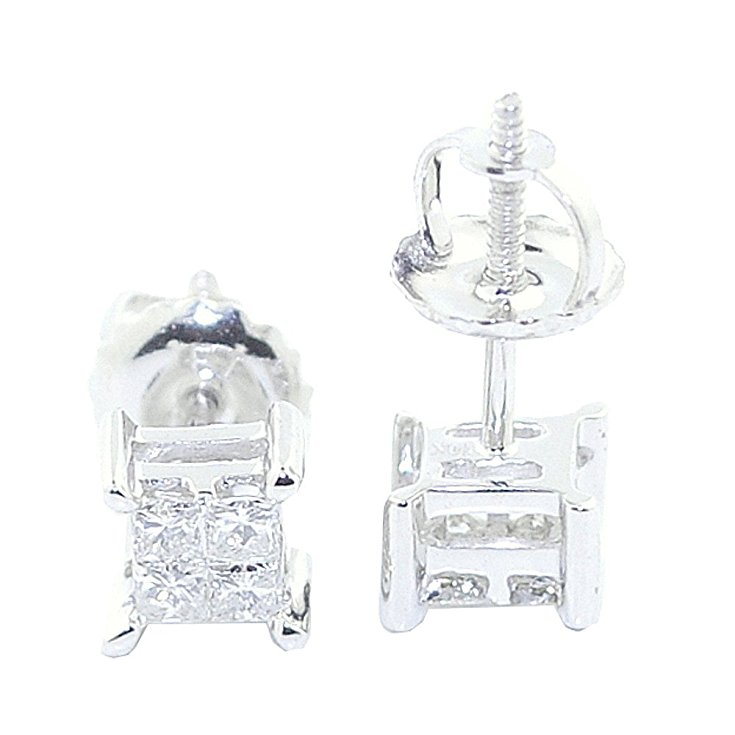 What Are Some Common Diamond Stud Earring Sizes?
There is no one size. Some go with 1ct. That doesn't necessarily mean that it is great for you. Different sizes look better on different people. Also, you some may want a pair that is not too heavy for everyday use while others want a pair to wear for select outings and those need to be bigger to outshine the sequins on most dresses.
Amazon has a neat Diamond Stud Earrings Size Chart here: https://www.amazon.com/gp/help/jewelry/?popup=common,view_earring_on_ear
Consider the Price Before Size.
An important thing to consider when purchasing diamond stud earrings is your budget. The size diamond that you want to get can be greatly impacted by the price alone. The larger the diamond the higher the price will be.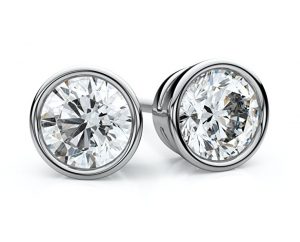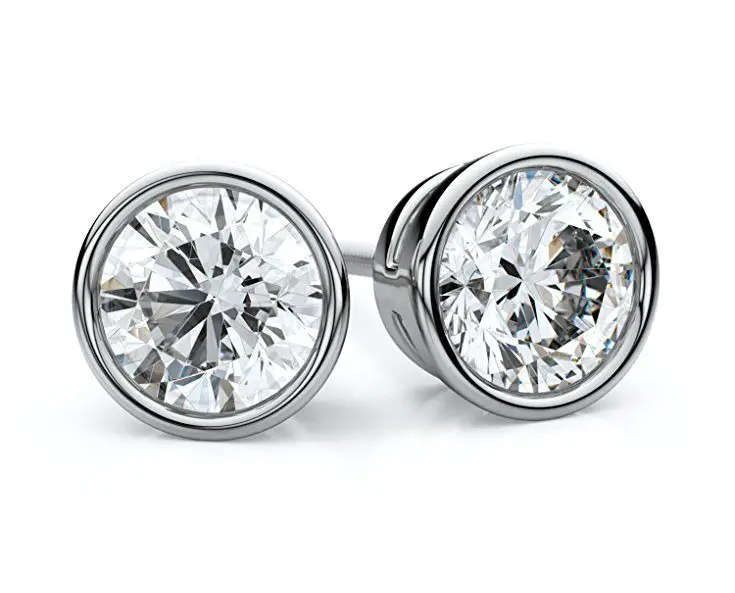 More Money Isn't Always a Bad Decision!
When taking the price into account, remember that sometimes it is worth paying the extra buck to get the size that will look best on you or the person you intended to buy them for. JamesAllen.com breaks down the cost and size difference simply on their website. They are a good source to check out.
Don't Be Fooled by the Carat Size!
When buying diamond earrings, the Caret size is based off both diamonds together! If you go to a jeweler and ask to see their 1ct diamond stud earrings, you will be looking at a half Caret per diamond most of the time. I would always ask the jeweler to specify.
Points Are Different Than Carets.
A One Caret Diamond Can Range From 0.98-1.02 Carets.
A 1ct diamond comes to 100 points. However, not all 1ct diamonds are a full Caret. They can range from 0.98cts to 1.02cts. Note that the price can go up substantially if they are over the 1.00ct mark but both can be advertised as a full caret.
***Important to know, diamonds can be .48cts per stud and still be advertised as 1ct diamond earring studs!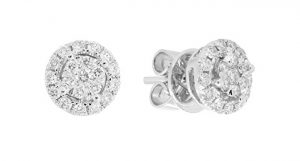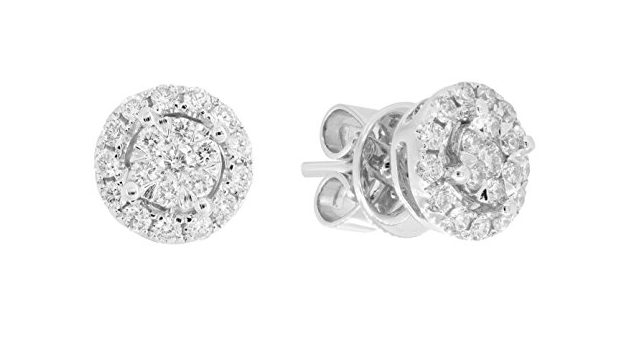 Think Diamond Shape, Not Just Size.
The shape of diamond stud earrings is just as important as the size. The commonly cut shapes for diamond stud earrings are princess cut, round and Asscher cut. I will break down each style for you.
Princess cut– They are cut with a square or rectangle shape that comes into an inverted pyramid style structure. This is the most common cut diamond.
Round– These are just as described…cut in a brilliant rounded fashion.
Asscher cut– They have angular corners and are cut in layers to bring forth a beautifully designed diamond. They are technically called the Emerald cut.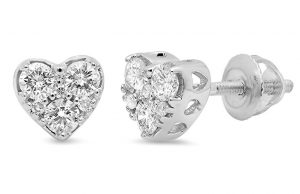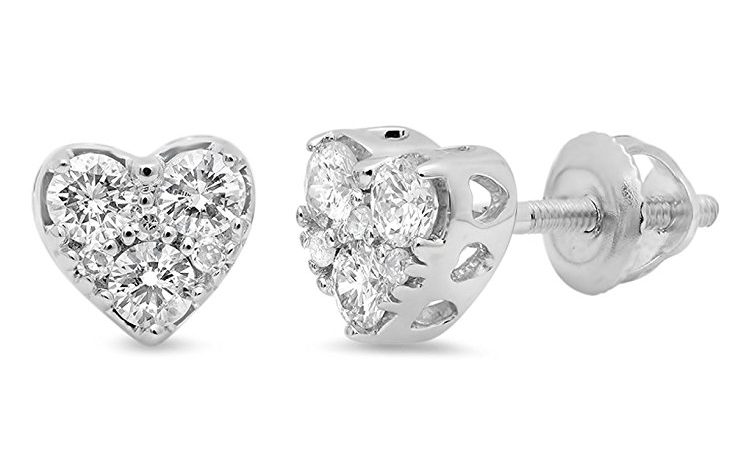 Don't Forget About Diamond Color.
If you or the person you are buying for already has a pair of diamond stud earrings consider getting a larger size caret or maybe even another color. Diamonds come in an array of many colors that you can choose from. The price varies on each color. The most commonly bought colored diamonds would be black or yellow.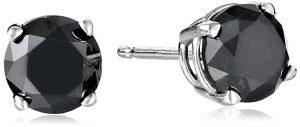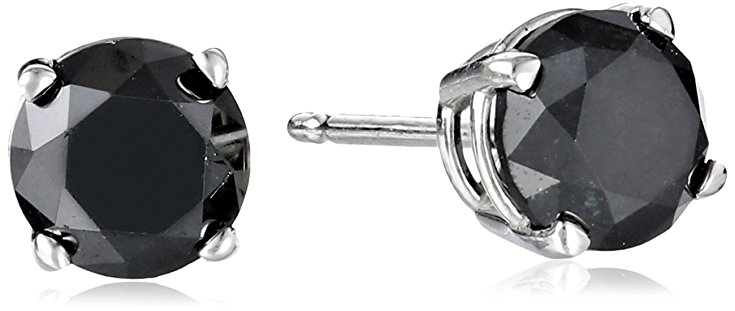 While the shade does not matter for the size, it can help you decided on what would make the best gift or go great into your own jewelry collection especially if you do not have any other shades. Yellow and black are not the only colors, just the most bought.
Think Quality Over Quantity Any Day.
Not all diamonds are equal. Some come with yellow discolorations that are not intended to be there. When purchasing a diamond, you want it to have a crisp, clear and clean look. For the most part, small infractions and flaws will not be seen in an earring setting, but its still good to consider making sure these flaws aren't too visible.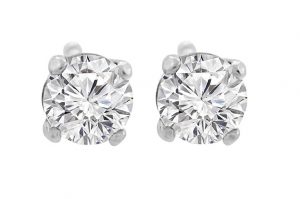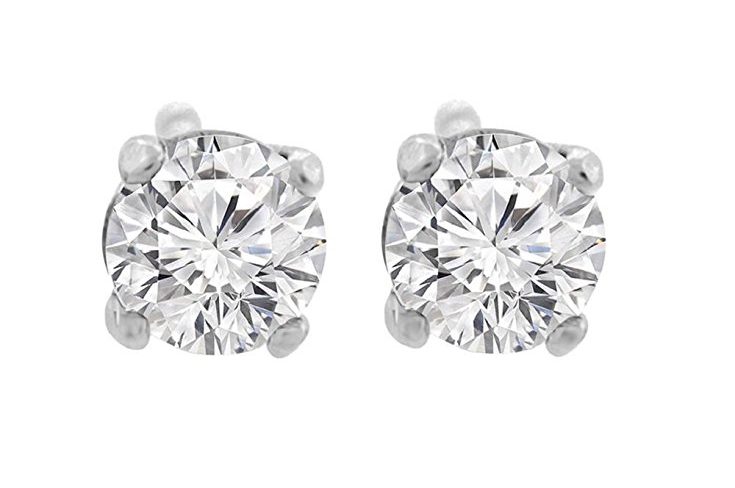 Also, Check for Certification.
Certification is where diamonds are certified in their grade class. They come with a certificate that shows which grade that specific diamond made. This is based on cut, clarity and many other factors. Certification is a preference and is not necessary to get a great pair of diamond stud earrings.
Sometimes buying a certified pair of diamond earrings cost a bit more. If you plan on purchasing loose diamonds, then certified is the best option.
Here Are A Few More Bits of Info.
BrianGavinDiamonds.com has a lot of valuable information on their website if you are interested reading additional info.
Myloveweddingrings.com has a size chart that can help you take a pick on what size to choose from. It makes for a great visual aid. Stay blessed.
Learn More about Buying Earrings: